1. After an upset-filled weekend in the Big VIII League, only two of the eight teams remain unbeaten in league play. Corona Centennial and Corona are each 2-0, followed by Norco, Eastvale Roosevelt, Corona Santiago and Riverside King at 1-1. With only four teams receiving automatic qualifying berths into the Inland Division playoffs, the four teams tied for third are quickly facing must-win situations this week. The same goes for the eight-team San Andreas League, which is part of the Central Division. Colton and San Bernardino Cajon are 2-0, followed by four teams at 1-1.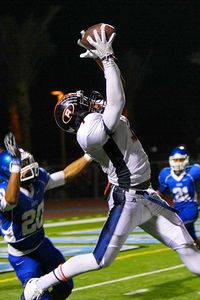 Courtesy of Paul Moureaux
Eastvale Roosevelt receiver Sam Boyd goes up for a catch Friday night during a 24-21 upset against host Norco in a Big VIII League game.
2. Payback was the theme in the Mt. Baldy League. Ontario ended a six-game losing streak against host Ontario Chaffey with a resounding 38-14 victory Thursday night in what is dubbed the annual Cat Bowl. Joseph Davis returned the opening kickoff for a touchdown and later caught a 72-yard scoring pass to lead the way for Ontario. The following night, Montclair ended a three-game losing streak to Chino Don Lugo with a 17-13 victory at Don Lugo.
3. Defensive effort of the week goes to Menifee Paloma Valley, which limited high-scoring Bloomington to just 151 total yards in a 38-14 victory Friday night at Bloomington, including only eight yards in the second half. The Bruins came in averaging 266 yards and 30 points a game. Fahad Al-waiely, a 5-foot-6, 190-pound linebacker, led Paloma Valley with 11 tackles and linebacker Caleb Ennis had seven tackles and 1 ½ sacks.
4. Comeback of the week belongs to Perris, which rallied from a 18-point fourth-quarter deficit Friday night and defeated Mira Loma Jurupa Valley, 37-28. Myles Williams, Maurice Williams and Hector Aguilar each had interceptions in the final quarter to spark the turnaround.
5. Moreno Valley Vista del Lago quarterback Trent Hedlund threw four more touchdown passes Friday night in a 56-41 loss to Riverside La Sierra. Hedlund has thrown four touchdowns in each of the last three games, giving him 15 on the season. Hedlund is the son of Vista del Lago coach Ken Hedlund and the younger brother of Garry Hedlund, who starred at quarterback for the Ravens two years ago.