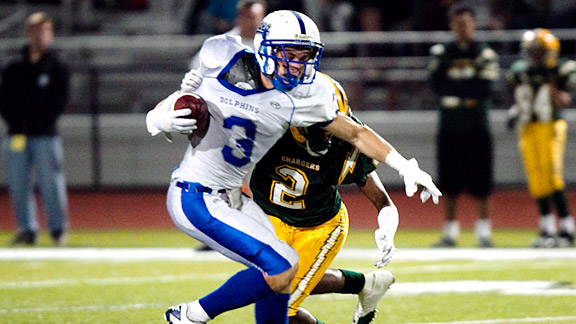 Tony Tribolet
As evident here, the Edison defense and Allen Atkins were able to keep Dana Hills receiving threat Chris Kearney under tight wraps most of Thursday night.
HUNTINGTON BEACH -- Even though Trent Mason had a big game passing for 104 yards and rushing for 136, Edison's defense looked very competent in its 27-21 nonleague victory Thursday over Dana Hills.
Sure, Mason was fantastic because he's a great athlete. So is receiver Chris Kearney, an outstanding playmaker who routinely burns other defenses. Coming into the game he had caught 10 passes for 227 yards and four touchdowns. Against the Edison defense he caught 12 passes for 53 yards. That is not a misprint. Sixteen yards came on one reception, meaning 11 other catches averaged 3.8 yards. That seems unimaginable.
The point is, Edison did a great job of tackling and preventing a big play guy from making the big play and it shows the potential of this defense. Not a lot of teams have a player like Mason in the backfield.
Sackmaster Charles Burks didn't have any sacks of Mason, but he did strip the ball that turned into a 12-yard fumble return for a touchdown by Gavin Perdomo.
Robert Mase did have a sack -- the only one -- and also wrapped up Mason's legs on the Dolphins' final desperate pass of the night. Roland Blackiston and Nicholas Masaniai also made their presence felt on a night that Edison's defense showed that it meant business.