WOODLAND HILLS -- Welcome back.
It had been a while since C.J. Blackwell was in the familiar surroundings of the Southland, years and years in fact. He did, after all, spend quite a bit of his youth growing up in Georgia, fine tuning his basketball skills on the other side of the country.
Palm trees and the beach, the Lakers and Staples Center, along with traffic and the crowded freeway systems around these parts were the furthest things on the mind of the Los Angeles native. Blackwell went about his business accordingly, plain and simple.
This past summer, however, when the opportunity to return to his roots finally presented itself, he jumped at the chance. Months later, with a spot secured in the starting lineup at Taft High, it's as if Blackwell never left the place he used to call home.
"It's nice to be back, no doubt,'' said Blackwell, an 18-year old senior who was born in the greater Los Angeles area and moved to the South to be with family before he was 10. "I think I've been able to fit in at Taft, all of my teammates are cool. We think we can do some big things this season, that's our main goal, our only focus.''
The arrival of Blackwell could not have come at a better time considering the Toreadors lost a pair of key players from last season's team that advanced to the City Section championship game, where it lost to Los Angeles Westchester, 70-60.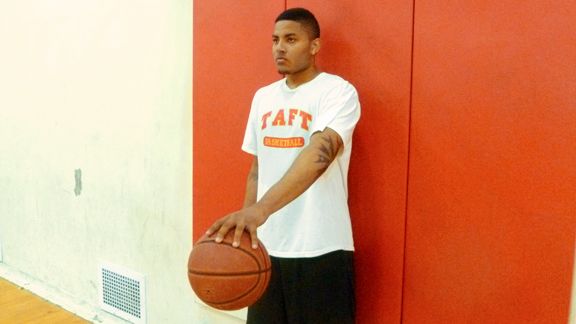 Sean Ceglinsky/Special to ESPNLA.com
C.J. Blackwell spent much of his youth in the South but has fit in well at Taft.
Gone from that group is Bryce Jones, who graduated and is contributing at USC. Gone too is DeAndre Daniels, who transferred to IMG Academy in Florida. Without the tandem, there were questions about whether Taft was going to be able to fill the void.
Blackwell, of course, has been the answer.
The 6-foot-5, 225-pound wing is averaging 16 points, 11 rebounds, four assists and two steals and that type of production has many knowledgeable observers picking the Toreadors as the front-runners to win a title this time.
"C.J. has been a huge addition for us, what we needed, a godsend,'' Taft coach Derrick Taylor said. "He's adjusted pretty well to things here at Taft. We have a nice group of kids and they welcomed him, I never thought that was going to be a problem. Now, he's just one of the fellas. They all hang out together and have a ball. It's a buddy-buddy thing.
"Thing about C.J. is, he's a versatile player with size. You don't find that kind of combination very often. He's a relentless rebounder, a tremendous passer and a big-time scorer. He's one of those matchup nightmare problems for anybody we play.''
Blackwell has developed quickly, to be sure. But it shouldn't come as major surprise considering his father, Cory Blackwell, was a standout player at Wisconsin during the early 1980s before a brief career in the NBA followed by a stint overseas.
The Seattle Supersonics selected the elder Blackwell in the second round of the 1984 NBA draft, the same year in which legendary names such as Hakeem Olajuwon, Michael Jordan and Charles Barkley were chosen well ahead of him.
"As a dad, you always want the best for your son, and I can say this with all honesty, he's doing things now that I never was able to do,'' Cory Blackwell said. "I guess you can say that he has it in his genes, but I think he's going to be better than I ever was.''
The younger Blackwell began to forge his identity at Suwanee Peach Ridge High in Georgia, where he was a three-year starter and emerged as a prospect.
He didn't play a major role for the Lions as a freshman but did receive his share of minutes. Things changed during his sophomore season when he took a big step forward and averaged 16 points and 12 rebounds. Not surprisingly, a breakout effort followed last year when Blackwell averaged 20 points and 12 rebounds as a junior.
Numerous college programs began inquiring -- so much so, he ended up heading back to the West Coast with several scholarship offers.
"C.J. is getting recruited heavily by a number of mid-major schools,'' Taylor said. "Honestly, I have talked to a couple of high-end coaches about him and they think he can sign with a program late and be a high-major type of prospect. We'll see what happens."
Auburn, Florida State, Virginia Tech, Wichita State and Wisconsin are among Blackwell's many potential suitors. However, it appears as if he is in no hurry to make a decision. The plan is to keep his options open.
"Without a doubt, C.J. is talented enough to do some big things at the next level, and perhaps beyond,'' said Taft assistant coach Demetrius Calip, who is more than qualified to make such a statement given the fact he helped Michigan win a national championship in 1989 before getting a shot with the Lakers in the early 1990s.
"I tell you this," Calip said. "C.J. has the potential to blow up on the national recruiting scene, and being here at Taft, with added exposure, just watch, sky is the limit.
"He does it all. He can play with his back to the basket, stroke it from the outside, dish the ball to the open man, grab boards and play good solid defense. There's a lot to like about his game. He's an automatic double-double who continues to develop. As coaches, that's all you can ask of a player.
"In my estimation, he's the piece of the puzzle that we were missing, I think he's going to get us over the hump.''
It wasn't as if the cupboard was bare before Blackwell decided to come back to Southern California. The Toreadors had plenty of options, most notably senior point guard Spencer Dinwiddie, who is heading to Colorado. Fellow upperclassman Kevin Johnson is a good prospect in his own right and several schools have been in contact with 6-10 big man.
Nevertheless, Blackwell has managed to make an immediate impact. For example, in a game with all-important San Fernando Valley bragging rights at stake this past weekend, he scored 12 points and added nine rebounds to guide Taft to a 69-55 victory over perennial Southern Section playoff contender North Hollywood Harvard-Westlake.
Moving forward, Blackwell and Co. figure to turn their attention toward this week's Christmas Classic in San Luis Obispo, annually one of the more competitive showcases. Taft (5-0 overall) plays San Marcos Mission Hills on Friday.
Beyond that, West Valley League play looms large for the Toreadors and begins in mid-January. The ultimate goal is to be playing well when postseason play rolls around in March. And with Blackwell in town, things are heading in the right direction.
"My job is to take care of things that I can take care of and everything else will hopefully fall into place, I've learned that's how things usually work in life," Blackwell said. "I'm in a good place right now, I can't complain, it's good to be back in Los Angeles.''