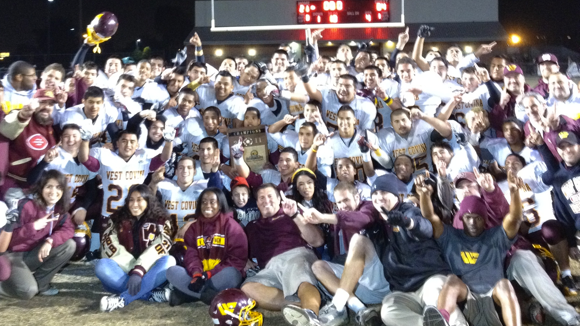 Pedro Moura/ESPNLA.com
West Covina celebrates its second consecutive CIF-SS Southeast Division championship, which came Friday in a dominating 84-21 win over La Serna.
WHITTIER -- Thursday night, roughly 24 hours before Friday's CIF Southern Section Southeast Division title game between favored West Covina and upstart La Serna, West Covina star running back Chris Solomon and his father went to a local shop to get a custom hat designed and made.
West Covina, it read on the front. 2010-2011 back-to-back to champs.
His number -- 20 -- was on the right side and 'Solomon' was written on the back. Solomon, a senior being recruited by the likes of Arizona State and Arizona, was the only player to have one, but he told all his teammates during pregame drills that his plan was to run over to his dad in the stands at the final whistle and wear the hat throughout the postgame celebrations -- just like the professionals do.
It was that kind of championship game for West Covina. There wasn't even a thought that they could lose Friday's game against La Serna. And the Bulldogs didn't come close, pulling off a monstrous 84-21 win at California High to finish off a championship run in which they were never challenged in the playoffs.
"Thank God we won," Solomon said afterward, laughing. "And I'm glad I'm wearing this hat."
As his coach, Mike Maggiore, talked to the team afterward in an emotional final huddle for the 2011 squad, Solomon kept taking off the hat, looking at it, and putting it back on again. It was as if he was slowly realizing that his goal for the past 12 months had just been met -- forcefully and in incredible fashion.
"We knew we were going to dominate," Solomon said. "But we didn't know we were going to dominate like this."
Truthfully, the Bulldogs (13-1) dominated to levels never before seen, breaking the all-time record for points scored and margin of victory in a CIF final. La Serna (10-4), making their first CIF title appearance in 44 years, didn't have a chance after the first half, when they trailed, 49-7. But Lancers coach Margarito Beltran refused a running clock until the fourth quarter, and West Covina kept piling it on.
Solomon finished with two rushing touchdowns and a passing touchdown on a 67-yard designed halfback-throw to Lonzell Barnett in the first half. Jimmy Frazier, the Bulldogs' other 1,000-yard rusher, added two rushing touchdowns and another score on a kickoff return. Fullback Aaron Salgado added two more touchdowns, including a rumbling 47-yarder in the second half.
Senior quarterback Chris Caballero attempted only two passes, completing one.
West Covina had 70 points by the end of the third quarter and could have potentially pushed 100 had there not been a running clock. But 80 points was the goal all along, set by Maggiore in warmups and emphasized by the assistants on the sidelines all game long.
And when the Bulldogs walked into the locker room at the half already with 49 points to their name, Maggiore mentioned that they didn't even have to match their first-half output to complete the goal.
"We could've kept going," Frazier said.
La Serna opened up the second half fighting, attempting an onside kick and recovering it. Captain Craig Jones' two-yard run on the ensuing drive was the Lancers' second score of the game.
But it took West Covina just seconds to respond with Salgado's big run. The Bulldogs didn't let off the gas at any point in the game, even when the clock started running. Their final touchdown came on a trick play.
"We didn't want to just play half a game," Maggiore said. "We wanted to play a whole game."
West Covina lost only once in 2011, a 35-7 game to Loyola when both Solomon and Frazier were bothered by injuries. When the two were healthy, few teams could challenge the Bulldogs at all. They won their four playoff games by a combined 155 points.
Even with all that, Friday's title game represented what West Covina unanimously said was its best performance of the season. To quadruple an opponent's point total, the Bulldogs said, was another achievement unto itself.
"We wanted to play our best game last," Maggiore said. "And we did."