VIDEO By Tim Haddock
WOODLAND HILLS -- At first glance, Nick Conway appears to be your typical high school football player. Sure, he might be a bit undersized, at 5 feet 4 and 150 pounds, but not everyone at this level is blessed with a tremendous physical presence.
After spending a few minutes with Conway, you realize the junior from Woodland Hills Taft is anything but an average athlete. But he's also the first to say he feels no different from anyone else.
Conway is deaf. He was born that way. Don't call him hearing impaired either. He doesn't approve of such terminology. While some might perceive his condition as a handicap, he's perfectly fine with a noise-free existence. He has embraced it.
Completely comfortable in his own skin, Conway has learned to focus his efforts on using his other keen senses on the gridiron. Surprisingly enough, his resolve and determination is finally paying off. He worked his way into the starting lineup for the Toreadors earlier this season and has emerged as a mainstay on the defensive line.
"When a kid can play, you let him play, it's that simple. Deaf or not, Nick can play this game, his motor never stops, '' Taft coach Matt Kerstetter said, "Once we saw what he could do out there on the field, it was a no-brainer decision. We found a spot for him right away. There's something special about Nick.
"Let it be well known, we're not about giving anyone a free ride around here, that's not the way we do things at Taft. Nick is no charity case. He's worked extremely hard and proved himself. He's earned a job on this team.
"Put it this way, his story wouldn't be compelling if he was on the bench, standing around with a clipboard in his hands. Once that whistle blows, he's flying around. Really, he's a big inspiration. I wish more of our guys played with his type of intensity, we would be a much better program, I can tell you that much.''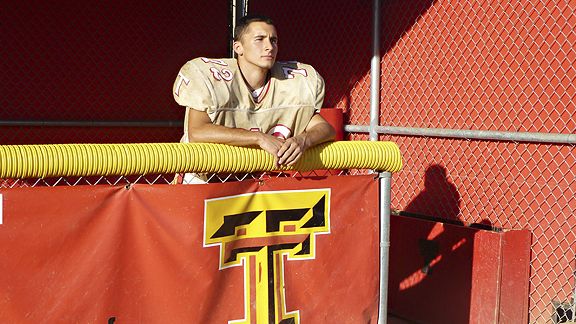 Sean Ceglinsky/Special to ESPNLA.com
Nick Conway may not have all the size in the world, but he more than makes up for it with his tenacious approach.
Unfortunately, Conway was forced to sit and watch last week's game against Reseda Cleveland from the because of a concussion suffered about three weeks ago. Rest assured, he wanted to play in the 42-7 victory that moved Taft (6-3, 3-0) one step closer to winning the West Valley League title. But paying attention to his doctor's orders was far more important in the grand scheme.
Conway is listed as questionable for Friday night's regular-season finale against visiting Granada Hills (4-5, 1-2). All signs point to him making progress from his recent injury, and if things go according to plan, he is expected to be back in uniform in time for postseason play in two weeks.
"Some people are hard of hearing. Me, I can't hear at all, but that doesn't make me any less of a football player,'' Conway said using sign language interpretered by Gina Campbell. "Football is my passion, it's a big part of my life. I can't imagine not being able to play the game I love. Nothing is going to stop me from doing what I want.
"I have got the same kind of helmet, the same chin strap, the same pads, all of the same equipment as everyone else. I'm a fighter, I want to show people what I've got. I'm ready for the contact, ready to sweat. I want my opponent to bring it on. I want him to show me what he's got. I'm not afraid, I'm a football player."
Campbell is one of three interpreters at Taft, the others being Laura Espinoza and Glenn Vigil. Each individual plays a prominent role over the course of a game, as well as during practices and the film studying sessions that take place in between. Their collective ability to keep the lines of communication open between Conway and the Toreadors coaching staff has been truly immeasurable.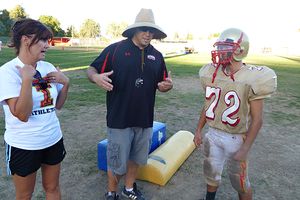 Sean Ceglinsky/Special to ESPNLA.com
Nick Conway watches as interpreter Gina Campbell relays instructions from Taft defensive coordinator Chris Rizzo.
Make no mistake, Conway is far from an outcast when it comes to the relationship he shares with everyone closely associated with the program. He fits in just fine. Building a bond with teammates has never been a problem, Antwaun Woods can vouch for that fact.
Most times, Conway lines up alongside Woods, one of the nation's premier players at his position. Woods, a senior, has committed to USC is as the fifth-best defensive tackle, according to ESPNU. Conway, on the other hand, is relatively unknown. Nevertheless, the two have a rare connection.
Perhaps it stems from the fact that Woods is one of the many Toreadors who have taken an American Sign Language course at Taft. And when the opposing quarterback calls an audible and changes the play just before the ball is snapped, Woods makes sure to alert Conway so he can make the proper adjustments.
"Nick is my boy,'' Woods said. "He looks out for me, I look out for him, he has my back, I have his back. We're teammates, we're down there in the trenches together. We have a brotherhood, it's one of those football player things.
"He works really hard, and it doesn't matter if it's a game or a practice, Nick is an animal. When you see someone giving 100 percent, 110 percent, all the time, it's hard not doing the same thing. Honestly, he inspires me. I think he inspires all of us. He lifts us up when we need it. I'm not sure where we'd be without him.''
In response, Conway was far less serious, preferring to keep the mood on the light side: "Antwaun is a big teddy bear,'' he joked around.
Conway is no stranger to the rigors of football. His parents, both of whom are also deaf, encouraged him to play when he was a youngster. Given the way Conway gravitated to the game and has excelled throughout the years, it actually turned out to be one of the best decisions the family has ever made.
As a freshman, Conway attended Granada Hills High. The situation, however, was not working out as well as he'd hoped. A change of scenery was in order and Conway transferred to Taft last year.
It didn't take him long to make an impression. Conway was named the captain of the junior varsity team as a sophomore. Shortly thereafter, he made his varsity debut for the Toreadors in the CIF City Section playoffs.
"Forget about Nick being deaf, we're talking about a kid that does all of the little things well, the things that don't always show up in the box score,'' Taft defensive coach Chris Rizzo said. "Believe it or not, he's a leader, all of our guys will tell you that. You can't measure what he does. Just because his name isn't in the newspaper all the time doesn't mean he isn't as important as the next guy on this team.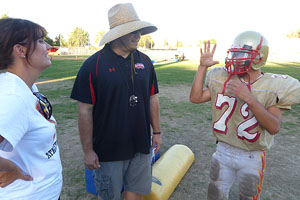 Sean Ceglinsky/Special to ESPNLA.com
Nick Conway uses sign language to communicate with Chris Rizzo, Taft's defensive coordinator, and interpreter Gina Campbell.
"When opponents first see Nick, they notice the size disadvantage. He's going up against dudes twice his size, some of them as big as 6-3 and 250 pounds, and he still beats them. Nick plays with a chip on his shoulder. He wants to be accepted, he wants to be one of the guys, a football player, and he is in our book. You better believe he gets respect from the other team after games because he goes hard all the time.''
Based on his steady contributions on special teams and defense in the not so distant past, Conway was named the starting defensive end for the Toreadors this season. While he hasn't had nearly as many sacks or tackles such as someone like Woods, Conway has done little to disappoint Kerstetter & Co. thus far.
Perhaps Conway's real worth to the team extends beyond what he does once he sets foot in between the yard lines for the opening kickoff. For example, when his concussion-like symptoms lingered this past week, the coaching staff informed him there was no real need for him to attend practices.
Nevertheless, he showed up ready to work.
"I can't wait to get back out on the field, but I know I need to be careful and be cleared to play first,'' Conway said. "I miss being involved. I miss being out on the line and trying to read the quarterback's lips, although I can't hear what he's saying. I miss watching the center's fingers move just before he snaps the ball. I miss the visual aspect of things and trusting my instincts. I guess, I just miss football.''
Interestingly enough, Conway says a majority of his opponents have no idea that he is deaf. Perhaps the offensive lineman he faces on a weekly basis are under the impression he's one of those quiet types. An unassuming defensive end, someone who would rather let his play on the field do all the talking for him.
Little do they know. Or better said, if they only knew.
Regardless, Conway goes about his business.
"I hope I can inspire and encourage deaf people out there and let them know that if they have good people around them, just like I do, they can do whatever they want to in this lifetime,'' Conway said. "Being deaf hasn't held me back at all. I'll never give up, no matter what the situation is, I'm going to give it my all.''