Frank Mazzotta hasn't returned my phone calls, but my guess is it's so he won't have to be coy about whether Cody Clements will play Friday against No. 1 Servite as it takes on Mazzotta's No. 15 La Habra squad.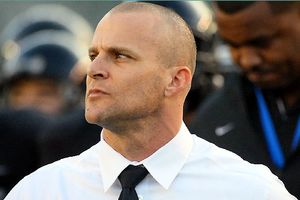 Courtesy of Laurence Martinez
Servite coach Troy Thomas says he hopes Cody Clements plays for La Habra on Friday.
Clements' right knee, which he had surgically repaired as a sophomore, was injured in the season opener against Orange Lutheran, and the dual-threat Washington State-bound quarterback has too bright a future to risk in a nonleague game against the most physical team the Highlanders (1-1) will play.
Naturally, it's to La Habra's benefit that Servite (2-0) not know whether Clements will be in or out of the lineup when the teams take the field Friday, 7:30 p.m., at Cerritos College.
"We hope he plays," said Troy Thomas, the Servite coach whose defense might be even better than it was a year ago when it won the Pac-5 and State Division II Bowl championship. "We want to play their best."
Even though Mazzotta has been able to keep Clements' status a secret, you can be sure of one thing: Servite is practicing as if Clements will play, and if he doesn't, it will be a tough night for Matt Yackey when he's not handing the ball off to Ahmad Avery and Drake Griffin -- which will probably be about 98 percent of the time.