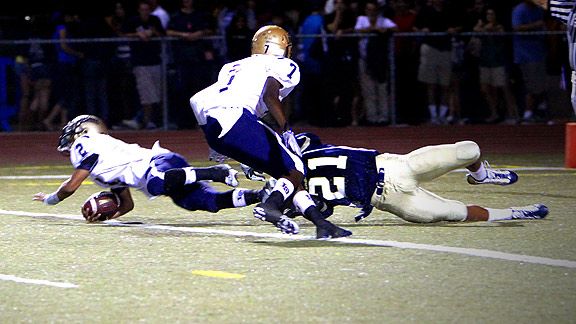 Courtesy of Charlene Bradley
Vista Murrieta sophomore linebacker Sua Cravens (21) takes down Los Osos quarterback Kori Grant for one of his six negative carries in a 30-7 victory by the Broncos.
1. The Big VIII League just finished demonstrating why it clearly has the strongest group of teams in the I.E. In the marquee game Friday night, Corona Centennial looked dominant – again – in a 45-12 victory against host Temecula Chaparral, the defending Southern Section Inland Division champion. Norco, ranked No. 4 in the same division, traveled to No. 3 Upland and easily won, 35-21. Riverside Poly defeated Perris Citrus Hill, ranked No. 8 in the Eastern Division, 32-22, and host Corona knocked off Palm Springs, ranked No. 1 in the Central Division, 35-14. The loss by Palm Springs, which ended an 11-game winning streak, was the most unexpected of the bunch. "They were faster than us, they were quicker than us and they were stronger than us," Palm Springs coach Steve Fabian told The Desert Sun. "But we made up for it by not tackling."
2. Corona Centennial and Vista Murrieta came into the season with experienced quarterbacks at the wheel of super-charged offenses. A note to future opponents: They can also play defense. Centennial has allowed just one offensive touchdown in each of its first three games, the last two against Mater Dei and Chaparral. Vista Murrieta has improved with each game, limiting Los Osos of Rancho Cucamonga to minus-2 yards rushing Friday night in a 30-7 victory. The Grizzlies scored their only touchdown on a 90-yard kickoff return and didn't cross the Broncos' 40-yard line until the fourth quarter.
3. The action was about as fast-paced as sap dripping down a pine tree, but Redlands East Valley isn't complaining about its 10-6 victory Friday night against Orange Lutheran at Orange Coast College. A year after defeating Orange Lutheran on a 48-yard run as time expired, the Wildcats scored their only touchdown on the opening drive of the second half, marching 80 yards in 13 plays and taking a 10-6 lead on an 18-yard touchdown run by Steffan Kirkland. REV later stopped Lutheran on downs midway through the fourth quarter and then ran out the remainder of the clock. This result is likely more reflective of Orange Lutheran's down year, a better barometer will be Friday night when REV plays Chino Hills at the University of Redlands.
4. The game isn't over until it's over, especially when the opponent is the Elsinore football team. A week after scoring three unanswered touchdowns in the fourth quarter of a come-from-behind victory against Pomona Diamond Ranch, the Tigers scored 16 straight points in the final minutes of a 23-17 victory Friday night against Temecula Valley, improving to 4-0 on the season. The final blow was a 28-yard touchdown pass from Elsinore quarterback Matthew Patten to running back Seth Middlemas with 28 seconds remaining.
5. Riverside Norte Vista didn't arrive at its game Friday night against Rialto Carter until about 30 minutes before the scheduled kickoff, according to the Riverside Press-Enterprise. Norte Vista coach Ken Batdorf told a reporter before the game that the bus driver got lost, leaving the Braves with a "built-in excuse" should they lose. Turns out, Carter scored on a 45-yard touchdown pass with 46 seconds remaining and won, 14-8. Must have been a quiet bus ride home.