MISSION VIEJO – It was a bolt out of the blue, but not totally unexpected. Not with this offense that averages 45 points per game. But it was a singular moment in third-ranked Mission Viejo's 42-14 victory over Redlands East Valley that showed, once again, just how dangerous the Diablos are. Doesn't matter if you're good, bad or indifferent, they are an equal-opportunity butt-kicker. They can strike from anywhere on the field.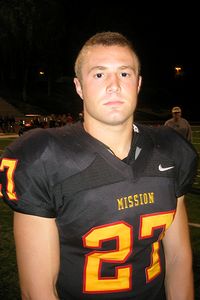 Martin Henderson/Special to ESPNLA.com
Mission Viejo's Dallas Kessman rushed 18 times for 153 yards and two touchdowns on his 18th birthday.
Which they did.
Right away.
Redlands East Valley (3-2) came into its game Friday ranked No. 6 in the Inland Division. The Wildcats are no pushover. REV was on defense first, and it held Dallas Kessman to no gain, then gave up a tough four yards. So far, so good. Then Alex Bridgford passed deep to Bryan Keller in stride – and 74 yards later Mission had a 7-0 lead.
Just like that, REV was in the hole.
Mission (6-0), the top-ranked team in the Southern Section Pac-5 Division, scored on three of its first four possessions. REV showed the kind of resilience most teams hope for against the Diablos, scoring on a 44-yard drive with some long runs by Jesse Riley that culminated in Austin Decoud's eight-yard score to tie, 7-7. So yeah, Mission was in a game.
But not for long.
With the same efficiency in which it scored quickly, Mission was just as efficient going 88 yards in nine plays. Not once was it forced to third down. Bridgford completed passes of 19 and eight yards, and Kessman had carries of four, five, 20, three, 19 and three yards -- the last for a touchdown.
On its next series, Mission drove 66 yards in eight plays. Again, the offense never faced a third down, and when Jahleel Pinner scored from the four-yard line, Mission had a 21-7 lead and a cushion that was insurmountable.
"They're methodical," said REV coach Kurt Bruich. "They can hurt you in so many ways, it's tough to deal with. And if you blow a coverage or make a mistake, they're scoring."
Kessman had 18 carries for 153 yards and touchdowns of three and 37 yards on his 18th birthday. "We're very diverse," he said. "Bridgford's a great quarterback, and you have me and Jahleel pounding it."
Bridgford completed 11 of 18 for 279 yards and three touchdowns, of 76 and 64 yards to Keller, and 28 to Frank Randall. Keller caught five passes for 180 yards.
"I liked that first quarter a lot and the way we scored," said Mission coach Bob Johnson. "We did it a lot of different ways."
And they did it a lot.
Again.