It was not an extraordinary effort by Newport Harbor on Thursday when the Sailors opened their season with a 17-6 nonleague victory at home against Trabuco Hills.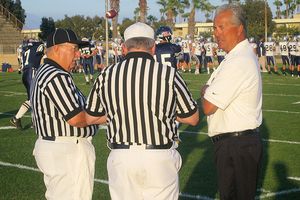 Martin Henderson/For ESPNLA.com
Jeff Brinkley, right, began his 25th season as coach of Newport Harbor on Thursday night.
However, Newport showed extraordinary timing.
It was a night of moments as the Sailors got their first-game jitters out of the way and beat a squad that last week had posted a shutout under first-year coach Scott Orloff.
What kinds of moments did the Sailors have?
Stunning moments. Like when Trabuco (1-1) lined up to kick a 36-yard field goal to take a six-point lead, only to have 6-foot-4 lineman J.B. Salem bust through the wall of blockers and block the ball, which bounced off the ground nicely and nestled easily into the grasp of Asa Lohr – who sprinted 73 yards for a touchdown to give Newport a 7-3 lead.
Stunning moments. Like when Trabuco's Oleg Parent kicked a 32-yard field goal with 33 seconds left in the half to make it a one-point game, 7-6, but Buzzy Yokoyama returned the kickoff 75 yards to the 20. Newport's Christian Ochoa kicked a 21-yard field goal as time expired for a 10-6 lead.
Stunning moments. Like when Trabuco was trying to come back in the fourth quarter of a game it could still win, but Steve Michaelson tipped a screen pass up in the air and Lucas Buckley caught the ball – at the 12-yard line. Three plays later, Austin Rios passed to Parker Norton for a six-yard score and a 17-6 lead with 4:47 left.
Couple those with a goal-line stand after Trabuco had first down at the four-yard line and had to settle for Parent's 28-yard field goal in the first quarter, and Yokoyama's 18 carries for 113 yards and it wasn't a bad way to begin a season.
Not perfect by any means, but not bad.
"The first half we had the great drive (from the 20 to the 28) to start the game, and then we played with our back to the wall," coach Jeff Brinkley said. "We never had great field position to open things up. Turned the ball over (at the Newport 32) – fumbled it in the backfield – did things that usually aren't characteristic of us. . . .
"Like I told my freshman coach – they won 7-6 – in two weeks nobody will even know the score. You're 1-0 right now. Just enjoy it."