It was supposed to be a matchup between two of ESPN Los Angeles.com's top football programs, but Friday night's showdown between Mission Viejo and Los Angeles Loyola turned out to be a one-sided affair as one team looked every bit the part, and the other, not so much.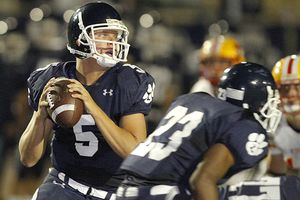 John Lazar/Special to ESPNLosAngeles.com
Loyola's QB Ryan Develle looks for a reciever in the first half of the varsity football game between Loyola and Mission Viejo played at L.A. Valley College on Friday, September 10, 2010.
Mission Viejo backed up its lofty No.3 ranking by dominating the No.15 Cubs from start to finish in a 42-7 victory at Valley College in Van Nuys. The effort was impressive, to be sure. Apparently, the Diablos wouldn't have had it any other way.
"We have a lot of pride and we wanted to come out here and make a big statement,'' said Mission Viejo senior Tre Madden, who is committed to USC. "We are for real, we proved that tonight and I think people will realize that when they see the final score of this game.''
All signs pointed to the Diablos (2-0) being disappointed with their 14-0 halftime lead given that they came out after intermission and promptly drove 80 yards in seven plays, with the drive capped on a 35-yard touchdown pass from Alex Bridgford to Ryan Keller. Before the Cubs (1-1) knew it, they trailed by three touchdowns midway through the third quarter.
Mission Viejo was just getting started too.
On their next possession, the Diablos were facing a third and short situation, but Dallas Kessman picked up 45 yards on a run to move the ball into Loyola territory. Immediately thereafter, Bridgford threw a 26-yard strike to Austin Reuland in the corner of the endzone for a touchdown to extend the advantage to 28-0 with 3:37 left in the third quarter.
Following a three and out by the Loyola offense, the Diablos took over and drove the ball downfield with relative ease. The nine-play, 65-yard drive ended on a Kessman 3-yard touchdown run on fourth down as Mission Viejo took a 35-0 lead with 10:30 left in the fourth quarter.
Just when the Cubs thought that things couldn't get any worse, they did.
Jerry Neuheisel, who was expected to start at quarterback for Loyola, made his first appearance of the game at the 10:25 mark of the fourth quarter. And unfortunately, the son of UCLA coach Rick Neuheisel, who was in attendance, threw an interception that Doug Ruggles returned 28 yards for a score to give the Diablos a 42-0 lead 8:27 remaining in the game.
The Cubs, Neuheisel in particular, saved face late in the game. The senior directed a 12-play, 80-yard drive which culminated on a 5-yard touchdown run by Jared Baker to make it 42-7 with 2:07 left in the fourth quarter.
"We don't worry about rankings and the hype all that much, but we do have tradition here at Mission Viejo, a legacy, and it was important for us to prove that we're still one of the best teams in Southern California,'' Bridgford said. "People might look at the score and think Loyola rolled over, but they didn't, they played tough the whole game.''
Looking at the final result, one might not have ever known as much.
Neither team scored in the first quarter, but Mission Viejo got to work quickly in the second quarter. Bridgford connected with Reuland on a 72-yard touchdown pass to give the Diablos a 7-0 lead at the 11:28 mark. Minutes later, Madden was underneath center running the wildcat offense, and following a well-designed fake handoff, he took off 79 yards for a score to extend the lead to 14-0 with just more than eight minutes left on the first half clock.
"Execution fuels emotion and once we got rolling, there was not stopping us,'' Madden said. "We did a lot of things well tonight. It was fun out there.''
The first big play of the game came on Mission Viejo's first play from scrimmage when Bridgford fumbled the snap and Loyola's Robert Jenkins recovered the ball at the Diablos 25-yard line early in the first quarter. And it appeared as if the Cubs were going to score following Ryan Develle's 17-yard pass play to Jack Neuheisel. The Diablos defense, however, rose to the challenge and ended up stopping Baker on fourth and goal from the one to thwart the drive.
On the ensuing possession, backed up on its own goal line, Mission Viejo didn't hesitate throwing the ball as Bridgford found Keller for 37 yards. A few plays later, the Diablos were in Loyola territory and the bad field position was a thing of the past. Unfortunately, the drive stalled when Bridgford failed to connect with Keller on fourth and five at the Cubs 33-yard line. In retrospect, it was one of the few times that Mission Viejo didn't capitalize on a scoring opportunity.
Bridgford completed 11-of-17 passes for 260 yards and three touchdowns. Madden finished with 90 yards on five rushes. Keller added four receptions for 94 yards.
Conrad Ukropina did his best to make things difficult for Mission Viejo throughout. The Cubs punter had kicks of 50 and 51 in the first half and a 55-yarder after the break.
Baker finished with 54 yards on 18 carries for Loyola.