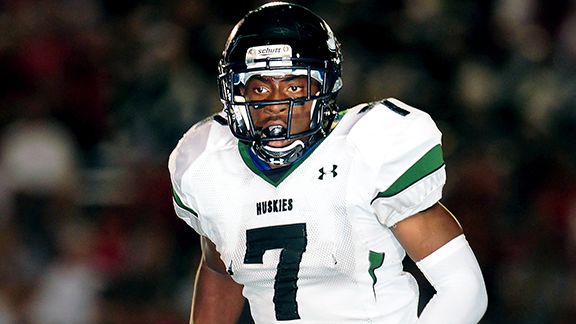 Courtesy of Lee Calkins
Ifo Ekpre-Olomu of Chino Hills, ESPN's No. 1 cornerback prospect in California, suffered a shoulder injury against Redlands East Valley last week.
1. A big sigh of relief at Chino Hills High, where two-way standout Ifo Ekpre-Olomu is expected to be back on the field when the Huskies travel to Claremont for their Sierra League opener Oct. 15. Ekpre-Olomu, rated as the No. 1 cornerback prospect in the state by ESPN, injured his right shoulder late in the third quarter of a 14-3 victory Friday night against Redlands East Valley and did not return. "Nothing's broke, just a sprain," Chino Hills coach Derek Bub said Monday. As a precaution, Ekpre-Olomu was scheduled to see a doctor later Monday, Bub said, but the possibility of any structural damage has been reduced. Ekpre-Olomu would be an especially big asset against Claremont, as the Wolfpack are led by one of the state's top quarterbacks, Daniel Kessler, who has thrown for 1,513 yards and 16 touchdowns this season.
2. Despite the return of its own blue-chip prospect, Fontana Summit suffered one of the bigger upsets of the season Friday night. The SkyHawks, the top-ranked team in the Southern Section Eastern Division, were downed by unranked Victorville Silverado, 20-18, at Fontana Miller High. Devon Blackmon of Summit, ranked by ESPN as the 36th best college prospect in the nation, missed the two previous games because of an ankle injury but was back on the field against the Hawks, catching five passes for 36 yards. Unfortunately, kicking is not in his skill set. The SkyHawks missed the point-after following their first two touchdowns, forcing them to try an unsuccessful two-point conversion with 90 seconds remaining.
3. Redlands cemented itself as the team to beat in the Citrus Belt League after knocking off previously unbeaten Rancho Cucamonga, 21-13, on Friday night. The Terriers fell behind, 13-0, on their home field, scored 21 unanswered points in the third quarter and continued to stiffen on defense down the stretch. San Diego State-bound lineman Jordan Smith had a key tackle-for-loss on third down, and an interception by defensive back Eric Llamas ended Rancho Cucamonga's final drive with just under a minute remaining. Redlands quarterback Mikey Stallone told the Redlands Daily Facts that the second-half dominance wasn't a fluke. "(Rancho Cucamonga) has some big guys," Stallone said. "I think they started to wear down in the second half."
4. It's a name that's resonated through the city limits before. Michael Darr of Corona Santiago continues to display the type of athleticism that made his father, the late Mike Darr, one of the greatest athletes to come out of Corona. The younger Darr had 367 total yards Friday night during a 40-33 victory against visiting Eastvale Roosevelt in a Big VIII League opener. Playing quarterback, Darr passed for 289 yards and a touchdown and rushed for 78. Over the summer, Darr transferred from Corona Centennial, where he was on the MaxPreps.com all-American freshman baseball team. His father was a three-sport star at Corona High and a promising 25-year-old outfielder for the San Diego Padres when he was killed in a spring training car accident in Arizona in 2002.
5. Just how good is Fontana Kaiser? The Cats rolled out to the low desert Friday night and then rolled over Palm Desert, 48-0, for their third consecutive shutout. Palm Desert came into the game ranked No. 2 in the Central Division, Kaiser was No. 2 in the Eastern Division. Either the Eastern Division is a whole lot better than the Central, or something was amiss in the rankings. Palm Desert doesn't even look like the second-best team in the Desert Valley League.