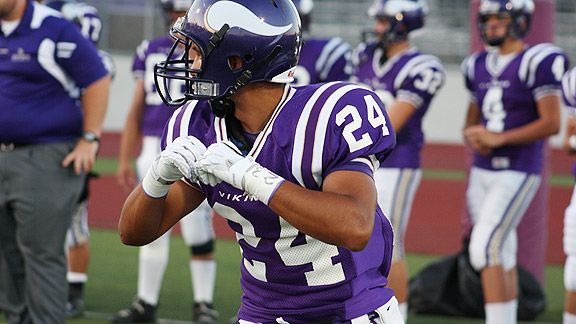 Tim Haddock/Special to ESPNLA.com
Valencia wide receiver Max Rodriguez, who sat out the first two games because of an injury, hopes to add another dimension to the offense.
1. It turned out to be a blowout weekend in the Marmonte League. Westlake shut out Royal, 52-0. Moorpark throttled Agoura, 37-7. Oaks Christian beat Calabasas, 47-6. Even what looked like the most evenly matched game, Thousand Oaks vs. Newbury Park, turned into a bit of a laugher. Thousand Oaks, behind back-up quarterback Jackson Lucht, beat Newbury Park, 35-14. Westlake, Moorpark and Oaks Christian each have 2-0 records after the second week of Marmonte League play. Thousand Oaks, St. Bonaventure, Royal and Simi Valley are each 1-1. Newbury Park, Agoura and Calabasas are each 0-2. And yes, Newbury Park is the best 0-2 team in the Marmonte League.
2. Crespi continues to impress. M. Ajani Shanks and Rhasheed Johnson each scored two touchdowns in their team's 52-6 win over Chula Vista. Quarterback Kenny Stenhouse didn't break any school records in this one, but was effective for 217 yards and two touchdowns. Crespi hasn't been beating up on cupcakes either. They beat Clovis West last week, 34-33. They take on Vista Murrieta, the seventh-ranked team in the ESPNLA.com poll, on Friday night.
3. Valencia running back Steven Manfro has 14 touchdowns in three games. He scored four against what was supposed to be a vaunted Palmdale defense in Valencia's 45-7 win. There's little question Valencia can run the ball and score points in bunches. What might be lost in the Manfro mania is the return of Max Rodriguez. The senior receiver caught two touchdown passes in the game against Palmdale. He missed the first two games of the season because of a leg injury. If he and quarterback Alex Bishop find any chemistry, it will make the Valencia offense all that more difficult to stop, or at the very least, slow down.
4. Chaminade won its third game in a row and is undefeated due mainly to the play of running back Tru Jarvis. He scored four touchdowns and rushed for 195 yards on 12 carries in his team's decisive 42-13 win over Fairfax. He has rushed for 423 yards and 10 touchdowns in three games. That comes out to an even 141 rushing yards per game. Chaminade goes up against a 1-2 Mira Costa team next.
5. The Harvard-Westlake girls' volleyball team won the Durango volleyball tournament in Las Vegas. Harvard-Westlake won seven matches in a row including sweeping La Costa Canyon, 25-17, 25-13, in the championship match. Dani Salka earned most valuable player honors at the tournament for Harvard-Westlake. Christina Higgins, Anne Cohen and Mileva Popovic earned spots on the all-tournament team. Harvard-Westlake is undefeated at 9-0.