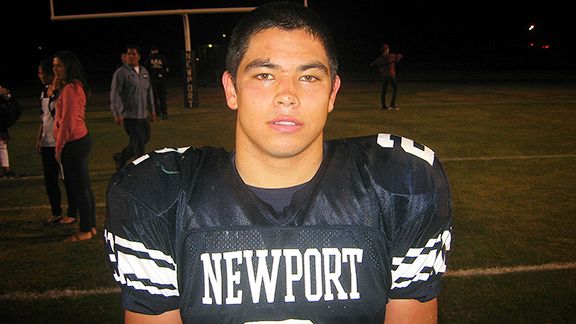 Martin Henderson/Special to ESPNLA.com
Newport Harbor's Buzzy Yokoyama suffered a knee injury last week against San Clemente.
Some observations from the fifth weekend of high school sports in Orange County:
1. The most distressing news of the weekend had to be the knee injury to Buzzy Yokoyama, who moved from receiver to running back at Newport Harbor and looked like one of the best in Orange County. He was the county's second-leading rusher going into the game against San Clemente, but he suffered a knee injury in the second quarter with the score tied at 7-7. He was replaced by Drew Diller, who scored twice, in the 21-20 overtime loss; Diller was stopped on a two-point conversion attempt for the victory.
2. It took a career turn, but Jason Negro finally beat La Habra. The former Trabuco Hills coach, whoe team was beaten by the Highlanders in the semifinals in 2008 and the championship in 2009, finally scored a victory over his nemesis, 35-17, while wearing the blue of St. John Bosco (4-1). After his team's victory, Negro made a guarantee – that La Habra (2-3) would be in the Southern Division finals. That wouldn't surprise me at all.
3. There had been whispers at the beginning of the season that El Toro (2-3) might be on the cusp of being a top 10 team. Well, the Chargers made their case on Friday with the biggest surprise of the night, a 23-14 upset of Dana Hills (2-3), which was ranked No. 4 in OC. Much of the credit had to go to kicker Wes Harris, who not only kicked three field goals, including a 51-yarder, but also had a 21-yard run on a fake punt that kept alive a drive that ended with another three points. It was good to see Harris spread the love: "I owe a lot to my holder, Ryan Lewis – I couldn't do it without him." Give Harris high marks for recognizing the guys who often go unnoticed, but wouldn't it be great to hear someone thank the long snapper? Bonus kudos: Sophomore quarterback Conner Manning, making his second start, completed a 41-yard TD pass to Cody White, and Nico Jackson carried 28 times for 192 yards and a touchdown.
4. Mitchell Simonsen scored three touchdowns in a span of 3:11, and finished with four touchdowns in the game, to lead Trabuco Hills to a 52-42 victory over Gahr. A junior, Simonsen scored on runs of 10, 23 and 75 yards to give the Mustangs a 21-0 lead. He also scored on a nine-yard carry, which helped offset Daniel Lopez's 542-yard passing night (with five touchdowns) for Gahr..
5. Gotta hand it to Aliso Niguel, which last week had its offense completely shut down. Taking on Marina, the Wolverines used a trick play on the first play of the game; quarterback Andrew Ossola bounced a backward pass to sure-handed receiver Drew Dimond – who then passed to Kyle Paris for a 62-yard score. The defense stopped once they saw the "incomplete" pass. It was a big play as Aliso scored a 21-13 victory.