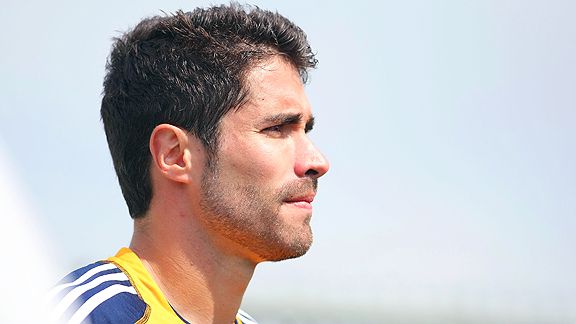 Victor Decolongon/Getty Images
The arrival of striker Juan Pablo Angel has helped place the Galaxy's front line among the league's best.
When it became clear last fall Edson Buddle -- the Galaxy's only consistent forward and (arguably) best player during last year's Supporters' Shield run -- wasn't coming back, the reaction was swift.
The result: By losing their only credible front-liner, the Galaxy, who open MLS's 16th season Tuesday night at Seattle, built a superior attack and established themselves as MLS Cup title favorites. Or, at least, one of them.
The arrival of Colombian striker Juan Pablo Angel, who remains a first-class goal scorer at 35, plus three more intriguing forwards -- and the improved health of a returning starter -- has placed the Galaxy's front line, in 2010 a weakness obscured by Buddle's proficiency, among the league's best. Maybe not Colorado or Real Salt Lake quality, but, on second thought, perhaps so.
"We're deeper up front than we were last year," said Landon Donovan, who will again be stationed primarily on the left flank, with occasional assignments up top. "We were overly dependent on Edson last year, and, thankfully, he didn't get hurt seriously at some point or we would have had some real problems."
Buddle scored 18 goals, including playoffs -- half of them in the first seven games -- to win a role at the World Cup and lead the Golden Boot race until the season's final week. He finished second in league MVP balloting, then took off for Germany, signing with second-division stragglers FC Ingolstadt for considerably more cash.
Enter Angel, who scored 61 goals in four seasons for the New York Red Bulls after scoring consistently for Atletico Nacional, River Plate and Aston Villa. He might be the best pure striker ever to play in the league, was no longer in New York's plans, and already had a relationship with Galaxy coach Bruce Arena, who during his tenure as Red Bulls coach brought the Colombian star to MLS.
'EASIER THAN NORMAL': L.A. won his rights in December's re-entry draft and signed him to a Designated Player contract just before preseason camp opened in January.
"It was a little easier than it normally would be because New York chose not to keep him," Arena said. "Our ownership wants us to put the best product we can on the field, and they supported my decision to bring him here."
The prospect of Angel finishing crosses from David Beckham and feeds from Donovan is enticing.
"Sometimes forwards have a certain way of scoring," Donovan said, "but he scored goals where a ball drops loose in the box and he pounces on it, he makes a good run in front, he can score with his head or both feet, he can score from distance, he's good at taking free kicks.
"He's got it all from that standpoint, and he has something in him that drives him to get to the ball and put the ball in the net. And that's something that's inexplicable. You don't know that is, but he's got that in him."
Arena also made trades to acquire Chad Barrett from Toronto FC, Adam Cristman from D.C. United and Argentine youngster Miguel Lopez on loan from Quilmes in Argentina's top league while dealing Van Nuys-bred prospect Tristan Bowen, now 20, to Chivas USA.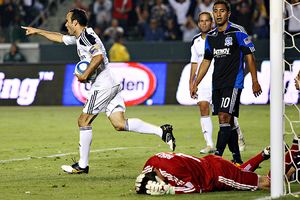 Victor Decolongon/Getty Images
Landon Donovan spends less time up front and more in midfield, where more of his talents can be of pivotal use.
Barrett and Cristman are big, physical finishers who haven't always finished. Barrett, 25, a UCLA alum who has scored 30 goals in six MLS seasons -- never more than seven in one campaign -- has a reputation for missing shots he should put away. Injuries whittled away 26-year-old Cristman's productivity the past two years after he scored 10 goals in his first two seasons.
Barrett will get first shot at establishing himself as Angel's partner. Lopez, 22, who provides a skillful alternative, will get his chances. So will Cristman and veteran Mike Magee, 26, who struggled with hernia problems last season and was just finding his form when the playoffs began.
Teen phenom Jack McBean, signed as a Corona del Mar High School sophomore, is about the future. He'll likely not see first-team time, except perhaps during the U.S. Open Cup.
'GUYS YOU DON'T WANT TO PLAY AGAINST': Galaxy defenders have good things to say about Barrett and Cristman.
"Adam holds the ball up well, and Chad's always moving off the ball, always kind of running, making it difficult on you and being a pest," said Todd Dunivant. "Those guys, they're battlers, and they're workers, and they're guys you don't want to play against."
"I feel sorry for some of the other teams' back fours," Frankie Hejduk said. "Juan Pablo -- obviously, his résumé speaks for itself. He's a goal scorer and knows the game incredibly. Adam and Chad are two workhorses that are kind of my type of player. They're going to work their butts off and grind for every ball and slide-tackle defenders, and I'm looking forward to seeing some pretty cool yellow cards [assessed to defenders trying to play against] those guys this year."
Primary responsibility for scoring will be Angel's.
"Yeah, of course [I welcome that]," Angel said. "Everywhere I've been, I've had the responsibility to score goals, but you win or lose as a team. It doesn't happen that only one player has the responsibility to score goals. I know my responsibility on the team. I know what I am capable to do, what I need to do to help the team out."
L.A.'s options at forward:
THE MAN
Juan Pablo Angel: Colombian striker, 35, has scored everywhere he's played, will shoulder the greatest responsibility for putting the ball in the net.
THE GREAT ONE
Landon Donovan: He led MLS with 20 goals in 2008, when the Galaxy didn't make the playoffs, and was league MVP in 2009, when L.A. got to the MLS Cup title game. Now, as with the national team, he spends less time up front and more in midfield, where more of his talents can be of pivotal use.
GRITTY WARRIORS
Chad Barrett and Adam Cristman: Barrett, 25, and Cristman, 26, are big, energetic forwards whose importance can't be measured solely by production -- the havoc they can cause leads to chances for others. Barrett's goal is to score in double digits (he ought to accomplish this every year), Cristman showed a knack for finishing during preseason.
COMEBACK KID?
Mike Magee: The former U.S. youth national-teamer, 26, scored seven of his 28 career goals as a rookie with New York in 2003. A decent second forward when healthy, he managed just one goal and one assist in an injury-marred 2010 campaign.
THE SKILLED ONE
Miguel Lopez: The dynamic Argentine forward, 22, loves to take on defenders one-on-one. He can also play underneath the front-runners or on the wings.
THE PHENOM
Jack McBean: Newport Beach youngster, just 16, will get his playing time in the Reserve League, with L.A.'s Academy teams and for the U.S. under-17 national team, which has a World Cup coming in June.
OTHER OPTIONS
Bryan Jordan and Jovan Kirovski: Jordan, 25, from Temple City, can play virtually anywhere, including forward. Kirovski, who will be 35 Friday, has spent most of his career (from youth days at Manchester United to Champions League triumph with Borussia Dortmund to stints in Portugal and England to seven seasons in MLS) as a withdrawn forward, but his primary role for L.A. will be as cover in central midfield.