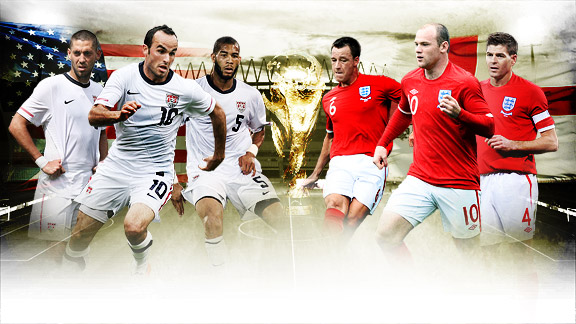 ESPN.com Illustration
When the U.S. plays England on Saturday, it will be one of the most anticipated matches of the tournament.
GROUP B: SOUTH KOREA VS. GREECE
When: 4:30 a.m. PT. Where: Nelson Mandela Bay Stadium (Port Elizabeth)
TV: ESPN, ESPN Deportes and Univision (KMEX/Channel 34), 4:30 a.m.; ESPN Classic, delayed, 3 p.m.
Players to watch: Park Ji Sung is a legitimate star, capable of doing just about anything, and that's what the Koreans expect from him. Greece will rely heavily on midfielder leader Georgios Karagounas to reduce Park's effectiveness and on Teofanis Gekas to provide offense.
The scoop: A meeting of opposites in one of the most crucial games of the first stage: The winner likely is taking a big step toward the knockout phase, and the loser is all but finished. A draw helps neither. The Koreans are a quick, skilled, dynamic group who can mesmerize when their on their game; they've usually found the World Cup a level beyond them. The Taegeuk Warriors have won only once on the big stage outside Korea, beating embattled Togo four years ago. Greece won the 2004 European Championship, impressing only with their grit and tenacity, and its greatest achievement since is qualifying for this World Cup. To Piratiko ("The Pirate Ship") is all about defensive organization and suffocating opposing attacks, but German coach "King Otto" Rehhagel has the best collection of attacking talent the nation has known.
History: South Korea has advanced from the first stage only once in seven World Cup appearances, at home in 2002. Greece was outscored, 10-0, with three losses in its only World Cup, back in 1994.
Prediction: South Korea 1, Greece 0
GROUP B: ARGENTINA VS. NIGERIA
When: 7 a.m. PT. Where: Ellis Park/Coca-Cola Park (Johannesburg)
TV: ESPN, ESPN Deportes and Univision (KMEX/Channel 34), 7 a.m.; ESPN Classic, delayed, 5 p.m.
Players to watch: Lionel Messi -- and you'll get no argument from anyone anywhere -- is the most thrilling player on the planet, and if he can approximate here what he does at Barcelona, Argentina has a real title shot. More important: Midfield general Javier Mascherano, the Albiceleste's captain and perhaps the world's top central midfielder. Nigeria needs the best of Obafemi Martins, who scores goals at a nice clip but is woefully inconsistent.
The scoop: There seem few doubts that Diego Maradona is nuts and plenty of doubt that he's a genius, at least off the field. So there's three possibilities for this Argentine team: Win in spite of him, lose because of him, or show that, yes, he's a real genius. The first option seems likeliest, at least for awhile: Argentina has so much more talent than everyone else in Group B, and it ought to get its third World Cup win over Nigeria in as many meetings (1994, 2002). Messi gets most of the attention, but there's several top-level strikers, with perhaps Diego Milito, the hero of Inter Milan's UEFA Champions League triumph, and Gonzalo Higuain, who scored 27 goals for Real Madrid, in the best form. Nigeria is reeling: John Obi Mikel's attempt to return from a knee injury failed at the end, and its most experienced defenders -- Joseph Yobo and Danny Shittu -- saw little action this season.
History: Brazil's Mario Zagallo and Germany's Franz Beckenbauer are the only men to win World Cups as both a player and coach. Argentina's Diego Maradona could become the third.
Prediction: Argentina 2, Nigeria 1
GROUP C: ENGLAND VS. UNITED STATES
When: 11:30 a.m. PT. Where: Royal Bafokeng Sports Palace (Phokeng, near Rustenburg)
TV: ABC (KABC/Channel 7), ESPN Deportes and Univision (KMEX/Channel 34), 11:30 a.m.; ESPN Classic, delayed, 7 p.m.; ESPN2, delayed, midnight.
Players to watch: Wayne Rooney might be the best finisher in the world, and it's all about attitude with him. Preventing service to him is vital, although it's hardly enough: Midfielders Steven Gerrard and Frank Lampard are accomplished scorers. Landon Donovan and Clint Dempsey are the big names for the Yanks, but their success probably will have more to do with goalkeeper Tim Howard, one of the best netminders in the English Premier League, and central defender Oguchi Onyewu, who apparently is ready to go 90 minutes for the first time since his October knee injury.
The scoop: No matchup in this World Cup has been more hyped than this one, and there seem plenty of parallels with the Americans' games in 1994 against Colombia and 2002 against Portugal. Both of those teams were considered strong contenders; both lost to the U.S. This England side is better than either of them, especially in attack, and if defense is (as it appears) the Yanks' biggest weakness, this could be really ugly. But they've always played better as underdogs, and they certainly believe they can compete with and even beat England. The big question marks for the U.S. concern the frontline (Jozy Altidore is a likely starter, despite a sore ankle; there are several options to partner him) and the backline (is everyone healthy? Can everyone avoid costly errors?), and the answers will largely determine how competitive this game will be.
History: England skipped the first three World Cups, finding the idea that somebody would question its supremacy most insulting. So when the Three Lions finally agreed to play in 1950, they headed to Brazil confident of returning home with the trophy. Their second opponent, on June 29 in Belo Horizonte, was a U.S. team made up of semiprofessionals and immigrants. The Americans' 1-0 triumph, on Haitian forward Joe Gaetjens' first-half goal, is the greatest upset in soccer history.
Note: Two, of many, viewing parties worth noting: The Galaxy will again be at the ESPN Zone at L.A. Live, with Cobi Jones on hand. And the American Outlaws supporters group's L.A. chapter will be watching at Capitol City on Cahuenga (between Sunset and Hollywood boulevards) in Hollywood.
Prediction: England 3, United States 1