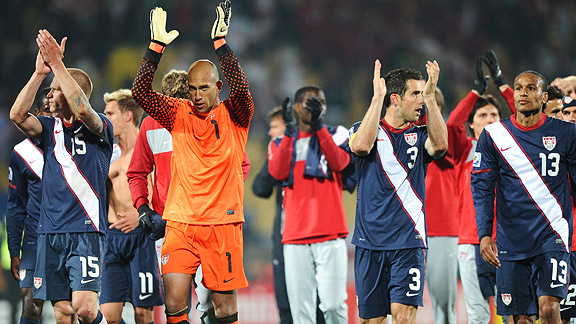 Jewel Samad/AFP/Getty Images
U.S. players acknowledge the fans in Rustenburg after playing to a 1-1 tie with England.
The United States played England today in the World Cup in one of the most anticipated matches in American history. We covered it live with instant analysis in what was a stirring event:
1:54 p.m.: That's it for today's live blog. Thanks for tuning in!
1:50 p.m.: What's next in Group C: Slovenia meets Algeria tomorrow in Polokwane. Slovenia is the favorite, but don't be surprised if it ends 0-0 or 1-1. The U.S. takes on Slovenia on Friday at Ellis Park in Johannesburg, then closes group play against Algeria on June 23 in Tshwane/Pretoria.
1:47 p.m.: The U.S. is 6-16-4 in nine World Cup appearances (1930, 1934, 1950, 1990, 1994, 1998, 2002, 2006, 2010). All four draws finished 1-1: Switzerland in 1994, South Korea in 2002, Italy in 2006 and now England.
1:44 p.m.: Trivia answer: 6. Belgium and Paraguay (both 3-0) in 1930, England (1-0) in 1950, Colombia (2-1) in 1994, Portugal (3-2) and Mexico (2-0) in 2002. The U.S. now is 1-0-1 against England in World Cup play.
1:41 p.m.: Trivia time. How many games has the U.S. won in the World Cup?
1:39 p.m.: Steve McManaman says he's worried for England, but you know they'll get through the group. But why do the English insist on overrating their team so vastly over and over again. They've been talking World Cup title, and, sorry, I just don't see it. I have England going out in the round of 16 to Serbia, which is my sleeper pick, but the expectation should be the quarterfinals, with the semis possible. But winning the title? Getting to the final? Ahead of Spain, Brazil, Holland, Germany and Argentina? I don't think so.
1:35 p.m.: Clint Dempsey on his goal: "It's one of those you see and say, 'How come that never happens to me? It's a shot the keeper should have made a save on, but hey, they all count the same."
1:33 p.m.: Robert Green had the biggest influence on this result. Onyewu started slowly -- what WAS he doing on Gerrard's fourth-minute goal -- but finished all right. Cherundolo was an inspired decision. I want to see Torres next to Bradley rather than Clark.
1:31 p.m.: How many U.S. fans are still calling for Bob Bradley's head? He outperformed Fabio Capello in two critical areas: choosing a starting XI (and sticking with it) and making responsible substitutions. I would have brought Gomez on in the 75th and perhaps Holden five minutes earlier than Bradley did. (Actually, I would have brought on Beasley, but no arguments with Holden.) Capello had spent two subs by halftime, and blame for that goes to his starting choices. And selecting Green didn't work at all, especially the manner in which it happened. Maybe it's a difficult choice because none of the English keepers are very good, but pick one as your No. 1 and instill confidence in him.
1:26 p.m.: Man of the match? It's Howard. Outstanding performance by the U.S. goalkeeper, in great contrast to his English counterpart, Robert Green. And the U.S., with a little more luck, wins this.
1:23 p.m.: And it's over, as the U.S. tries to waste time by subbing Herculez on for Dempsey. A 1-1 draw is a very good result.
1:23 p.m.: Whistle coming any second. U.S. is going to get a point, a very important point …
1:21 p.m.: We're halfway through four minutes of stoppage.
1:20 p.m.: Holden, too, plays in England, for Bolton. He's said he feels as if he's representing two countries, the U.S. and his native Scotland, which is rooting, as always, against the English. Holden was born in Aberdeen but moved to suburban Houston when he was 10.
1:17 p.m.: I've got to agree with John Harkes and Martin Tyler: Onyewu has done pretty well for a guy who's been out nine months. A few hiccups along the way, but all in all a decent showing.
1:15 p.m.: Stuart Holden for Altidore. Holden's a fine player, can attack, and will help on the wings. But if we want a chance to win this game, get Herculez Gomez onto the field.
1:14 p.m.: Five minutes plus stoppage. We'd all be really happy with a draw, right? Except for you Englishmen, of course.
1:13 p.m.: Onyewu recovered nicely there against Lampard after Rooney raced right by him.
1:12 p.m.: U.S. all-time record against England is 2-7-0. We've been outscored, 35-8. The Americans' 1950 stunner was the only World Cup meeting before today.
1:09 p.m.: England makes its final sub, bringing on 6-foot-7 Peter Crouch for Heskey. Very dangerous with all the crosses the Yanks are giving up.
1:08 p.m.: England is getting too many crosses into the box. We need to shut off the flanks. I wouldn't mind seeing Beasley in there.
1:06 p.m.: First U.S. sub is Buddle for Findley. Edson is one of the nicest guys in soccer, and what a year he's having. Can't be happy enough to see him in the game.
1:05 p.m.: Howard is Man of the Match. … U.S. defense needs to keep a closer eye on Rooney, or he'll get the winner.
1:03 p.m.: Findley deserved that yellow. … Who's the first U.S. sub? Gomez? It's about time. Maybe Torres, too.
1:01 p.m.: You can hear the English fans singing over the vuvuzelas in Rustenburg. … Would like to see that Carragher/Findley tussle again.
12:58 p.m.: They just showed the Altidore replay. Oh, my, that was close. Green didn't do so well with it, but the left post did its part.
12:55 p.m.: U.S. up a man as Johnson leaves to deal with a bloodied lip.
12:54 p.m.: Altidore nearly gives the U.S. the lead.
12:52 p.m.: England is moving the ball too easily.
12:50 p.m.: Brussels, last add: My ancestry is Italian and French, and I've got some olive coloring. You wouldn't mistake me for a Swede or an Englishmen or for a German, know what I mean? "Are you Turkish?" they asked. "No," I answered. "Do I look Turkish." "Well, you ain't white, are ya?" … Uh, well, I explained, my ancestry is Mediterranean, but I'm an American. And with that, their smiles broadened, their voices lightened, and they told me how much they loved Denver.
12:45 p.m.: Brussels, Part 4: About 20 minutes into my meal, two men, both shaven-headed and covered in tattoos, sat down at the table right below me. They had Cockney accents, took no notice of me. As I finished, I asked them what had happened at the Grand Place. There is a very large Turkish community in Brussels -- in all of Belgium, throughout Western Europe -- and this wasn't long after an English fan had been killed while his club, which escapes me at the moment, was in Istanbul for a UEFA Champions League match. There were tensions between the English and the Turks. My dinner neighbors' retort: "It was the Turks' fault. … Are you Turkish?"
12:42 p.m.: Nice stop by Howard on Heskey, but the U.S. defense has not instilled much confidence. Rooney hasn't been much of an issue, mostly DeMerit's work, it seems, but paths into the U.S. box are too easily found. Thank God for Tim.
12:40 p.m.: Brussels, Part 3: Off to the side of the Grand Place is a winding, hilly, cobblestone path lined with nice restaurants. At the bottom of the hill, nearest to the Grand Place entrance, the restaurants were all closed, and the chairs and tables they would have outdoor for al fresco dining were lined up inside against the windows. As I looked more closely, I saw there were still patrons in the restaurants. I continued up the hill, and the farther I went, the more things looked normal. I sat down in a Chinese restaurant for dinner. …
12:37 p.m.: Back to Brussels: I got to one of the entrances to the square, and sure enough the gendarmes had it closed off. I asked one what had happened, and he said there had been some trouble with a few drunken Englishmen. I walked around and at one point several policemen walked by with a lasso of sorts, and inside were seven or eight English men, handcuffed, on their way to jail. People on the sidewalk applauded as they went by …
12:34 p.m.: Carragher for King, and England has made two subs already. That's not good for them.
12:30 p.m.: Another story. I covered Euro 2000 in Holland and Belgium for Soccer America. One day I went to a game in Bruges with some Belgian journalists I had met. First time I ever Bruges, which was beautiful. I think the game was France-Czech Republic, but don't hold me to that. As we were driving home, my Belgian friends had the radio on. They started translating the report to me: English hooligans fighting in the city center, and the Grand Place -- one of the great open squares in Europe -- has been closed. My hotel was about three blocks from the Grand Place, so when they dropped me off, I decided to head out and investigate. …
12:25 p.m.: One of the oddest experiences was my trip to Lens for that game. To get to Lens from Paris, I had to change trains in Lille. En route to Lille, I was in a train car with an English family, very nice, rather proper. Suddenly four young, beer-swilling Englishmen joined us. They stood in one of the doorways to the car. They were drunk and loud -- the English family opposite me seemed embarrassed -- and finally one of them opened his fly and urinated on the floor. With that, the young men moved to the path in front of the other set of doors. As we got to Lille, one of them vomited all over the floor. When exiting the choice for the English family and me was walking through urine or vomit. We chose urine.
12:22 p.m.: The best atmosphere I've been in for a sporting result was when England played Colombia in Lens at the 1998 World Cup in France. The English supporters were amazing. There were dozens upon dozens of England flags (St. George's Cross) with the name of their clubs, they sang from start to finish -- it was so loud you couldn't speak to the person next to you. Too often English fans have been defined as hooligans, and although there's a nasty element that exists, I would rate England football fans as the greatest in the world.
12:19 p.m.: Halftime and it's 1-1. The U.S. certainly can't complain about that.
12:17 p.m.: Dempsey, who plays for Fulham in London, is one of four U.S. starters who make their livings in England. Jay DeMerit has been with Watford since 2004, although he's been released from his contract. Howard plays for Everton in Liverpool. Altidore has played for Hull City on loan from Spanish club Villarreal. And Donovan (Everton), Carlos Bocanegra (Fulham) and Oguchi Onyewu (Newcastle United, on loan from Belgium's Standard Liege) have played in England.
12:13 p.m.: They call England goalkeeper David James "Calamity James." What do we call Robert Green?
12:11 p.m.: 1-1! Goal USA!!! We knew England's goalkeeping was troubled, but wow! Green is the goat after that shot by Dempsey. All three U.S. goalkeepers are better than any of the English keepers. And we've got a few more not on the team that would start for England. … Howard shows the difference with his save on Johnson.
12:09 p.m.: Nice job by Landon to get that shot off, although I would liked to have seen more power. … And Cherundolo gets a yellow.
12:08 p.m.: Will the U.S. get a goal today? If so, who scores it?
12:06 p.m.: What kind of counterattack was that? Just the forwards? That's not going to work. Findley ran out of ideas at the top of the box, but facing four defenders alone will do that to you. England has much better shape and command of the space out there. I figured they would, but the disparity has been alarming.
12:04 p.m.: Wright-Phillips for Milner this quickly? Hmmm. Milner's been ill; maybe he's not feeling great out there. I don't make that sub just because he picked up a yellow card.
12:02 p.m.: Tim Howard looks OK, which is good for the U.S. -- he's so important to our success, and he got hit pretty hard by Heskey. Although backup keeper Marcus Hahnemann could do the job, too. Goalkeeping, as always, is among our strengths.
12 p.m.: I was among 11,000 or 12,000 early this morning at Staples Center for South Korea's 2-0 win over Greece. L.A. has a massive Korean community, and they're rabid about their team. Everyone was wearing red and they went wild for every chance and both goals. Then I went across the street to the ESPN Zone at L.A. Live for the Lionel Messi show in Argentina's 1-0 victory over Nigeria. Messi was, as we've become accustomed to, amazing. I did get a short nap near the end of the game, needed after just 3½ hours' sleep last night.
11:57 a.m.: I've seen two U.S.-England games in person. At least I think it's just two. In 1986 England routed the U.S., 5-0, at the L.A. Coliseum. A top pro side against amateurs. And I witnessed Tony Meola's masterpiece -- the greatest game by an American goalkeeper, better even than Kasey Keller's shutout of Brazil -- at Foxboro in 2003. A 2-0 U.S. win.
11:54 a.m.: I was anticipating being in the middle of an amazing atmosphere for this game, sitting at The Underground -- the pub formerly owned by George Best and known as Besties -- in Hermosa Beach and sneaking out periodically to check on the Galaxy's viewing party at the base of the Hermosa Pier, not much more than a block away. Instead I'm sitting in my home office, watching on my TV. Hermosa, if you're not familiar with it, is a tiny little beach town nestled behind Redondo Beach, which is a big city, relatively speaking. There's a ton of construction on the main road to the beach, Pier Avenue, and always a shortage of parking. Today there was zero parking, unless you arrived by 7 or 8 a.m. Two viewing parties and Hermosa is holding its Art Walk. My limit for searching was 40 minutes, then I gave up. There were a few hundred of us searching up and down the little streets for a spot. All the public lots were full. The only option was to park illegally or go elsewhere. I wasn't about to miss this game, so I headed home.
11:50 a.m.: Another reason Cherundolo is the best bet at right back. Aaron Lennon should have made it 2-0.
11:49 a.m.: Altidore should have done more with that cross from Donovan.
11:47 a.m.: Steven Gerrard has been terrific. His anticipation to score the goal was great, and he's been better defensively. What a tackle on Altidore a few minutes ago.
11:44 a.m.: Here's the U.S. lineup: Tim Howard in goal, Steve Cherundolo at right back (over Jonathan Spector), Jay DeMerit and Oguchi Onyewu in central defense, Carlos Bocanegra at right back, Michael Bradley and Ricardo Clark (over Jose Francisco Torres) in central midfield, Landon Donovan on the left flank and Clint Dempsey on the right (although they'll switch, pinch in and go forward as needed), Jozy Altidore and Robbie Findley up top. I like Cherundolo, would have preferred Torres, and Findley or Edson Buddle is a bit of a push. They offer different qualities, and I'm not going to argue Findley's selection.
11:40 a.m.: My prediction for this game was 3-1 England. I hope I'm wrong, but what we've seen so far doesn't alter my thoughts.
11:38 a.m.: Should Onyewu be starting? He's fully healthy, he and U.S. coach Bob Bradley say, but it's been nine months since he's played a full game. The rule of thumb is that it takes as long as your absence to restore your touch, game fitness and form once you've returned.
11:35 a.m.: This isn't good, unless you're an England fan. The big concern with the U.S. is the backline, and a few quick passes easily unlocked it, with Emile Heskey feeding Steven Gerrard for a goal after just 3 minutes, 33 seconds. ENGLAND 1-0
11:34 a.m.: Findley is the biggest surprise in the U.S. lineup, except that he isn't. The Real Salt Lake forward wasn't having a particularly good start to the Major League Soccer season, but his speed was telling in the friendlies against Turkey and Australia. He should've had two or three goals against the Aussies, but failing to finish wasn't enough to cost him the spot next to Jozy Altidore. His ability to stretch defenses is just too important.
11:28 a.m.: The U.S. national anthem gives us our first real good look at the U.S. starters. What's going through Robbie Findley's mind? His head bowed, an intensity in his face -- this has to be the one of the greatest, if not the greatest, moments of his life.