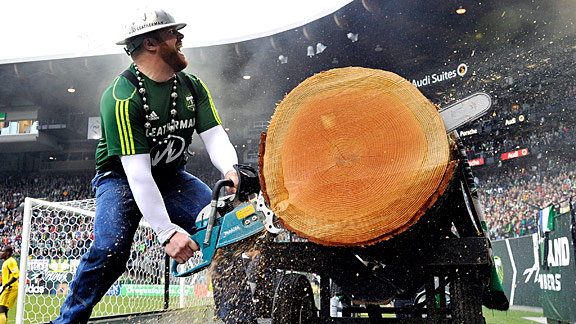 Steve Dykes/Getty Images
"Timber Joey," the Portland Timbers' mascot, cuts a log slab after the Timbers scored against D.C. United at Jeld-Wen Field on May 29.
PORTLAND, Ore. -- David Beckham has done and seen plenty on soccer fields across the globe, but he's never seen anything like this. Except on TV.
The passion and intensity of the Portland Timbers' following might remind him of what it was like playing in England, Spain and Italy, but nobody in any venue he's been to was carrying around a chainsaw.
"That's one," he says, "I've never seen before."
The Galaxy (12-2-9) step into Major League Soccer's hottest cauldron Wednesday night with their first visit to intimate Jeld-Wen Field, where the expansion Timbers (6-10-4) can count on perhaps the most loyal fans in the league -- certainly on par with those in Seattle and Toronto.
The atmosphere whipped up by the Timbers Army, the club's primary fan group, will be insane, and then there's that guy on the field with that chainsaw and a big lump of wood -- ready to slice off slabs to celebrate Portland goals and victories.
"This is what you want to play in front of," Beckham said. "You want to play in front of fans like this that are passionate about the sport, about the game and their own team -- and, hopefully, it'll give us an extra lift."
The Galaxy feeds off the intensity of opposing crowds, like those, especially, in all three Pacific Northwest venues, in Toronto and in Philadelphia.
"We use it as an advantage, having a crowd that's fired up," Landon Donovan said. "We use the energy in a good way."
The addition of these teams, especially in the Pacific Northwest, has brought a different flavor to America's top soccer league, new traditions and demographics -- and it's not something new up here. The Timbers date to 1975, in the old North American Soccer League, and the current franchise was restored a decade ago, plying its trade before the Timbers Army in second-tier leagues before arriving in MLS with a distinct culture, built-in rivalries (none more heated than that with the Seattle Sounders) and the backing of a city that has little in the way of big-time pro sports.
Every match is sold out, the waiting list for season tickets is around 2,000, and there's a buzz throughout the city about the club, even if it has yet to stake a place among the league's top teams -- or even its second-tier clubs. Timbers long-timers say some fans will gather on the ground of the old Civic Stadium hours before the match to prepare for the night's festivities.
The cultural shift, not just in Portland but in nearly all of the recent expansion cities, is changing the league in profound ways.
"You get a different demographic," says Galaxy left back Todd Dunivant, who played here against the Timbers when they were in the A-League, as the U.S. second division was once known. "I think you see that stadiums that are downtown and in urban areas are going to draw well, and they get [a different age] demographic where people are coming to games, they're loud, they're raucous, they're spending all day in the parking lot drinking, they're coming out and making nose for their team. ... It's a little different that some of the other demographics [in the league] where you're looking for families and youth soccer players, and you're not going to get quite the same passion.
"It's a tough ticket to get, a hip ticket to get. You saw that in Toronto, you see it in Seattle now. The whole town talks about it. That's what you want."
What impressed Dunivant most when he played in Portland was the Timbers Army.
"They're always loud, always going crazy," he said. "They're screaming at you when you get off the bus. You know you're in a hostile place. ... Those are the games you want to play in. That's how the level's going to be raised throughout the league. If you have fans seeing this, it forces everyone else to kind of step up their game a little bit."
And then there's the guy with the chainsaw. Timber Joey, dressed like a lumberjack, is a institution in Portland after taking over for Timber Jim, the retired mascot, who is honored with a banner hanging from the stadium rafters. Joey will rev his saw on occasion, but the woodcutting begins only when the Timbers tally -- goalscorers are rewarded with a slab of wood after the match -- or win.
"It's tradition, goes back a long way," Dunivant says. And, thankfully, Joey's no psychopath. "I figured he was a nice, tough guy. Has a plaid shirt on, does his thing.
"Hopefully, we don't hear any chainsaws."
WORTH NOTING: One more win or draw and the Galaxy will extend its unbeaten streak to a club-record 15 games, a mark previously reached in 1997-98 and 2009-10. ... L.A. routed Portland, 3-0, at Home Depot Center in the clubs' initial meeting, back on April 23, with Chad Barrett and Donovan scoring in the first seven minutes and Donovan adding another in the second half. ... Beckham and Chris Birchall return from suspension. ... Powell's Books just east of the stadium -- maybe the greatest bookstore on the planet -- has eight Beckham titles in its soccer section. ... Juninho remains one yellow card from a one-game suspension. ... UCLA's Sal Zizzo and English forward Eddie Johnson are expected to be in Portland's lineup.
MISSING: Donovan Ricketts (broken arm) and central defenders Leonardo and Sean Alvarado (both torn ACLs) remain out. ... Beckham (fractured spine), and Barrett and Jovan Kirovski (both sprained ankles) are questionable, but Beckham will play. Defender Omar Gonzalez (fractured nose), who has played in L.A.'s last two games, is probable.
THE OPPONENT
PORTLAND TIMBERS
Head coach
Scotsman John Spencer, a forward for 15 years in Britain, Hong Kong and MLS, is in his first head-coaching job after serving as Dominic Kinnear's top assistant with the Houston Dynamo for 4½ seasons. The Rangers FC product toiled for Chelsea and Everton (and others) in England and Scotland, then wrapped up his playing career with four fine seasons (and two MLS Best XI awards) with the Colorado Rapids.
Three key players
Captain Jack Jewsbury, acquired during preseason from Sporting Kansas City, provides the midfield foundation for the Timbers, is adept on both sides of the ball. A fan favorite, he was voted onto MLS's All-Star First XI.

Rookie attacking midfielder Darlington Nagbe has "star" written all over him, but injuries have slowed down the former University of Akron All-American. As he finds fitness and his form, he adds dimensions to Portland's attack.

Veteran goalkeeper Troy Perkins, a former D.C. United star who spent a couple of years in Norway, provides a needed foundation at the back of an iffy defense. Without him, things are far worse.
Current form/prospects
The Timbers have gone through, and continue to go through, the typical travails of expansion clubs, with some very fine moments overshadowed by collapses at the end of games. They've surrendered a league-worst 10 goals in the final 15 minutes of games, are ready to jettison their first big name (forward Kenny Cooper), and Spencer is still searching for workable combinations. Even their home form has dipped: After winning their first five at Jeld-Wen, they're 0-4-2 in front of the home fans since May 21 -- and have won just once in their last 10 league games anywhere.
Local connections
Zizzo played at UCLA and was with Chivas USA last season after returning home from Europe. ... Rookie forward Spencer Thompson starred at UC Irvine. … Midfielder Rodrigo Lopez is from Harbor City, began his pro career with Chivas USA in 2005-07 and played two seasons with Ventura County Fusion in the USL Pro Development League. ... Trevor James left Galaxy coach Bruce Arena's staff to join Spencer's.
Missing
Thompson is out with an injured knee, and defender Kevin Goldthwaite is done for year after tearing an ACL. ... Reserve forward Bright Dike (ruptured Achilles) has been upgraded to probable, and also probable are goalkeeper Troy Perkins (sore hip), forward Jorge Perlaza (calf strain) and defender Jeremy Hall (sore groin).
THE GAME
At Jeld-Wen Field (Portland, Ore.), 7:30 p.m.
TV: ESPN2 and ESPN Deportes
Radio: ESPN Deportes (KWKW-AM/1330, Spanish)
Referee: Mark Kadlecik