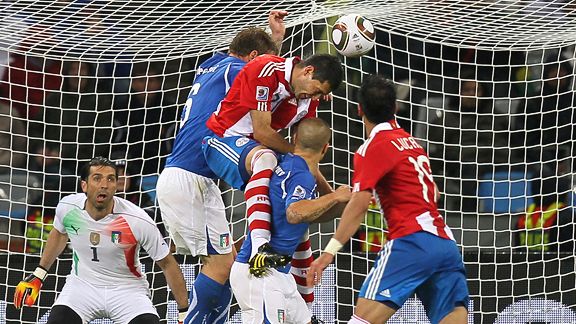 Karim Jaafar/AFP/Getty Images
Defending champion Italy dodged a potentially devastating bullet by tying Paraguay Monday.
IN BRIEF: Defending champion Italy is off to its trademark slow start, taking advantage of another goalkeeper error to draw, 1-1, with Paraguay in rainy Cape Town. Holland outclassed Denmark, 2-0, but needed some help to do it at Soccer City in Soweto. Japan pulled off the first real upset of the tournament, winning its first World Cup game away from home over disorganized Cameroon in Bloemfontein.
WOW! MOMENT: Stephane Mbia's violent blast from 30 yards slammed off the upper-left crossbar in the 86th minute, just a few inches too high to win Goal of the Tournament and rescue Cameroon from defeat. It was a wonderful individual effort, and that's meant as a compliment, although the Indomitable Lions on Monday were too much about individual play.
BEST PLAYER: Dutch forward Eljero Elia injected life into the ho-hum encounter with Denmark when he came on for Rafael van der Vaart in the 67th minute. He ran havoc through the Danish defense and was nearly rewarded with a goal at the end, turning his body to place the ball past goalkeeper Thomas Sorensen … and into the right post. Dirk Kuyt was there to finish.
BEST GOAL: Might have gone with Elia's finish, with the sweetest of touches, from Wesley Sneijder's defense-splitting feed had it not ricocheted off the post for Kuyt's tap-in. Let's instead go with brave Antolin Alcaraz's first international goal. He propelled himself between Italian stars Fabio Cannavaro and Daniele De Rossi, bent over (atop Cannavaro) while airborne to nod Aureliano Torres' cross inside the near post.
MIGHTIEST MISCUES: What's with these goalkeepers? (Or is it the universally despised ball?) Whichever, Paraguayan captain Justo Villar lined up behind England's Robert Green and Algeria's Faouzi Chaouchi for abuse. Rule of thumb for goalkeepers: If you come off your line, if you leap for the ball, you MUST GET to the ball. Villar instead waved bye-bye as Simone Pepe's corner kick flew past en route to De Rossi's foot and Paraguay's net. Bye-bye, victory.
Holland's win over Denmark probably goes down as a scoreless draw if not for one bad touch by Simon Poulsen at the start of the second half. His reckless, nearly blind leap at Robin van Persie's cross from the left was textbook example of how not to execute a clearing header. The ball caromed off Daniel Agger's back and into the net to end the tie; Agger was credited with the own goal, but it was Poulsen's work.
AZZURRI'S SLOW STARTS: Italy is renowned for getting better as tournament's proceed, so don't read too much into its hit-and-miss performance against Paraguay. Starting with the 1982 tournament, the Azzurri have gone 3-1-4 in their World Cup openers. They overcame an 0-0-3 start to win the 1982 title and a 1-0 loss to Ireland to get to the 1994 final. When they won four years ago, they started by beating Ghana, 2-0.
HAPPY BELATED: Japanese goalscorer Keisuke Honda's measured finish to beat Cameroon was a fine way to celebrate his 24th birthday, which was Sunday. The strike, from Daisuke Matsui's cross, is culmination of sorts for the rising star.
He left Japan two years ago to join Dutch minnow VVV-Venlo, which was promptly relegated to Holland's second-tier league. With Honda driving the attack, VVVV didn't stay down for long. He scored 16 goals in 37 games to lead the club back into the Eredivisie and eight more in 20 top-tier matches to cement a $7.3 million offer last winter from CSKA Moscow, which provided a chance to play in the UEFA Champions League.
His performance at VVVV and CSKA also pushed him to the forefront for Japan coach Takeshi Okada, who desperately needed goals when he gave Honda the reins to the attack Monday. Japan had gone 0-3-1 in its pre-Cup preps, scoring just a single goal.
Honda calmly collected Matsui's cross to the far post, settled the ball and poked it home. Okada couldn't hide his delight, but Honda took it all in stride.
"I had to stay calm when the ball came to me, as we have missed chances in recent games," he said. "It is not just about me. Our team has not had good results, but we got it right when it mattered."
WORTH NOTING: For all the Dutch have achieved over the years, which really isn't as much as their performances merit -- there was the 1988 European title, and … well, that's it -- they've never gone 20 games without a loss. Until now.
QUOTE OF THE DAY, PART 1: "My regret is that my players weren't able to play at the level they can. I think they were too nervous in the first half. They fought well afterward but in an unorganized manner. We missed an incalculable number of easy balls. This is my biggest disappointment. It's very frustrating to see your team play at a level that's beneath them." -- Paul Le Guen, Cameroon's French coach
QUOTE OF THE DAY, PART 2: "I'm very satisfied with our performance. I'm very satisfied with the approach to the World Cup. Our opponent was described as being a very fierce opponent, so I'm very happy. "The only thing I regret is normally matches of this type we win." -- Italy coach Marcello Lippi has no mixed emotions after the Azzurri fail to impress.
ALL ABOUT U.S.: Tim Howard's ribs are bruised, no worse, and he'll be expected in the nets Friday when the U.S. meet Slovenia in a critical Group C encounter at Ellis Park in Johannesburg. … Saturday's draw with England was the most-watched U.S. World Cup game, at least in this country, since 1994. An estimated 13 million tuned in to ABC's coverage, and another 3.8 million watched Univision's Spanish-language broadcast.
THE RESULTS
At Johannesburg
Netherlands 2 (og Agger 46, Kuyt 84), Denmark 0
At Mangaung/Bloemfontein
Japan 1 (Honda 39), Cameroon 0
At Cape Town
Italy 1 (De Rossi 63), Paraguay 1 (Alcaraz 39)
STANDINGS
Group E
Netherlands 1-0-0 (2-0) 3 points
Japan 1-0-0 (1-0) 3 points
Cameroon 0-1-0 (0-1) 0 point
Denmark 0-1-0 (0-2) 0 points
Group D
Italy 0-0-1 (1-1) 1 point
Paraguay 0-0-1 (1-1) 1 point
New Zealand 0-0-0 (0-0) 0 points
Slovakia 0-0-0 (0-0) 0 points