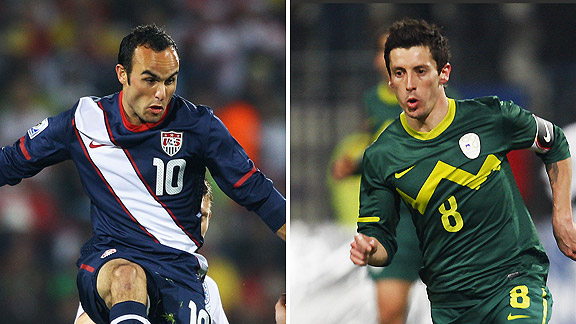 FIFA/Getty Images/AP Photo
Landon Donovan, left, of the U.S., and Robert Koren of Slovenia figure to be influential players Friday.
GROUP D: GERMANY VS. SERBIA
When: 4:30 a.m. PT. Where: Nelson Mandela Bay Stadium (Port Elizabeth)
TV: ESPN, ESPN Deportes and Univision (KMEX/Channel 34), 4:30 a.m.; ESPN Classic, delayed, 3 p.m.
Players to watch: Winger Thomas Mueller and playmaker Mesut Oezil, both 20, keyed Germany's multifaceted attack in the romp over Australia, creating for the resurgent Miroslav Klose and Lukas Podolski. Serbia's Nemanja Vidic will be hard-pressed to shut down Klose, but he must if the White Eagles are to survive.
The scoop: The Germans' traditional strengths -- their organization and ruthless efficiency -- have been traded for a scintillating attack so breathtaking that their domination of Australia has led to a complete reevaluation of their team and potential in this tournament. Klose's goal was his 11th in World Cup play, just four off Ronaldo's record, and his aerial prowess benefits from the magic generated by Mueller and Oezil. If Bastian Schweinsteiger, who is ill, cannot play, coach Joachim Loew will need to make tactical adjustments; there is no true cover for the Bayern Munich star. The Serbs, a dark-horse semifinal candidate, offered little in the loss to Ghana and will be eliminated with another defeat should Ghana tie or beat Australia on Saturday. Utah-raised Neven Subotic joins Vidic in central defense after Aleksandar Lukovic's red card.
History: This will be the seventh World Cup meeting between Germany (or West Germany) and Serbia (or Yugoslavia), and the Serbs have won just once, way back in 1962. Their most recent World Cup encounter, 12 years ago in France, finished 2-2 when an own goal and Olivier Bierhoff strike rescued the Germans from a two-goal deficit.
Prediction: Germany 1, Serbia 1
GROUP C: SLOVENIA VS. UNITED STATES
When: 7 a.m. PT. Where: Ellis Park/Coca-Cola Park (Johannesburg)
TV: ESPN, ESPN Deportes and Univision (KMEX/Channel 34), 7 a.m.; ESPN Classic, delayed, 5 p.m.; TeleFutura (KFTR/Channel 46), delayed, 7 p.m.; ESPN2, delayed, 11 p.m.
Players to watch: Goalkeeper Tim Howard, right back Steve Cherundolo and central defender Jay DeMerit made the biggest impressions in the Americans' 1-1 draw with England, but they'll need to see goal scorer Clint Dempsey and talisman Landon Donovan at their best to beat the underappreciated Slovenes. The Zmajceki's leader, Robert Koren, was on target in the opener. Goalkeeper Samir Handanovic will not make the kind of error England's Robert Green committed on the U.S. goal.
The scoop: This is must-win for the U.S., or at least can't-lose, and it's going to be a lot tougher than the experts howling about what an "easy" group this is supposed to be. The Slovenes' best players do well in top leagues, and their strengths -- size, defensive organization, a patient and methodical attack -- match up well with the U.S. game. The Americans got better as their game with England wore on, and Jozy Altidore's second-half strike would have been a worthy winner. Howard always gives the U.S. a chance, but some of coach Bob Bradley's personnel decisions seemed curious, especially holding off on bringing on a winger and neglecting to throw Herculez Gomez into the fray. Holding midfielder Ricardo Clark's performance must improve, or Bradley must give Jose Francisco Torres greater consideration.
History: Only four nations smaller than Slovenia, in terms of population, have played in a World Cup: Uruguay (1930), Northern Ireland (1958), United Arab Emirates (1990) and Trinidad & Tobago (2006).
Prediction: United States 2, Slovenia 1
GROUP C: ENGLAND VS. ALGERIA
When: 11:30 a.m. PT. Where: Cape Town Stadium/Green Point Stadium (Cape Town)
TV: ESPN2, ESPN Deportes and Univision (KMEX/Channel 34), 11:30 a.m.; ESPN Classic, delayed, 7 p.m.
Players to watch: Steven Gerrard struck quickly against the U.S., but the English attack soon dissipated, at least until Wayne Rooney found the plot near the end. Gareth Barry's return from an ankle injury ought to enable Gerrard to surge farther forward and perhaps provide the inventiveness missing Saturday. Karim Ziani, Algeria's leader, needs to slow down England's midfield and start the transition, which must create more chances than managed in the loss to Slovenia.
The scoop: England had been tagged as a World Cup favorite, but its image needs rehabilitation following the sinking performance against the U.S. Barry's return would help, but questions remain in the back, with Ledley King likely finished for the tournament after badly tweaking a chronic groin problem and Robert Green, coming off a horrendous showing, tabbed to keep his starting job. Algeria has little real chance of getting through the group: It has scored just once in its last six games, from the penalty spot, and must replace first-game goat Faouzi Chaouchi in the nets after he sprained an ankle in training Tuesday.
History: England is rightly considered soccer's homeland, yet the Three Lions have won the World Cup just once, at home in 1966, with a 4-2 overtime victory over West Germany that has long stirred strong emotions after the controversial go-ahead goal by Geoff Hurst. They've reached the semifinal on one other occasion, behind tragic star Paul Gascoigne in 1990, and lost in six quarterfinals.
Prediction: England 3, Algeria 1