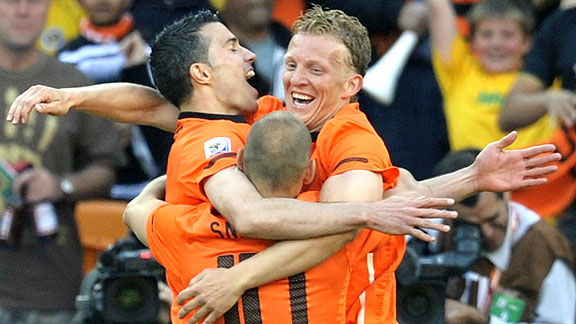 DANIEL GARCIA/AFP/Getty Images
Dutch players hope to be celebrating against Japan on Saturday in a Group E match.
GROUP E: NETHERLANDS VS. JAPAN
When: 4:30 a.m. PT. Where: Moses Mabhida Stadium (Durban)
TV: ESPN, ESPN Deportes and Univision (KMEX/Channel 34), 4:30 a.m.; ESPN Classic, delayed, 3 p.m.; TeleFutura (KFTR/Channel 46), delayed, 7 p.m.
Players to watch: Wesley Sneijder makes things click for the dynamic Dutch --- there are few, if any, passers his equal. And Eljero Elia's performance off the bench in the win over Denmark makes Arjen Robben's unavailability more palatable. Keisuke Honda's unexpected presence up front paid off big for Japan against Cameroon.
The scoop: Holland is among the true contenders for the title, and Japan has never advanced to the second phase away from home. So this one should be simple, eh? Not necessarily. The Oranje won the previous meeting last September in Enschede on goals in the last 20 minutes by Robin van Persie, Sneijder and Klaas-Jan Huntelaar, but Japan was the better side for the first hour. Frustrating the Dutch attack is the Blue Samurai's aim, and coach Takeshi Okada's defensive 4-1-4-1 alignment might do it, if Sneijder can be slowed. If not, expect Holland to build on its 20-game unbeaten streak.
History: Japan's two greatest soccer stars were Kunishige Kamamoto and Kazuyoshi Miura. Kamamoto scored 75 goals in 76 appearances for Japan's national team -- a nearly incomprehensible ratio -- and 202 in 251 games over 17 years with Yanmar Diesel. He netted seven to win the Golden Boot at the 1968 Mexico City Olympics, in which Japan won bronze. Miura, known simply as "Kazu," was the country's first soccer superstar and its leader at the 1998 World Cup. He scored 55 goals in 89 international games, was the first Japanese player to win Asia's top-player honor (in 1993) and starred abroad, in Brazil, Italy, Croatia and Australia. At 43. he still plays, for Yokohama FC.
Prediction: Netherlands 3, Japan 0
GROUP D: GHANA VS. AUSTRALIA
When: 7 a.m. PT. Where: Royal Bafokeng Sports Palace (Phokeng, near Rustenburg)
TV: ESPN, ESPN Deportes and Univision (KMEX/Channel 34), 7 a.m.; ESPN Classic, delayed, 5 p.m.
Players to watch: Asamoah Gyan had the goal in the Black Stars' surprise win over Serbia, and he also scored Ghana's first at the 2006 World Cup and the 2008 and 2010 African Cup of Nations. With Tim Cahill suspended (for that iffy red card), Harry Kewell's presence up front is badly needed. He hasn't played in six months following hernia surgery, but team officials claim he's ready to go.
The scoop: The aging Aussies were run off the field by a young German team, and now they face the youngest team in the tournament. The team coach Pim Verbeek fielded against Germany was the fifth-oldest to play in a World Cup, with an average age of 31 years, 282 days, but he was slammed more for his tactics (some described Verbeek's alignment as a 4-6-0, as in zero forwards) than his lineup. The loss of Cahill and defensive midfielder Vince Grella (knee injury) isn't going to help. Ghana, which impressed despite Michael Essien's absence and Milovan Rajevac's decisions to use Stephen Appiah as a substitute and leave Sulley Muntari on the bench, must change its backline because of injuries to Isaac Vorsah and John Mensah. The Black Stars are looking to join Nigeria as the only African teams to reach the World Cup's second stage more than once.
History: Ghana's outstanding record in African competition -- four African Cup of Nations titles, surpassed only by Egypt's seven, and four runner-up showings, the most recent six months ago -- made its inability to qualify for the World Cup puzzling. The Black Stars finally reached the finals four years ago, and they advanced to the second stage with victories over the Czech Republic and the U.S., knocking the Americans out when Appiah converted a controversial penalty kick. They exited with a 3-0 loss to Germany in the round of 16.
Prediction: Ghana 1, Australia 0
GROUP E: CAMEROON VS. DENMARK
When: 11:30 a.m. PT. Where: Loftus Versfeld Stadium (Tshwane/Pretoria)
TV: ABC (KABC/Channel 7), ESPN Deportes and Univision (KMEX/Channel 34), 11:30 a.m.
Players to watch: Samuel Eto'o, among the biggest stars in South Africa, made little impact until late in Cameroon's loss to Japan, but a move into the middle might bring out his best. Danish defenders Daniel Agger, who had an own goal in the defeat to Holland, and Simon Kjaer will need to work in tandem to quiet the Inter Milan goalscorer.
The scoop: This is must-win territory for both teams, more so for Cameroon, since they finish up against the Dutch, and neither appears to be in good shape. The Danes are battling injuries, but forward Nicklas Bendtner's importance is such that he'll likely be on the field again, although he's not 100 percent. Denmark has been shutout in three straight games. Cameroon, too, is skidding, without a win in eight matches, since the African Cup of Nations, and amid reports of internal dissent with coach Paul Le Guen's lineup choices. Alexandre Song's return to the field, after his surprise omission against Japan, could prove pivotal.
History: The greatest achievement in Danish soccer never should have happened. The Danes failed to qualify for the 1992 European Championship, but they were added into the eight-team field when Yugoslavia was banned because of the wars raging inside its borders. Denmark started group play meekly, with a 0-0 draw against England and 1-0 loss to host Sweden, then surprised France, 2-1, to advance to the final four. Henrik Larsen tallied twice in a stunning penalty-kicks victory over defending champion Netherlands in the semifinal, then John Jensen and Kim Vilfort scored to beat Germany, 2-0, in the title game.
Prediction: Cameroon 1, Denmark 1