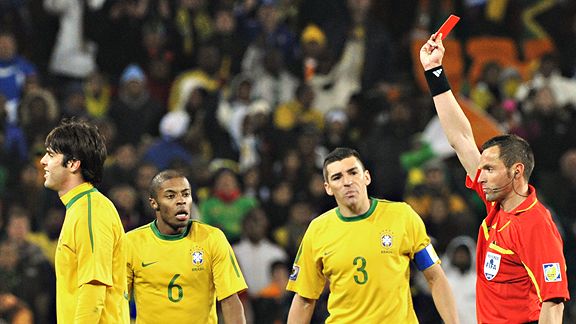 Issouf Sanogo/Getty Images
Kaka couldn't keep his cool in Brazil's 3-1 rout of the Ivory Coast on Sunday.
IN BRIEF: Brazil, no surprise, qualified for the round of 16 by routing Ivory Coast, but Kaka drew a silly red card. Paraguay overpowered Slovakia to take command in Group F. Italy was held to another draw, this one a real shocker against lowly New Zealand.
WOW! MOMENT: In what's becoming a World Cup of upsets, New Zealand's 1-1 draw with Italy might the biggest. The defending champs aren't what they were four years ago, but New Zealand, at least on paper, are the weakest side in the field. The All Whites have plenty of brawn and a willingness to work hard, but they don't have the technical skill, the tactical know-how nor the kind of talent to compete with the Azzurri. What they do have is heart, and that's the most important element to success.
BEST PLAYER: It was New Zealand captain Ryan Nelsen's leadership and superb play at the back that meant the most for the All Whites in their historic draw. And Nelsen, who starred at Stanford and began his pro career in Major League Soccer, capped it by denying Gianluca Zambrott's could-be winner at the finish.
BEST GOAL: Luis Fabiano's second goal in Brazil's 3-1 victory should not have been. The referee missed two hand balls, but that aside: What a goal it was! He did it by himself, really, plucking a lob out of the sky (with his upper arm, yes), flicking it up again to skip past two defenders and again to push past two more (taking it out of the air with his arm again), then a simple finish.
MIGHTIEST MISCUE: Kaka needs to be smarter than he was in the 87th minute of the Brazil victory, but all the hand-wringing over his second yellow card and resulting ejection is misplaced. The leader of the Selecao's attack had just picked up a yellow, in the 85th minute, after a shoving match with Kader Keita, and frustrations were boiling in a testy encounter. But watch the replay: Keita, looking toward the play, comes up on Kaka's back. Kaka throws his elbow, not hard but certainly intentionally, into Keita's chest.
There's no defense of Keita grabbing his face as he writhes on the ground except that such theatrics aren't rare in soccer, and Luis Fabiano had just gotten Ismael Tiote cautioned with the same kind of playacting. And Kaka had been at the center of the trouble in the previous three or four minutes and had been singled out by French referee Stephane Lannoy. There was no need for him to thrust the elbow; that he did was worthy of another card.
Now he's out of Friday's group final against Portugal, not a huge deal, but what if he were to be suspended for the second-round match, possibly against Spain. Had Lannoy determined that elbow was worthy of a straight red card, he almost certainly would miss that game, too. And if it turned out to be against Spain, and if the Spaniards won -- very possible -- then Kaka's stupidity would have carried a heavy price.
WORTH NOTING: Italy is the only team in the World Cup without a 2010 victory.
FRENCH TOAST: Most of the planet doesn't think France belongs in the World Cup, residue from the Thierry Henry hand ball incident against Ireland, but Les Bleus have gone out of their way to squander what opportunity they have. Nicolas Anelka was sent home after cursing coach Raymond Domenech at halftime of the loss Thursday to Mexico, and his teammates made their statement Sunday by refusing to practice. The team director resigned because of it, and there were reports the fitness coach also quit after a heated argument with captain Patrice Evra.
Who's to blame? Ultimately, it's the French federation's fault. Everything going on is about Domenech, the most divisive coach in Les Bleus history, and the lack of respect the players for him. There is no discipline in the squad, and there's only two solutions to that: Choose secondary players who will kowtow to Domenech or go with a different coach.
Followers of France have been calling for Domenech's dismissal for years, and his contract will not be renewed when the World Cup is over. Laurent Blanc, the backline anchor on France's 1998 Cup-winning team (who impressed while guiding Girondins Bordeaux to the French league title last year), has been hired to succeed Domenech. He should have taken the reins before the team arrived in South Africa.
WHO'S MOVING ON: Italy, for all its trouble, will advance from Group F with a win, and maybe a draw, Thursday against Slovakia. Paraguay needs just a tie with New Zealand to claim its round-of-16 berth. Brazil is through in Group G, and there will be more clarity for the second spot following today's Portugal-North Korea clash.
QUOTE OF THE DAY, PART 1: "It's an incredible result for football in New Zealand. It's historic and greater than anything else we've ever achieved, when you consider the standing of our opponents. From now on, everything is possible, and we're doing pretty well for a team that, according to some people, had no place at this World Cup." -- New Zealand head coach Ricki Herbert, after a stunning 1-1 draw with Italy remains unbeaten after two matches.
QUOTE OF THE DAY, PART 2: "It perhaps wasn't the game of the century in terms of spectacle, but we showed an enormous amount of hunger and determination. It leaves me speechless when I think about what we've accomplished." -- New Zealand captain Ryan Nelsen.
QUOTE OF THE DAY, PART 3: "The team's problem is not Anelka, but the traitor in our ranks. We have to eliminate this traitor from the squad. There is no little mouse in the locker room, this comes from someone who is on the team and wants to hurt the team." -- France captain Patrice Evra, after he and his teammates refused to train in protest of forward Nicolas Anelka expulsion from the team.
QUOTE OF THE DAY, PART 4: "It's a scandal for the French, for the young people here. It's a scandal for the federation and the French team. They don't want to train. It's unacceptable. As for me, it's over. I'm leaving the federation. I'm sickened and disgusted." -- France team director Jean-Louis Valentin, who resigned amid the turmoil enveloping Les Bleus.
QUOTE OF THE DAY, PART 5: "A lot of people think we are already out of the World Cup, and they are just showing the frustration and pain of having so much hope in the Eagles. It's just a country that's passionate about football, and it's showing in the reactions." -- Nigeria team spokesman Idah Peterside, after reporting that Sani Kaita has received more than 1,000 death threats following his red card in Thursday's loss to Greece.
THE RESULTS
At Mangaung/Bloemfontein
Slovakia 0, Paraguay 2 (Vera 27, Riveros 86)
At Nelspruit
Italy 1 (Iaquinta pen. 29), New Zealand 1 (Smeltz 7)
At Johannesburg
Brazil 3 (Luis Fabiano 25, 50, Elano 62), Ivory Coast 1 (Drogba 79)
STANDINGS
Group F
Paraguay 1-0-1 (3-1), 4 points
Italy 0-0-2 (2-2) 2 points
New Zealand 0-0-2 (2-2), 2 points
Slovakia 0-1-1 (1-3), 1 point
Group G
x-Brazil 2-0-0 (5-2) 6 points
Portugal 0-0-1 (0-0) 1 point
Ivory Coast 0-1-1 (1-3) 1 point
North Korea 0-1-0 (1-2) 0 points
x -- advances to round of 16