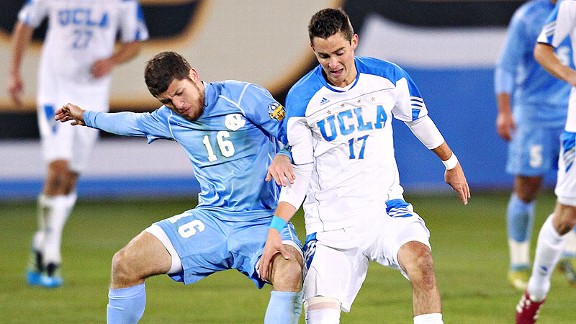 Marvin Gentry/US Presswire
UCLA's Chandler Hoffman battles North Carolina's Enzo Martinez in the NCAA semifinals.
Counting down the 11 biggest 2011 stories in Southern California soccer ...
UCLA's soccer programs might be forgiven for thinking of NCAA College Cup appearances as some sort of birthright. The Bruins' programs have long been among the nation's best, with the men winning four national championships and the women making it to final four eight times in 10 years through 2009.
But the men hadn't been to championship weekend since 2006, when they were upset in the title game by UC Santa Barbara despite talent that begged for trophies. They were stopped one game short the past two seasons.
2011 was a return to normalcy, perhaps. With a startling amount of ability returning from last year's quarterfinalists and a refined scheme, emphasizing a beautiful possession game, directed by head coach Jorge Salcedo, the Bruins absorbed early lessons, built momentum en route to the Pacific 12 Conference title, then sprinted through the postseason, shutting out every foe, en route to the program's 13th College Cup appearance.
Chandler Hoffman, with a terrific support group led by returning All-American Kelyn Rowe, midfield general Andy Rose and a defense anchored by top goalkeeper Brian Rowe, was responsible for the goals, 18 in all, as the Bruins took an eight-game shutout streak to Birmingham, Ala., the junior striker's hometown.
The Bruins (18-4-2) got no further -- they conceded equalizers twice and lost on penalties following a 2-2 draw in the semifinals with North Carolina, which won the championship -- but laid groundwork for return trips. They expect to be back in 2012.
UCLA's men highlighted a outstanding fall for local college sides.
Also worthy of notice:
Long Beach State's women, who followed Nadia Link's precise finishing to win the Big West Conference tournament and, in winning its first NCAA tournament games, reach the national quarterfinals.

Pepperdine's women (15-2-3), who rose as high as No. 3 in the national poll en route to a share of the West Coast Conference title, then ran into Long Beach -- and a striking Link goal in overtime -- in their NCAA opener.

UC Irvine's men (16-6-1) won the Big West double, adding the conference's tournament crown to its regular-season title, and the Anteaters' women (14-4-3) captured the Big West regular-season championship. Both lost their NCAA openers, the men in OT and the women on PKs.

UCLA's women (16-1-4) finished second in the Pac-12, their only loss to unbeaten national champ Stanford, under first-year coach B.J. Snow, won their NCAA opener, then were stunned by San Diego on penalties in the second round.

Cal State L.A.'s men (15-2-6) won the California Collegiate Athletic Association's South Division and postseason tournament titles and came within one victory of the NCAA Division II final four. The women (13-4-4), also coached by Chris Chamides, reached the third round of the NCAA tourney.

Azusa Pacific's women (16-3-2) won the Golden State Athletic Conference tournament and advanced to the NAIA semifinals. The Cougars' men (13-4-3) reached the second round of the NAIA tournament.

Cal Baptist's transition from NAIA to NCAA Division II started nicely, with the women (18-2-1) winning the Pacific West Conference title, the men (17-5-1) capturing a share of the crown, and both -- not yet eligible for NCAA postseason play -- went on to win National Christian Collegiate Athletic Association national championships.

Redlands' men (20-3-2), guided by former U.S. Soccer/Galaxy coach Ralph Perez, went unbeaten through the Southern California Intercollegiate Athletic Conference regular season and reached the third round of the NCAA Division III tournament.

Cal Lutheran's women (20-2-1) also swept through the SCIAC and added the conference tournament title, but the Regals are still looking for their first NCAA Division III tournament victory.

UC Riverside didn't make the NCAA tournaments, but both of its teams took huge strides forward. The Highlanders' men (9-6-4 after a 6-11-1 campaign in 2010) upset UC Santa Barbara twice and also beat UC Irvine, reaching the Big West tournament semis. The women's jump was even more impressive. After going 1-14-3 (and scoring just three goals) in 2010, UCR was 8-9-2 with 21 goals, tied for fifth in the nine-school Big West.

Also advancing to the NCAA tournaments: UC Santa Barbara's (15-7-1), Cal State Dominguez Hills' (12-6-2), Claremont-Mudd-Scripps' (14-6-2) and Chapman's men (11-5-3). Concordia's women (13-5-2) played in the NAIA tournament.