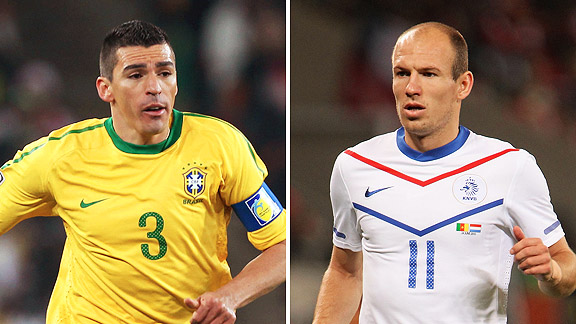 Getty Images
Brazil's Lucio, left, and Arjen Robben of the Netherlands will look to lead their teams into the semifinals.
NETHERLANDS VS. BRAZIL
When: 7 a.m. PT. Where: Nelson Mandela Bay Stadium (Port Elizabeth)
TV: ESPN, ESPN Deportes and Univision (KMEX/Channel 34), 7 a.m.; ESPN Classic, delayed, 3 p.m.; TeleFutura (KFTR/Channel 46), delayed, 7 p.m.
Referee: Yuichi Nishimura (Japan)
Players to watch: Dutch winger Arjen Robben, fully healthy, adds dimensions to the Dutch attack and has a stark advantage over Brazilian left back Michel Bastos. Wesley Sneijder is the Oranje's chief creator. Kaka makes Brazil's attack go, but Gilberto Silva's gritty work behind him might be decisive.
The scoop: A match worthy of a final, with two of the sport's historically most adventurous and skillful attacking sides. Yes, it's true, but the past is gone, as Dutch coach Bert van Marwijk lectured this week: "Total Football," on which Holland made its name 30-something years ago, would make it "very hard to win the Cup." Brazilian coach Dunga agrees. The Joga Bonito that won over the planet has been replaced by a tough, efficient brand of soccer aimed at getting results, and critics at home are calling it "anti-futebol." Both sides are strong at the back -- Brazilian captain Lucio might be the best center back in the world, and Julio Cesar has few rivals in the nets -- and prefer to counterattack, but the skill going forward is impressive on both sides. Robben and Sneijder are visionary attackers, with Robin van Persie coming into form in front of them. Robinho, Luis Fabiano and Kaka provide real trickery for the Selecao, and Maicon is the deadliest wing-defender since Roberto Carlos. The Netherlands is at full strength, but Brazil is missing Elano (ankle) and Ramires (suspended) and might be without Felipe Melo (ankle) and Julio Baptista (knee). A dozen players, including Kaka, Luis Fabiano, Robben and van Persie, are one yellow card from suspension. Dunga has predicted an exciting, free-flowing spectacle; van Marwijk expects a tight, tactical battle. Either way, this one's can't-miss.
History: They've played nine games, with Brazil holding a 3-2-4 edge, and have met three times at critical points at World Cups. The Dutch, on goals by Johan Neeskens and Johan Cruyff, advanced to the 1974 final with a 2-1 triumph in Dortmund. Brazil prevailed, 3-2, on Branco's free kick in the 1994 quarterfinals in Dallas, and on penalties -- with Dunga providing the decisive kick -- in the 1998 semifinals in Marseille.
Prediction: Netherlands 2, Brazil 1
URUGUAY VS. GHANA
When: 11:30 a.m. PT. Where: Soccer City (Johannesburg/Soweto)
TV: ESPN, ESPN Deportes and Univision (KMEX/Channel 34), 11:30 a.m.; ESPN Classic, delayed, 5 a.m.; Galavision, delayed, 9:30 p.m.
Referee: Olegario Benquerenca (Portugal)
Players to watch: The biggest matchup will pit Uruguayan forwards Diego Forlan and Luis Suarez against Ghanaian center backs John Mensah and Isaac Vorsah, who missed the past three games because of a leg injury. Anthony Annan's success in midfield could be the key to the Black Stars' game. Their offense revolves around finisher Asamoah Gyan, who figures to play despite suffering an ankle injury in training.
The scoop: This was where England and France were supposed to meet, but neither offered much -- the French offered nothing -- and so we get a real treat: a two-time champion rising again against the lone African side left in this African World Cup. The Uruguayans -- their titles were won in 1930 and 1950, so history is meaningless -- have been very impressive since Oscar Tabarez switched from a flat 4-4-2 to a 4-3-3 after the scoreless draw against France on opening day. Forlan, as dashing a figure as we've seen in South Africa, had been masterful behind Suarez and Edinson Cavani, creating opportunities and scoring a pair of goals in the romp over South Africa. Suarez, who has netted three in the wins over Mexico and South Africa, is one of this tournament's breakthrough stars. Central defender Diego Godin goes out, again, because of a thigh injury, so Mauricio Victorino steps into the lineup, as he did against the Mexicans. Ghana is the third African nation to get this far -- none have gone further -- but the Black Stars aren't at full strength. Gyan is limping, and so is Kevin Prince Boateng (hamstring), although both figure to play. Vorsah's return is a real plus, but defender Jonathan Mensah (not to be confused with John) and midfielder Andre Ayew are suspended; Sulley Muntari could finally get into the starting lineup. Ghana has a lot going for it -- size, skill, speed, strength, athleticism, tactical intelligence and unity -- and it will need all of it to reach the semifinals.
History: Africa's previous quarterfinalists didn't fall easily. Cameroon took a lead into the final 10 minutes against England in Naples at the 1990 World Cup, but Gary Lineker converted penalty kicks to equalize in the 83rd minute and go ahead 15 minutes into overtime for a 3-2 win. Senegal, in 2002, also went to overtime, losing, 1-0, to Turkey in Osaka on Ilhan Mansiz's 94th-minute goal.
Prediction: Uruguay 2, Ghana 0