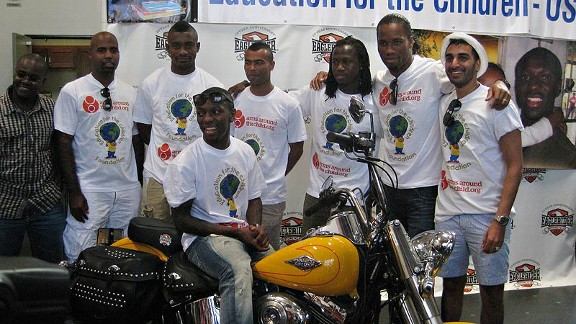 Scott French/For ESPNLA.com
Among the riders: Queens Park Rangers (sitting) and, behind him, starting third from left and moving to the right, Chelsea's Salomon Kalou and Ashley Cole, Bolton's Zat Knight and Shanghai Shenhua's Didier Drogba. The other men are Wright-Phillips associates who also participated in the ride.
HAWTHORNE -- Wayne Rooney was a no-show, but fans who waited three hours to see some soccer royalty Sunday morning were amply rewarded with a few minutes -- photos and autographs, too -- with some of the English Premier League's biggest stars.
Those hoping for a glimpse of Didier Drogba, Ashley Cole, Salomon Kalou, Shaun Wright-Phillips and Zat Knight cruising L.A.'s freeways weren't so fortunate.
Wright-Phillips' annual charity motorcycle ride to benefit two causes aiding children in Africa, India and Central America went off, with a few hitches, but the expected journey -- from EagleRider Motorcycle Rentals down the San Diego Freeway to Seal Beach, then over to Pacific Coast Highway for an oceanside trek through Orange County -- was scrapped for a little footy in a Palos Verdes Peninsula park.
There are only reports about what happened -- virtually nobody was on hand to see $100 million of talent playing pickup soccer -- but the word is they kicked around with a few kids and local coach Lloyd Kinnear, who also took part in the ride.
The event was to raise funds and awareness for Education For The Children, which provides schooling for poor children in Guatemala, and Arms Around the Child, which assists children affected by HIV/AIDS in Africa and India. And if there was any negative, it's that the ride conflicted with the Euro 2012 final, during which Spain beat Italy 4-0 in the Ukraine.
"I'm a bit disappointed about that, if I'm honest. I'm not going to lie," Wright-Phillips, who calls L.A. his second home, said while waiting for the the others to show up at EagleRider's Hawthorne headquarters, which they did an hour or so behind schedule. "But charity is charity. Plus you have TiVo over here, so I recorded it."
His plan: "I just won't listen to anything anyone says about the game."
Drogba, Kalou and Cole played at Chelsea alongside Wright-Phillips, a former England national team winger who now plays at Queens Park Rangers.
"That's my brother there," said Kalou, an Ivorian striker who is a free agent after six years with Chelsea. "Anything he's involved in, it's always a pleasure to come support him.
"This is a good cause. Even though I'm going to miss watching [Spain-Italy], coming here, supporting this cause is very important to me. And for Shaun, I'm here to show him that there is always a family and family always come first."
Drogba, a superstar Ivorian forward who just left Chelsea to sign with China's Shanghai Shenhua, was the biggest name on site after England/Manchester United star Rooney pulled out, and several among the few dozen spectators that waited patiently to meet the players wore his jerseys.
Drogba said Wright-Phillips was "one of the few people I can say are my friends in football" and that he was excited to ride a motorcycle. "But this one," Drogba said, referring to a massive Harley-Davidson around which the players posed for pictures, "is quite scary. It's like a beast. That's a beast."
Fortunately, no one had to battle a big chopper. Contractual obligations prevented the players from riding two-wheelers -- they were all on Honda trikes or Can-Ams, both with three wheels -- and only Wright-Phillips and Bolton defender Knight were actually steering. Drogba, Kalou and Cole sat on the backs of their rides.
Rooney had to return home, Wright-Phillips said, but the striker's wife tweeted Sunday afternoon that they were enjoying a "really nice" brunch at the Four Seasons in L.A. and that Rooney was "on his best behaviour."
Cole? Not so much. England's first-choice left back, apparently forgetting he was supposed to be promoting the charities, refused to do interviews. His publicist was apologetic.
All of the players are L.A. regulars, spending a good deal of their offseasons here. Wright-Phillips' "best mate lives out here, so I always come and spend my time here" and he brings his soccer academy to Southern California every summer. "It's sunny as well, by the way," he said. Quite unlike London.
Might we soon see any of these players in L.A., with the Galaxy or Chivas USA, or elsewhere in Major League Soccer?
"Oh, today we're not talking about this ...," Drogba, 34, said with a laugh. "Yeah, why not? There's time to do the thing."
Wright-Phillips, 30, said he "most definitely would like to, but it's not something on my mind at the moment. I'm fully focused on QPR and helping them get to where they need to get to. After then we'll just see what happens."
Said Kalou: "I love it. It's fun. It's different from Europe. Football here is becoming a very important sport.
"I see myself playing here. Why not? It's a good competition, a very competitive competition. I'd be very pleased to join one of the teams in MLS."