The luster of Real Madrid has caused a stir at UCLA, where hundreds of fans are gathering daily outside the North Athletic Field and along the path to the locker room the club is using to snap photos and beg for autographs.
A few players have obliged -- Malian midfielder Mahamadou Diarra signed for nearly 10 minutes following the first training session Thursday morning -- although most exit the field, climb into a motorized cart and are driven to the clubhouse.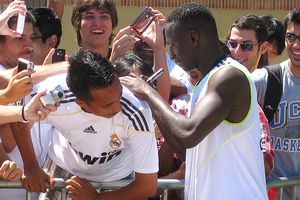 Scott French/For ESPNLosAngeles.com
Mahamadou Diarra signs a fan's shirt after Real Madrid's practice at UCLA on Thursday.
Jose Mourinho, who took charge at Real Madrid in late May -- less than a week after guiding Inter Milan to the UEFA Champions League title -- has been holding two training sessions each day, with the morning practice open to media, VIPs and friends. Spectators at Tuesday's session included U.S. national team coach Bob Bradley and two of his assistant coaches, Jesse Marsch and Zak Abdel.
"We're just waiting to see what (U.S. Soccer) decides with Bob," said Marsch, a former Chivas USA midfielder. "That and reflecting (on the World Cup), but we're mostly past that."
U.S. Soccer president Sunil Gulati has not decided whether to extend Bradley's contract or bring in a new coach. Bradley's name had been linked to the coaching opening at London-based Fulham FC, where Americans Clint Dempsey and Eddie Johnson play, but former Welsh international and Manchester United star Mark Hughes, who was dismissed last December as Manchester City coach, was appointed manager Thursday.
Mourinho, who previously brought Chelsea and Inter Milan to UCLA for preseason training, has sessions planned through Tuesday. The club will fly Wednesday morning to San Francisco for a friendly that night against Mexico's Club America at Candlestick Park, then return to Southern California after the game. The team will train again Thursday and Friday, then play the Galaxy on Aug. 7 at the Rose Bowl.
Real Madrid's roster includes 11 players who competed in the World Cup, but only Portuguese stars Cristiano Ronaldo and Pepe among them have been training at UCLA. Brazilian playmaker Kaka, Argentine forward Gonzalo Higuain and midfielder Angel Di Maria, and Dutch midfielder Rafael van der Vaart are expected to arrive Sunday, and five players from the winning Spain side -- including captain Iker Casillas, right back Sergio Ramos and central midfielder Xabi Alonso -- are due in camp Tuesday.
Real Madrid on Friday acquired Sami Khedira, one of the midfielders who had a big impact for Germany at the World Cup, from VfB Stuttgart. No word on whether he will join the team before its L.A. camp has finished.