L.A. Galaxy midfielder Clint Mathis is retiring and will make his final appearance Saturday night in the friendly against Real Madrid at the Rose Bowl.
Mathis, 33, who is in his third stint with the Galaxy, has played in Germany and Greece, and was a key figure on the 2002 U.S. World Cup team, scoring the goal that gave the Americans a 1-1 group-stage draw with South Korea.
He has endured injuries this season and has been unable to find any semblance of the form that made him a dynamic attacker during the first half of his career or an effective linking player, as he was in helping Real Salt Lake win the MLS Cup title last year.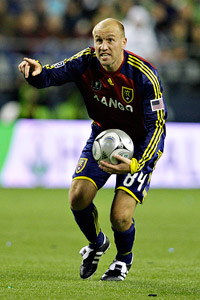 AP Photo/Elaine Thompson
Clint Mathis helped Real Salt Lake to the MLS Cup last season.
"It has been an amazing and exciting ride, full of moments and people that will stay with me forever," Mathis said in a statement, adding that he had enjoyed "such a fulfilling life in the sport of soccer."
Mathis began his professional career with the Galaxy in 1998, but Major League Soccer forced his departure, to the MetroStars (now the New York Red Bulls), after L.A. signed Mexican star Luis Hernandez.
He was sensational in three and a half seasons with the Metros, scoring 36 goals with 23 assists in 72 MLS games, then spent a by turns rewarding and difficult season in Germany's Bundesliga with Hannover 96, where he clashed with the coaching staff. While in Hannover, he met his wife, former UCLA and Mater Dei star Tracey Winzen, who was playing in the German women's league.
He returned to MLS in 2005, playing for Real Salt Lake, then Colorado, then the Red Bulls, and then the Galaxy during a postseason trek to Australia and New Zealand. After a short stint in Greece, he played for Real Salt Lake before rejoining the Galaxy this season.
Octavio Zambrano, who coached Mathis with the Galaxy and MetroStars, called him "one of the top three most creative players that this country has ever produced," and U.S. national team coach Bob Bradley praised him for bringing "some qualities that few American players have possessed."
"Clint was that American player who brought that brashness, that energy. He was bold," John Ellinger, Mathis' coach during his first tenure at RSL, said in a release. "He always played with a chip on his shoulder. Not only did he not want to lose, but he never felt that he was going to lose."
Mathis, known as "Cletus," was one of American soccer's most colorful personalities. He's always been easygoing and with the manners of a Southern gentleman -- he grew up in Georgia and starred at the University of South Carolina -- off the field but was one of the most fiery players on the field. He owns the MLS record for red cards, with nine.
"I have had the pleasure of coaching Clint with both the national team and in MLS with the Galaxy and Red Bulls, and we will miss having his presence with the club for the rest of the season," Galaxy coach Bruce Arena said in a release. "In his prime, he was as good a goalscorer as our country has ever produced. … We will miss Clint and are indebted to his contributions to MLS and U.S. Soccer."