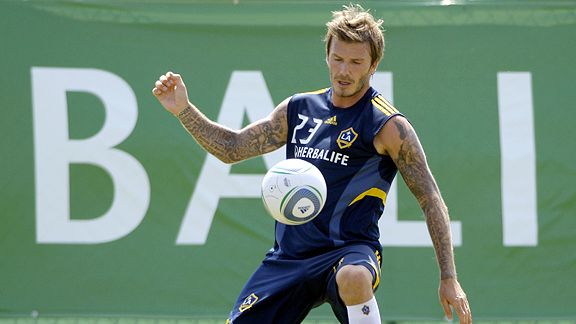 AP Photo/Reed Saxon
David Beckham returned to the Galaxy on Wednesday as he continues to recover from an Achilles injury.
David Beckham reiterated Wednesday that he'll always be available for England's national team, "whether I never get picked again or whether I play one more game or 10 more games."
Not quite half a world away, England coach Fabio Capello declared that it would be just one more game, a "farewell" match to honor his services, 14 years' worth, to the Three Lions.
Capello, on British television channel ITV, was asked if Beckham might play a role for England in qualifying for the 2012 European Championship.
Capello laughed, then said: "Thank you for helping me during the World Cup, but probably (Beckham) is a little too old. … I won't be picking him for any more competitive matches. David is a fantastic player, he was really important, but we have to see the new players for the future, because the age is important for a lot of people, not only for David."
Beckham on Wednesday made his first appearance in training for the L.A. Galaxy since rupturing his left Achilles tendon while on loan to AC Milan last March. The injury forced him to miss what would have been his fourth World Cup for England.
Asked about his World Cup experience -- Beckham was part of England's delegation, serving, he said, as a kind of liaison between the players and coaching staff -- the 35-year-old midfielder said: "It was a great World Cup to be at. There were a lot of people who were worried about how it was going to go, and the organization, but it was perfect. One of the best and most successful World Cups I've been at. The excitement with the fans, no trouble -- things like that make a great World Cup. And the excitement of the people was incredible."
England had a poor World Cup, finishing second to the United States in Group C, then losing to Germany, 4-1, in the round of 16. Of the team's stars, only Steven Gerrard impressed.
"Obviously, England's performance, everyone knows," Beckham said. "It's in the past now, but it's still fresh in some people's minds -- with the fans, of course. You know, it was disappointing. The players know that, the manager knows that, but now we need to rebuild. We need to make sure it's right going forward, and there's no better manager (than Capello) that can be in charge to get that."
Beckham, before Capello's comments, was asked what his role in going forward might be.
"Who knows?" he replied. "At the end of the day, I've always said I won't retire from playing for my country, whether I never get picked again or whether I play one more game or 10 more games. I'll be available. But there's a lot of young, good players coming through with England, so, like I said, I'm available but … we'll see. … With England, like I say, I'll never retire, but we'll see."
Capello acknowledged he had not spoken to Beckham before appearing on ITV. "Did I phone him before I went on television?" he said. "No. I think I will speak with him. We tried to speak with him. But I think David knows he has no future with the international team, because we have to change. We tried to speak with him."
Gerrard told the Associated Press that he wouldn't count out Beckham yet.
"I'm sure that if he hears that news, it'll drive him on, and he'll try to prove people wrong and try to get back in the set-up, because I know he loves playing for England," Gerrard said. "He's had some fantastic performances, some fantastic goals, memories. He was a fantastic captain. I've learned a lot from David, and it's been a pleasure to play alongside him.
"If he has played his last game, he'll certainly be missed because, both on and off the pitch, he's a great guy."