Jonathan Bornstein has been a Dodgers fan as far back as his memory reaches, so his assignment Sunday afternoon – throwing the ceremonial first pitch before the Dodgers' victory over the Colorado Rockies – was one of the great thrills of his life.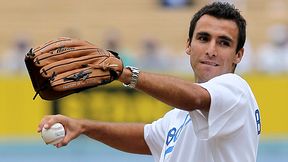 Jeff Gross/Getty Images
Jonathan Bornstein of MLS soccer team Chivas USA throws out the first pitch prior to the start of the game between the Los Angeles Dodgers and the Colorado Rockies at Dodger Stadium.
What made it even better: His mom caught the pitch. Could he have come up with a more perfect Mother's Day gift?
"I thought it would be really special for her," the Chivas USA and U.S. national team defender said after flinging the pitch, not quite in the strike zone, into Rachelle Bornstein's mitt. "She didn't even know what was going to happen until this morning. (My family) thought they were just coming to the game with me.
"She was really excited. She was more nervous than I was. I was actually more nervous for her to catch it than I was for me to throw it."
Bornstein inherited his love of the Dodgers: His grandfather, uncle and father were big fans – Lakers and Kings, too – and his first baseball memory involves the club, sort of.
"My dad coached me when we played T-ball, and we were on the Dodgers," said Bornstein, whose father and two brothers also were on the field before the game. "I have a picture of me with a little Dodgers bat and Dodgers hat and everything."
His uncle had season tickets for a time, off the third-base line, and "I remember one time when I was 7 – you know everyone wants to catch a foul ball? I've never personally caught a foul ball, but I know my dad caught one. It was the fourth or fifth inning, and I don't even know what happened the rest of the game. It was so cool to have that ball, kind of like I'm holding this one [the first-pitch ball] right now."
Bornstein's favorite current Dodger: Manny Ramirez.
"I didn't like him when he was with the Red Sox," Bornstein said, "but when he came here, good for us, and he brings an energy for the team."
He was only 4 when the Dodgers last won a World Series, in 1988 – "I remember the moment, but I really didn't experience it" – and he's anxiously awaiting the day the club returns to the Fall Classic.
"It would be amazing," he said. "My friends and I, we always talk Dodgers, and one of my friends has been visiting South America for the last year and a half, and we kept telling him: 'If the Dodgers make it to the World Series, would you ever come back?' We have a date planned, all our friends, to come to the game if they make it.
"It would mean the world, and especially now that I've got to throw out the first pitch. I've got my own Dodger jersey with my name on it. I'm like the superfan now. I think season tickets are next."
Bornstein, who walked to the mound with footage of his most famous goal (the last-minute World Cup qualifying header to pull the U.S. even with Costa Rica and send Honduras to South Africa) playing on the Dodger Stadium scoreboard and Chuck Berry's "Johnny B. Goode" reverberating through the park, didn't feel the need to practice before his pitch – "C'mon, I can throw a baseball," he said – and he was happy with the result.
"I was so excited for this to go down," he said. "It couldn't have gone any smoother, to be honest. My mom caught the ball perfect. It's pretty thrilling to be on that mound. You're actually a little higher than I thought I'd be throwing it from. I had a good time. It went perfect."
It didn't bounce.
"I got probably 20, 25 text messages saying, 'Don't put it in the dirt. Don't bounce it to your mom.' That was the No. 1 thing. I'd throw it over her head, but I wouldn't bounce it."