The announcement that Chivas USA and sister club (or its "mothership") Guadalajara will face off next month at Petco Park excites San Diego Padres management, but what about the National League Western Division leaders' players.
Um … not so much.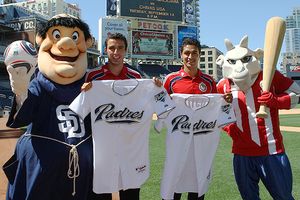 Juan Miranda/Chivas USA
Chivas USA captain Jonathan Bornstein, left, and vice captain Mariano Trujillo got some new duds (and maybe a new friend in the Padres' "Swinging Friar") while announcing the "ChivaClasico" matchup next month at Petco Park in San Diego.
The Sept. 14 soccer match, the second friendly between the teams, will, naturally, keep the groundskeepers busy, chopping down the pitchers mound and sodding the infield, then turning the place back into a baseball park afterward.
The Padres' organization and the City of San Diego wants to bring soccer to downtown San Diego (Qualcomm Park, the NFL Chargers' home in Mission Valley northeast of downtown, is the usual venue for the sport in San Diego) and broaden use of their 6-year-old facility. The preference was to hold the game in November, after the World Series is done, but that wasn't feasible, so mid-September it is.
The grounds crew will have only two days following a Padres homestand to get the field ready for soccer and 10 days to restore it before the Padres return home. That doesn't mean much to the Padres' players, it appears.
Padres closer Heath Bell told the San Diego Union-Tribune that the plan was "asinine."
"Let's see, they held a concert during Comic-Con and killed the grass in left [field]," Bell said. "OK, so let's go to a soccer match. We're in a pennant race. Much of the nation will probably be seeing us for the first time. Shouldn't we be trying to put our best foot forward?
"They're not worried about the field looking good. They're just trying to make a profit. Very interesting. … I'm sure Luke [Yoder] and his [grounds] crew will make it right, but we have the best pitching staff in the major leagues, and that mound is our office. It should not be messed with at this time of the season."
Chivas USA and the Padres would like to make this an annual event.
"We've always wanted to find the right opponent to play down here, because we all know it's a strong soccer market," Chivas president Shawn Hunter told the Union-Tribune. "I think bringing the Guadalajara brand, we can do that. We also like the access to Tijuana, because, obviously, there are a lot of Chivas fans there, and it's easy for them to come here."