Chukwudi Chijindu's performance in Chivas USA's victory over New York last week has surely won him another start, and he's atop the list of the club's youngsters expected to take a huge step forward this season.
His cousin is Oakland Raiders cornerback Nnamdi Asomugha, and there was a time Chijindu's thoughts drifted toward the NFL.
Chijindu, whom everyone calls "Chucky," was a star football player at Damien High School in La Verne, a placekicker (with a range of about 50 yards), safety, running back and slot receiver who was invited to play in a postseason all-star game.
[+] Enlarge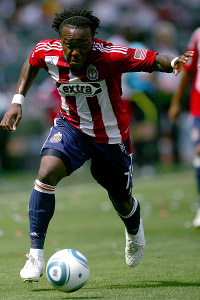 Victor Decolongon/Getty Images
Chukwudi Chijindu was a standout football and soccer player in high school and is now an up-and-coming forward for Chivas USA.
"It was fun times," said Chijindu, who grew up in Pomona but considers Fontana home. "I did [consider playing football in college], because I did have offers, but after talking to my family, it was the better route to go soccer, for after the sport."
In football, he explained, "a lot of players who have over four- or five-year careers ... it's the body damage, basically. I also have more of a love for soccer."
Chijindu also was a soccer star at Damien, which produced American soccer legend Rick Davis and former MLS standout Joe Franchino. He led the Spartans to three league titles, was a league MVP and accepted a scholarship from NCAA soccer powerhouse Connecticut.
Chivas took him in the 2008 supplemental draft, but he didn't make the club until last season, playing in 11 games, starting four and contributing a goal and an assist. He was one of the Goats' best players against New York.
Chinjindu's favorite football position was safety -- "You get to dish the hits out," he said -- and his time on the gridiron has helped him in soccer.
"Whether or not it's intentional, I think I can use my body well, and I think taking the hits, maybe my body is a little more accustomed to it," he said. "And playing with pain: After the first training in football, you're playing in pain. So I think I'm used to playing in pain."
His parents are from Nigeria, and his mom has friends who played for Nigeria's national team. They've suggested he could play for the Super Eagles.
"I've told them I've grown up here, I want to keep my options open," Chijindu said. "I'm not opposed to playing for Nigeria, but, you know, at this stage, I'm not really worried about playing international football.
"I want to try to make my claim here with my club. I want to keep working hard, and I want to try to become a mainstay in the first 11. And then if I start scoring some goals and playing well, then if the opportunity comes, that's a decision I'll have to make."