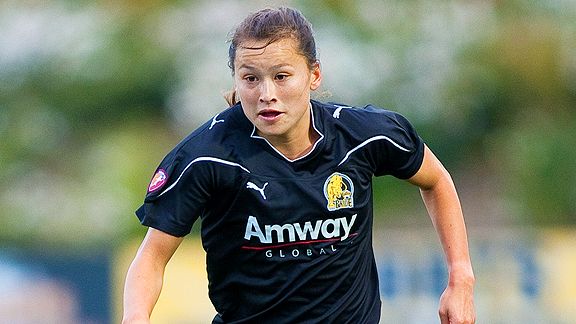 Don Feria/ISI Photos
HAYWARD, Calif. -- Albertin Montoya couldn't believe his good fortune. Ali Riley, the All-American defender from Stanford, just across the bay, hadn't been taken in the first nine selections of last January's Women's Professional Soccer draft.
Riley, meantime, couldn't imagine why any team -- especially one in the best women's league on the globe -- would want to spend a first-round pick on her.
It was a perfect match, and it can't have played out much better than it has. Montoya, with a keen eye for talent and chemistry, turned FC Gold Pride, the worst team in WPS's inaugural season, into winners. And Riley, resolutely showing her abilities on the field greatly surpass her opinion of them, played a pivotal role.
They'll be looking to cap a magical campaign with some hardware Sunday at Cal State East Bay's Pioneer Stadium, where Hayward-based Gold Pride will be a heavy favorite to beat the Philadelphia Independence and capture WPS's second championship.
Riley, who grew up in Pacific Palisades and played at Harvard-Westlake School and for the Westside Breakers and So Cal United clubs, has emerged as perhaps WPS's finest outside back, winning the league's Rookie of the Year award -- and perhaps deserving, Montoya says, the Defender of the Year prize, too.
She's a fast, tenacious, durable flank player whose attacking sensibilities and defensive know-how have figured heavily in the Gold Pride's success, just as they did in Stanford University's run to the NCAA Division I title game last December.
"She possesses a little bit of everything," said Montoya, who got to know Riley during a stint as volunteer assistant coach at Stanford in 2008. "She's got speed, talented right and left foot, is an outstandig 1-v-1 defender, has gotten better with passing. And she's extremely durable. She's just agile and quick, and that makes it very difficult to get around her.
"She's a big reason why we've been so successful this year."
Riley, a self-admitted "late-bloomer," says she never really considered professional soccer an option "until I got drafted. I did not have high hopes at all. … I never considered myself a really good player."
She starred at Harvard-Westlake, leading the Wolverines to the 2006 CIF Southern Section Division I title game, and had done well, but not spectacular, in club soccer, but she blossomed at Stanford, where she entered as a forward with flank experience and was converted to the backline her junior season.
"Ali Riley is an amazing player," Stanford coach Paul Ratcliffe said. "For me, she's been the best outside back in the new pro league. In college, I thought she was the best outside back. She's super quick, great defender,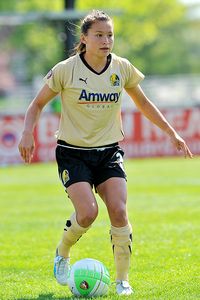 Bill Barrett/ISI Photos
Ali Riley plays for New Zealand's national team and doesn't lament the decision that no one from U.S. Soccer ever contacted her.
good with the ball, gets forward -- she's one of the hardest-working, fastest players you'll come upon."
Ratcliffe, a two-time national Coach of the Year who won an NCAA title as a UCLA player in 1990, thought Riley's skill set was a perfect fit at left back.
"She's so good at getting forward, and she was very tenacious forward," he said. "I knew she could fly forward, and better from a reserve position, with more space to run into."
Riley and Gold Pride/Stanford teammate Kelley O'Hara, her roommate (and co-star in a series of online videos) this summer, says they "joke that she got promoted to defender. … She was made for that position."
Riley, who was a captain and a first-team Scholar All-American (with a 3.82 grade-point average in psychology) at Stanford, credits Ratcliffe for her success, says it's her fellow defenders -- especially Gold Pride captain Rachel Buehler, a U.S. national-teamer and another of her Stanford teammates -- who make her look good, and looks back at the past nine months with a little bit of awe.
She's surrounded by world-class talent -- Gold Pride's 16-3-5 record was constructed on great chemistry among world-class players such as Marta, the four-time FIFA World Player of the Year; former U.S. star Tiffeny Milbrett and Canadian forward Christine Sinclair, who are among 11 women to have scored more than 100 international goals; U.S. midfield general Shannon Boxx; French linking midfielder Camille Abily; U.S. goalkeeper Nicole Barnhart; Buehler; and O'Hara, who last year won the Hermann Trophy as college soccer's top player.
"It's been so amazing," Riley said. "From the day I joined all these great players -- Marta and Sinc and Millie and Barnet and Rachel and Kelley and coach Albertin … it was so exciting, and I had a good feeling about it, and they made it such a great transition. It's awesome to get to stay in the area, and to have the best players in the world on my team is such an amazing experience."
Montoya wanted her badly, but he couldn't pass up O'Hara with the No. 3 pick and figured Riley would be gone when his second selection -- at No. 10 -- came around on draft day.
"I knew how good a player she would be, the kind of impact she would have in this league, and I was very fortunate everyone passed on her," he said. "You could make a case that she could also have been nominated for defender of the year. … When you talk among other coaches [about the] players on our team, everyone says Ali is just absolutely amazing because of her work rate and the speed she possesses and her stamina. There are two players I know like that: Marta and Riley.
"Rarely are you blessed with speed but can carry that on for 90 minutes. Ali Riley in the 90 minute is still going from [box to box] like a stroll in the park. She's absolutely amazing."
Those abilities are coveted, to be sure, but the U.S. women's team. It's just too bad American scouts failed to see her promise until it was too late.
Riley's father, John, is from New Zealand. She says she "never was contacted by any U.S. team [nor Olympic] development program," so her dad recommended she contact New Zealand's national women's soccer program. As the daughter of a New Zealander, she qualified, and the Football Ferns, as they're known, were only too happy to sign her up.
So Riley, who grew up thinking of Mia Hamm "as the end-all, be-all," played for New Zealand in the FIFA U-20 World Cup the summer after she graduated from Harvard-Westlake, in the 2007 Women's World Cup the following year and in the 2008 Beijing Olympics after that. She was the national Player of the Year in 2006, 2008 and 2009.
Riley has won 34 caps with New Zealand, a real underdog in the international arena, and playing internationally "is the reason I improved so much -- and it's been such a great experience for me to be able to travel and have fun with soccer. I love it."
Of the possibility she could played for the U.S., she says: "There's no point in dwelling on the past, on what could have been. I'm so thankful I've played in a World Cup and Olympics, and I wouldn't trade it for anything."
It's the U.S. team's loss.
"I often think about that," Ratcliffe said, "because she is that good."
Montoya agrees.
"We've been talking about that at practice the last month and a half," he said. "Oh, how unfortunate, because she'd be the starting outside back on either side for the U.S. national team, the way she plays and handles these international superstars in this league.
"I don't think there's a better outside back in the league. I haven't come across one as consistent and dominant from that position. … She's so passionate -- she's like a little kid out there, she really is. She's humble just thinks she's doing her job, but she's better than anyone else in the league. She just doesn't know it."