Galaxy forward Landon Donovan appeared on KROQ's "Kevin & Bean Show" Tuesday morning to drum up interest in Saturday night's game against reigning champion Real Salt Lake at Home Depot Center, a rematch of last year's MLS Cup final.
Here is some of what No. 10 said:
On whether Real Salt Lake is better than the Galaxy: "Last year at the end they were, yeah, in that game they played better. This year we're a very good team. We have almost the same team back, we have a few better players than we did last year. Obviously, the one downfall is we're going to miss David [Beckham]."
On the three Brazilians -- defender Leonardo, winger Alex Cazumba and midfielder Juninho -- and their inability to speak English: "It's interesting in sports to have that dynamic. I know when I went to Germany at first, I couldn't speak any German. And the worst part -- honestly, I feel bad for them -- is when you're sitting in team meetings and the coach is talking for a half-hour, and they have no idea what's going on."
On feeling at home at Everton: "Imagine, you go 5,000 miles away to a completely different culture, where they have an established team, a team that's very good. For some reason, there was immediate chemistry between myself and the team, myself and the city, myself and the fans."
[+] Enlarge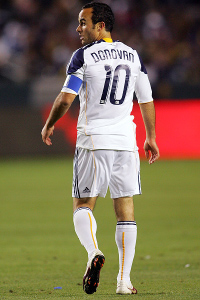 Victor Decolongon/Getty Images
Landon Donovan says if he can play in this summer's World Cup for the U.S. and one more, he'd be a happy man.
On making his first start for Everton, a road game against Arsenal just days after arriving: "That was intense. I remember sitting in the team room [at the pregame] meal, just about three hours before the game, and I'm thinking there's no chance I'm starting. And then [manager David Moyes] came in -- at Everton the manager just comes in the day of the game and names the team, who's playing. I wasn't ready for it. It was kind of good, 'cause I didn't think about it too much. I just said, 'All right, well, that's it, here's your chance. Just go for it.' "
On the threat that Al Qaeda will blow up the U.S. team at the World Cup in South Africa: "I think as an athlete, especially representing America, you learn to deal with that stuff. Nobody wants to think about it, but we're fortunate in our security is always top-notch. I don't think we ever worry about that."
On the pressure of playing in a World Cup: "When you do this for a living and then you have the opportunity to represent your country, that's a whole different animal. For instance, when we go in June to South Africa, stepping on the field the first game against England, you're not only there for yourself, your family, but you're there for your country back home. Being a big sports fan, watching the Olympics [and] things like that, I understand what it is, because I feel the same thing when I'm watching the USA hockey team."
On England, which the U.S. opens against on June 17: "There's no question they have some of the best players in the world. And most of their players play at the top clubs in the world -- Chelsea, Man United, Arsenal -- so it's going to be a hard game, for sure."
On England not having won a World Cup in 44 years: "I think the issue with England historically has been that their media absolutely just crushes them if they don't do well. Talk about pressure. They go into the tournament with unbelievable pressure and expectations, and it's tough to live up to that."
On U.S. chances in South Africa: "I like our team a lot. The only issue is we've got quite a few injuries now, and there's probably five or six, maybe seven guys who are kind of unsure of going into the tournament. Assuming everyone's healthy, I think we have a real good chance to get out of our group, and then see where we go from there. But we've got to see if these guys get healthy."
On concerns that those who go to South Africa for the World Cup will be in danger: "It's different for us than the general public. We have a lot of security and a lot of people around us to ensure that everything goes safely. And we're basically only going from the hotel to the field and back to the hotel, so we don't have a lot to worry about. But I think for the casual person going, yeah, there's definitely a concern. . . . It's worse than what we're used to, so you've got to be careful."
On how much longer he hopes to play: "We'll see. I'm trying just to get through today, to be honest. If I could play in this World Cup and one more, I'd be very happy."