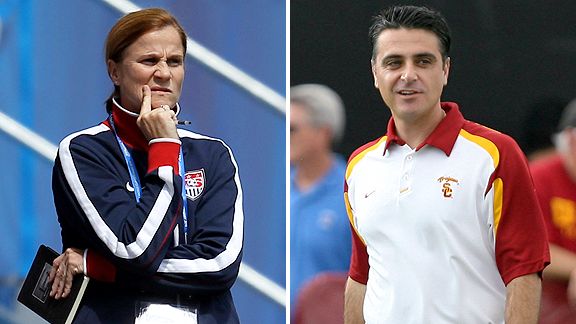 Icon SMI, Getty Images
USC coach Ali Khosroshahin, right, says UCLA coach Jill Ellis, left, has an unfair advantage by being able to coach players in the national team system.
Expect fireworks when USC's and UCLA's women's soccer teams renew their feud Friday night at the Coliseum -- and not only because it's USC and UCLA.
USC coach Ali Khosroshahin, who guided the Women of Troy to the NCAA title in his first season in charge, has decried the "competitive advantage" he says his UCLA counterpart, Jill Ellis, enjoys through her association with the U.S. national teams program.
"It needs to be said," Khosroshahin said on the eve of this campaign, in which his team is 8-4-3 (1-2-1 in the Pac-10) and has been in and out of the national rankings. "Everyone talks about it, but no one's willing to come out and say it. I'm willing to say it now."
And Ellis, who has taken the Bruins to seven successive College Cup final fours and eight in 10 years, isn't completely dismissive of Khosroshahin's allegations. But the force of his comments naturally bothers her, and it will be interesting to see how civil is their pre- or postgame handshake.
Khosroshahin said he was unhappy with the direction of the U.S. national teams program, with which Ellis has been associated since 2000, and that her 19-month tenure as head coach of the U.S. under-20 women's national team -- and ongoing position as an assistant to full U.S. women's national team coach Pia Sundhage -- has afforded her time with elite UCLA players during times the NCAA doesn't allow coaches contact with their players.
NCAA provisions allow national team coaches to work with their players at these times -- primarily during the summer -- within the national team programs. Ellis' team that reached the quarterfinals, a disappointing finish, at the FIFA U-20 Women's World Cup in Germany included three UCLA players: junior forward Sydney Leroux, sophomore midfielder Zakiya Bywaters and freshman midfielder Jenna Richmond.
"She's able to get additional days with some of her current players that she brings into camp, and there always seem to be players on her team that end up at UCLA as well," Khosroshahin said. "It's well within the rules. But you know it definitely is a competitive advantage that she has. … And when you have your assistants on that staff as well" -- UCLA assistant head coach B.J. Snow was on Ellis' U-20 coaching staff -- "and you get three or four of your players on that team, and you get them for additional days of training, that's an advantage.
"I would love that opportunity. I know every coach in this country would love that opportunity."
Ellis' able response: Yes, there is an advantage therein. But there are disadvantages that go along with it.
"On the flip side," she said, "90 percent of my [UCLA team didn't have] their head coach for the bulk of the spring [while I've been working with the U-20s]. I've missed games with my players, not had the opportunity to train with them. There are two sides, as far as benefits."
Khosroshahin, during a nine-year tenure at Cal State Fullerton -- the last six as head coach, building the Titans into a mid-major power -- served as Mexico's assistant coach at the 1999 Women's World Cup and was on the staff of El Tri's 2004 U-19 and 2005 U-20 national teams and worked with the full national team in advance of the 2004 Athens Olympics. Fullerton had two Mexican national team players (both Americans; one, defender Marlene Sandoval, a starter) during his time there.
Mexico's head coach, Leo Cuellar, had been a mentor for Khosroshahin, who played under and coached with the revered coach at Cal State L.A. in the early '90s. Khosroshahin's first season at USC was 2007.
Ellis, in her 12th season as Bruins coach, has turned UCLA into a national powerhouse and a perennial contender for the NCAA title. Her team has struggled this season after graduating four top players, three of them to Women's Professional Soccer, and is 9-5-1 (2-2-0 in the Pac-10) and ranked 20th after opening the season at No. 3.
She has twice guided the U.S. U-21 team, generally a January-to-June job, and was set to coach the U-20s in 2007-08 before accepting an invitation to serve as an assistant to Sundhage in preparation for and games at the 2008 Beijing Olympics, where the U.S. won the gold medal.
Ellis in these jobs did not work with prospective UCLA players. Bywaters had been in the U.S. U-16 and U-17 pools before she came to Westwood, Leroux was already an established star when she arrived at UCLA -- and Richmond committed to the Bruins early in her junior year of high school, well before she was on the team.
A number of youth national team players have played at UCLA, including current full U.S. national team forward Lauren Cheney, but coaches within the U.S. program and other college rivals say Ellis has never used her U.S. Soccer connections to lure players to the school while acknowledging it is possible some top players might have chosen to attend UCLA assuming that playing for Ellis would enhance their national team prospects.
"As coaches, we talk about these things," says Stanford women's coach Paul Ratcliffe, whose team is ranked No. 1 in the nation and features three players from Ellis' U-20 team and another from Mexico's squad. "It's up to the coach to have good integrity -- and make sure you're not taking advantage of your situation."
"Jill has done none of that -- as coach has never done anything untoward or broken any rules," said a U.S. Soccer women's insider, who was not authorized to speak on the record. "She's never used the position to recruit players for UCLA. … And the fact of the matter is, whether [having the UCLA players with the U-20s] was an advantage or not, the three players on that national team deserved to be there.
"UCLA would be recruiting top players whether Jill was there or not. And there are a lot of players on [national] teams that don't go to UCLA."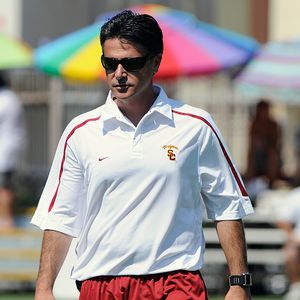 Pierson Clair/USC Sports Information
USC coach Ali Khosroshahin says Jill Ellis, UCLA and U-20 national team team, has never asked him about one of his players.
Ratcliffe, who was part of UCLA's men's 1990 NCAA title-winning team, says Ellis' extra time with UCLA's U-20 players "can be an advantage, but she's doing the extra work, so I give her credit for that. [It doesn't bother me] too much. As long as players don't feel obligated to go to that school because she's working with them, then I'm fine with it. Because I want kids to get the best coaching, and Jill's a good coach."
The U.S. U-17 coach the past two cycles -- the U.S. finished second in 2008 and failed to qualify for this year's World Cup -- has been Kaz Tambi, the women's coach at Seton Hall. Khosroshahin was unhappy that USC forward Samantha Johnson, who was on the 2008 U-17 team, wasn't invited into a U-20 camp by Ellis. She was one of 11 players from that team that did not receive a call-in from Ellis.
"The fact that [Johnson] didn't get called in is an injustice," Khosroshahin said. "I don't understand it."
Ellis said she solicits recommendations from NCAA Division I coaches, discusses recommendations with other coaches familiar with the players, solicits evaluations from other U.S. Soccer staff coaches and watches players on film and in competition. Every player in the age group who has been on a national team has been discussed.
Khosroshahin, asked if Ellis had ever asked him about one of his players, replied: "No, never. Not once." Had he ever called her to recommend a player? "I don't think I should have to. I play her every year. She knows my team, she comes and watches my team play."
Ellis declined to talk about specific conversations during the vetting process. A scout said Johnson was not to the level of the players on the U-20 team.
U.S. Soccer is dispensing with its use of college coaches for its youth national teams and is looking to hire full-time coaches, a policy Khosroshahin and Ellis endorsed.
Khosroshahin says the rivalry with UCLA did not spur his comments, that his USC team uses as "the ultimate measuring stick: how we play as a unit. … We never worry about the opponent we are going to play, we worry about what we do. That's the bottom line."
He's a far more intense coach than is Ellis, and it would be a stretch to call them friends, but both have found success with their methods. USC would like to enjoy the kind of consistent success UCLA has had under Ellis, but the Women of Troy -- despite a 3-19-1 record in the series, going back to the '90s -- always will have the victory in the most important meeting: In the 2007 national semifinals. USC followed by beating Florida State in the title game to win the championship, which the Bruins have never done.
"Showing up for the final four is great," Khosroshahin said. "But I think you need to win it."