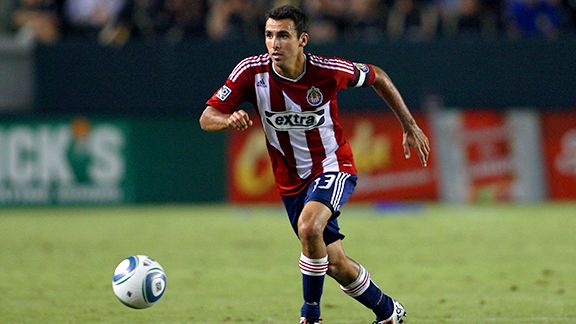 Victor Decolongon/Getty Images
Jonathan Bornstein will play his final game for Chivas USA on Saturday night.
Our favorite Chivas USA player of all-time -- OK, that's only six measly seasons -- is team captain Jonathan Bornstein, who, if you didn't know he was a professional athlete, and a pretty good one at that, you'd never guess he's a pro athlete.
Bornstein, as honest and humble and as regular a guy as exists in the sporting world, is make his farewell appearance for the Goats on Saturday night at Home Depot Center. The 25-year-old World Cup left back/midfielder is heading to Mexico after New Year's to join UANL Tigres, a top club based just outside of Monterrey.
He'll be honored, of course, before Chivas wraps up a difficult season with an 8 p.m. game against the Chicago Fire -- for which forward three-time World Cup forward Brian McBride, whose character is much like Bornstein's, is playing his final game before retirement -- and we sat down for lunch with the former Los Alamitos High School, Cal Poly Pomona and UCLA star this week at his family's deli just down the street from HDC (Apple Spice Junction, Wilmington Avenue and Victoria Street, in Rancho Dominguez) to reminisce about his five seasons in the red and white.
Here's what he had to say:
On his emotions approaching his final game for Chivas USA:
There's a mixture of emotions, actually. Some excitement to what's ahead, also the sadness of leaving, and then just reminiscing on the last five years of my life and the start of my professional career -- reminiscing on those moments and wanting to experience the last game in as good a way as possible. … Happiness as well as wonderment of what's ahead of me.
On realizing he could be a professional player:
It was probably the moment that they drafted me [in the fourth round, with the 37th overall pick]. I really didn't know it was a possibility until my senior year at UCLA was kind of over with soccer and I was still in school, and I asked [coach Jorge Salcedo, a former MLS midfielder]: "Hey, what are my opportunities in terms of the draft." I hadn't spoken to any of the teams, and Jorge connected me with an agent, and I got my name listed in the draft.
I went to a couple of combines -- I went to the Galaxy combine and to the Chivas combine, and [then-Chivas coach] Bob Bradley was at the Chivas combine, and he saw me, and so then when I got drafted, I was, 'Wow! I'm going to be on a professional soccer team!"
On being a fan of the Galaxy, Chivas' hated archrival:
I was a Galaxy fan growing up. Being a soccer fan in Southern California, you root for the home team. That's who I rooted for. I went to games at the Rose Bowl and, when I was in college, when they got Home Depot Center.
I always enjoyed watching Cobi Jones and Paul Caligiuri [my future coach at Cal Poly Pomona] when they were on that same side together. Mauricio Cienfuegos. When they had Luis Hernandez -- it was fun to watch him play. Jorge Campos played for the Galaxy for awhile. I remember those guys. It was fun. That's who I rooted for.
On the transition from Galaxy fan to Galaxy hater:
I think it went from I rooted for the Galaxy my whole life, and now I'm playing for the other team, Chivas USA. So immediately it was, "I can't be a Galaxy fan anymore." And my parents as well: "Now we're Chivas fans." … More than anything, my family has been: 'We're YOUR fans, and whatever team you play on is our team."
For me personally, it was like, well, I'm going to play against the team that I've been rooting for my whole life. Which was a good challenge and something I looked forward to every time I played the Galaxy."
On the pluses to starting a pro career on home ground:
The biggest perks are having your friends and family at every game -- every home game, at least -- and being so close that when the game is over, you can drive home with your dad, and he's like, "Man, what did you guy do tonight?" Immediately there to tell you his criticism of the game, which is great. I really enjoy that, and I'm going to miss that quite a bit going to Mexico. But he'll be just a phone call away.
It's been a huge perk, living 10 blocks away from my parents and where I grew up.
On that second-year Chivas team, in which new coach Bradley had brought in Ante Razov and Jesse Marsch and made Huntington Beach-bred phenom Sacha Kljestan the fifth overall pick of the draft.
I was one of the newest guys -- even Sacha, I felt, was immediately thrown into the group, being the fifth draft pick, kind of the face of the new Chivas team -- and I was kind of like, "Wow, these guys are really good. I don't know that I'm going to be able to fit into this." At the time I played forward and midfielder, and I was like, "Wow, we're set at all these positions." So I was like, well, however I can get on the field, I'm going to do this.
That's when I started playing left fullback. Playing with these guys, it was like: We've got great experience, these guys know what they're talking about. I felt like I was learning a lot on the job every day. I felt we were going to be a really good team, and we were. And we also had a great coaching staff.
I had heard so much about him, how knowledgeable about then game he is, about his character, and it's all true. Playing for him was extremely enjoyable -- I've always felt like I'm learning as I'm going, even now on the national team.
Bornstein had lots of highs with Chivas USA. He was MLS's Rookie of the Year in 2006, with Kljestan finishing second in the balloting, and went to the playoffs in his first four seasons, winning the Western Conference regular-season title in 2007. His play, and Bradley's knowledge of the versatility and dimensions he possesses, led to an opportunity with the U.S. national team, for which he starred during qualifying and played at the World Cup in South Africa. What stands out in his memories?
There are certain points of my career, personally, that stand out. A lot in my rookie year. My first game. Literally, the 10th minute of the game I got a yellow card against [retiring Galaxy midfielder] Chris Klein of Real Salt Lake. I was so eager to play, the ball came over, and I just decked him going for the header. It was like: Yellow card! Welcome to the league!
I totally deserved it. I was so excited to go for the ball. It was just unnecessary.
And then scoring my first goal [in a 3-0 win over FC Dallas on July 1, 2006] was a real icebreaker, a real weight off my back.
My brother-in-law is a huge Denver Broncos fan, and he told me anytime I go play in [the Colorado Rapids' former home, the Broncos' Invesco Field at] Mile High, I better not disappoint him. So I had that in the back of my mind when we played Colorado there [in 2006]. I scored two goals there [in a 2-2 tie on July 20] . That was definitely a highlight. The only time I ever scored two goals in one game as a professional soccer player.
Things like that. And then Rookie of the year, then winning the Western Conference as a team the next year. All the playoff appearances -- just good moments that stick out.
And then if you go to the national team, that's a different story. The World Cup, obviously, was a good experience for me. I dreamt about that as a little kid.
And then scoring the goal late in the Costa Rica game [for a tie in the final qualifier, clinching first place in CONCACAF for the U.S. and enabling Honduras to qualify, making him a Honduran national hero]. That's probably the highlight of my career in a personal sense.
On Chivas USA never getting past the first round of the MLS playoffs:
Yeah, that's a disappointment. Especially this year, after being mathematically eliminated from the playoffs, it was kind of like, "Wow, thjis is the last time for awhile at least I would have had a shot at the MLS Cup." Never getting to play in one, be a part of that -- that's a big disappointment. We made some good runs at it the past five years and could never get over that hump of the first round.
Maybe one day I'll come back and get past that.
On following Tigres and preparing for the move to Mexico, his mother's native country:
I've been trying to watch as much as I can and follow online, but, more than anything, I've tried to stay focused on what I'm doing here with Chivas. Not look too far ahead. As it gets closer, I've tried to follow it closer, learn some more Spanish, kind of prepare for it. It's going to be a big part of my life the next couple years.
I've had a couple conversations with Paulo [Nagamura, the Chivas midfielder who this year spent six months with Tigres], mostly stuff outside soccer: Where to live, what restaurants to eat at, stuff like that. We also talked about what the game is like down there: the speed of play, how technical it is, the media. Overall, everything I should be expecting when I go there.
He's been very helpful, and I probably should have used him a little more, but I want to go in there and experience most of it on my own, get a feel for it.
It's going to be an adventure, a new environment, a new culture. When I try to wrap my mind around it, I can't even really picture the streets I'll be walking down, what the stadium looks like when everyone's screaming -- it's all going to be new. I'm looking forward to that.
Bornstein holds Chivas USA team records for most games (122), most starts (116), most minutes (10,555), and he's fourth for goals (9) and assists (10). On being the on-field face of the organization:
I've been here the longest of all the players. Before Sacha left [in June to join Belgian champion RSC Anderlecht], it was both of us. And if he hadn't left, he'd probably have the games record, but I got lucky he left -- so I could pass him!
I notice if I look back, Cobi Jones is the face of the Galaxy. He was there for almost all his career, played in the most games for the Galaxy. I thought it was cool that he had that honor -- it was always my dream that maybe that could be me for Chivas.
It makes me feel good that I was able to represent the club well and contribute to the success we had. Hopefully, they have more without me, and I can continue to watch.
On returning to Chivas one day:
Of, of course. The league is growing by leaps and bounds, I feel. Each year get better with competition, the more European players that are coming here. The constant growth it's had -- it's definitely somewhere I'm going to want to be. And Chivas is the perfect spot.