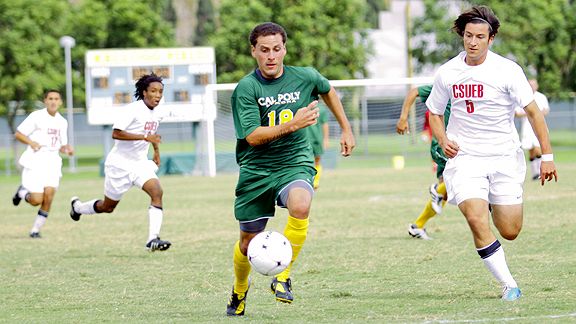 Pedro Corona/Courtesy of Cal Poly Pomona athletics
Cal Poly Pomona's Luis Gonzalez had four goals and two assists against Cal State East Bay last week to set a CCAA points record.
Cal Poly Pomona's Luis Gonzalez was unstoppable in a 7-0 romp over Cal State East Bay last Sunday, totaling 10 points -- on four goals and two assists -- to set a California Collegiate Athletic Conference record.
It made for a five-goal, three-assist week for the junior forward from Millikan High School in Long Beach -- our Player of the Week -- who also had a goal and assist in a 2-1 victory Friday over UC San Diego. The Broncos (9-6-1 overall, 7-6-1 CCAA) need victories this weekend at Cal State Dominguez Hills and Cal State L.A. -- and help elsewhere -- to claim a berth in the CCAA tournament, which begins next Friday.
The four goals tied a CCAA record set last year by teammate Tyler Reinhart.
Gonzalez, who leads Pomona with 11 goals and seven assists, is a two-time junior college All-American who scored 51 goals in two seasons at Cerritos College and led the Falcons to the this year as the reigning national junior college Player of the Year. Gonzalez, who scored 51 goals with 35 assists in two seasons at Cerritos College (leading the Falcons to the 2008 state JC title). He was the NSCAA's JC Division III Player of the Year in 2009.
GREATEST GOAL: What a sweet finish by USC freshman Autumn Altamirano (Tustin/Beckman HS) in the 86th minute to beat UCLA, 1-0, last Friday in front of an NCAA women's regular-season record crowd of 8,527 at the Coliseum.
Altamirano, who had come on just a minute earlier, took Karter Haug's arcing ball from deep on the right flank and volleyed a dipping shot over goalkeeper Chante' Sandiford.
It was just fourth victory for the Women of Troy (9-4-3) in 24 meetings with their archrival and boosted them to 23rd in the NSCAA rankings. UCLA dropped out of the top 25 for the first time since, near as we can tell, the third week of the 1998 season. The Bruins have been shut out in four of their last six games.
BIGGEST UPSET: Claremont-Mudd-Scripps' men caught Redlands in the Southern California Intercollegiate Athletic Conference last week, beating the Bulldogs and entering the NSCAA's D3 rankings at No. 16. Co-champions? Sorry, Stags. CMS (11-3-2 overall, 9-2-2 SCIAC), coached by former Galaxy captain Dan Calichman, was upset Wednesday by archrival Pomona-Pitzer (6-10-0, 6-7-0), which represents the other two (of five) Claremont Colleges.
The Sagehens' 2-1 triumph, on goals by Owen Hawkins and Erik Munzer (Beverly Hills/Beverly Hills HS), gave control of the SCIAC back to Redlands (11-2-2, 10-1-2) -- guided by former Galaxy assistant coach Ralph Perez -- which responded to last week's defeat with 4-0 romps over Cal Lutheran and Occidental, with Jamie Griffin scoring a hat trick in the first and netting his ninth goal of the season in the second.
CMS and Redlands could meet again in the SCIAC tournament, which begins with Thursday's semifinals.
CAN'T-MISS ENCOUNTER: It's the Southland's biggest showdown of the season, at least until they meet again in the Big West Conference final -- and perhaps again in the College Cup men's final four: UC Santa Barbara (10-4-2), ranked 19th but better than that when it's on its game, at No. 7 UC Irvine (13-1-2), which hasn't lost in 10 games behind a senior-heavy lineup bolstered by a superb backline and led by Amani Walker (10 goals). Saturday's clash at Anteater Field begins at 8 p.m.
WORTH NOTING:
UCLA lost control of the Pac-10 men's race, falling in overtime to visiting Cal two days after avenging a defeat to Stanford. Evan Raynr (Calabasas/Viewpoint HS) scored the lone goal in last Friday's win over the Cardinal, but the Bruins (5-2-0) got a bit of payback Sunday from Cal (5-1-1), which won, 1-0, on an overtime goal by Davis Paul (Upland/Damien HS).
UC Irvine's CoCo Goodson scored in 1-0 victories at Long Beach State and at UC Riverside as the Anteaters (13-1-2) won their first Big West women's title. They're 7-0-0 in BWC play with six shutouts (and three OT wins) and carry a 367-minute shutout streak into their regular-season finale Sunday against Cal State Fullerton.
Cal State Northridge also has clinched a spot in the Big West tournament. Long Beach State and Pacific likely will fill out the field. Semifinals are Thursday, the final on Nov. 7, with the winner gaining the conference's automatic NCAA berth.
Loyola Marymount dropped its first West Coast Conference men's game Wednesday, falling, 2-1, at San Diego. The 21st-ranked Lions and Portland are 5-1-1.
Cal State L.A. completed a sweep of Cal State Dominguez Hills to snare a berth in the CCAA women's tournament. UC San Diego also is in the four-team field, and best bets to join them are San Francisco State and tournament host Cal State Stanislaus.
Cal State San Bernardino is No. 3 in the NSCAA D2 men's poll after extending its shutout streak to four games. The Coyotes are on the verge of clinching a CCAA tournament berth; only Chico State has booked its trip to Turlock.
The SCIAC women's race comes down to Saturday's Cal Lutheran-Occidental clash in Thousand Oaks. The host Regals, No. 20 in the NSCAA D3 rankings, are 17-1-1. Oxy is 11-2-2. Both are 9-1-1 in conference play. The Tigers won the first meeting, 1-0; the third meeting is expected in next weekend's SCIAC tournament final. Semifinals are Wednesday.
UC Riverside's men's record might not be so impressive, but it fails to offer a true indication of the kind of season the Highlanders are having. More telling are three results, none of them wins: a 1-1 draw with No. 21 Loyola Marymount in September, a 4-3 defeat to No. 19 UC Santa Barbara (in which UCR led, 3-2) two weeks ago, and Wednesday's 2-1 loss to No. 7 UC Irvine. The Highlanders had an early lead, went down a man when Jose Diaz (Corona/Santiago HS) was red-carded in the 28th minute, and stayed with the Anteaters until the finish.
The Master's College in Santa Clarita will win the Golden State Athletic Conference women's title with a victory Saturday at Biola (La Mirada). The Mustangs, ranked fourth in NAIA, are 8-1-0 in GSAC play; No. 3 Azusa Pacific finished 8-1-1. Both are headed to the conference tournament, which begins Tuesday. Cal Baptist (Riverside) and Vanguard (Costa Mesa) are on target to share the men's GSAC title; they'll open tournament play Wednesday.