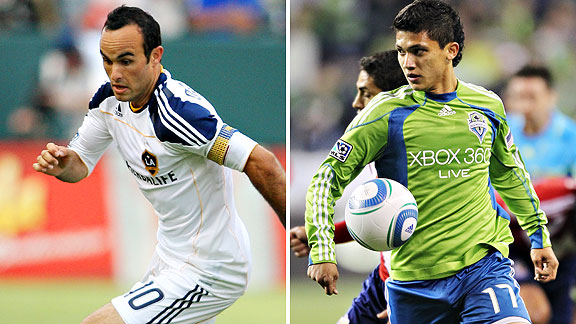 Getty Images
Landon Donovan takes the leadership role for L.A., and Seattle looks for Fredy Montero to call the shots.
WHAT: Sunday's opener in a home-and-home, first-round Major League Soccer playoff series between the L.A. Galaxy (18-7-5) -- the Western Conference champion, top-seeded team and winner of the Supporters' Shield for best regular-season record in the league -- and Seattle Sounders FC (14-10-6), the West's No. 4-seeded team.
WHERE: Qwest Field in Seattle, with about 40,000 fans expected.
WATCH: ESPN2 and ESPN Deportes at 5 p.m.
HISTORY: The series is even, at 2-2-1 in all meetings, since the Sounders joined MLS last season -- there also were two U.S. Open Cup meetings with Sounders-related teams, both Galaxy victories, when Seattle was in the second-tier league. The Galaxy twice won this season in league matches (4-0 on May 8 in Seattle, 3-1 on July 4 in Carson). Seattle captured a U.S. Open Cup showdown (2-0 on July 7 in Tukwila, Wash.), with both teams fielding largely reserve lineups.
CONNECTIONS: It's pretty much one-way traffic here. Sounders coach Sigi Schmid (Torrance/Bishop Montgomery HS and UCLA) was the Galaxy's coach from 1999 to 2004, guiding them to the 2002 MLS Cup and Supporters' Shield, 2001 U.S. Open Cup and 2000 CONCACAF Champions Cup titles. … Reserve midfielder Peter Vagenas (Pasadena/St. Francis HS and UCLA) played in 183 MLS games (plus 19 playoff encounters) from 2000 to 2008, captaining the 2005 MLS Cup/U.S. Open Cup winners. … Reserve defender Tyrone Marshall also was part of both Galaxy MLS Cup winners; the Jamaican national-teamer was in L.A. from 2002 to 2007. … Reserve forward Nate Jaqua spent 10 games with the Galaxy in 2007, scoring twice. … Starting midfielder Nathan Sturgis started his pro career in Carson, playing 24 times in league games for the Galaxy in 2006-07.
5 KEY GALAXIANS:
1. Landon Donovan: L.A.'s captain is the chief on-field organizer, the emotional leader and MLS's top assists man (with 16).
2. Edson Buddle: Big, athletic, a ruthless finisher (17 this season, 90 in a 10-year MLS career), the nicest guy in American soccer is where the Galaxy goes for goals.
3. David Beckham: The English icon isn't what you think, unless you think he's a hard-working, team-first, ego-light free-kick/cross specialist with an expert right foot. He's not quite 100 percent after the ruptured Achilles' injury in March, but he's close enough.
4. Gregg Berhalter: Veteran defender, with two World Cups and 15 years in Europe on his résumé, is the backline anchor who was sidelined from August to October with a mysterious virus. His experience is needed, but his fitness is wanting.
5. Donovan Ricketts: MLS Goalkeeper of the Year finalist (although clearly the third choice of three) from Jamaica is an athletic shot-stopper whose decision-making can be open to criticism.
5 KEY SOUNDERS
1. Fredy Montero: The Colombian forward, 23, orchestrates things for Seattle, connecting teammates and always in the right place to tuck home leftovers.
2. Steve Zakuani: The Congolese winger by way of London (and the University of Akron) is spectacular -- one of the three most exciting players in MLS, along with D.C. United's Andy Najar and Colorado's Omar Cummings, by our estimation. Pacey, powerful and a dazzling dribbler with a nose for the net.
3. Osvaldo Alonso: The 24-year-old Cuban, one of MLS's top-tier holding midfielders, defected to the U.S. in 2007 and tried out with Chivas USA. The Goats' offer -- a $12,900 developmental contract -- was a joke, so he went to the second-tier USL First Division, impressed, and was starting (and starring) for the Sounders the following year.
4. Kasey Keller: The U.S. goalkeeping legend (and Seattle captain) has been superb the last half of the season for his sort-of hometown team (he's from Lacey, Wash., near Olympia). Dynamite reflexes, even now at 40, makes scoring a challenge for any forward.
5. Blaise Nkufo: The Congolese-born Swiss striker is big and strong, a prototypical target forward whose ability to hold the ball added dimensions to the Sounders attack -- especially with speedy Zakuani and Sanna Nyassi running the flanks. He can score, too.
FORM: The Galaxy finished off 5-2-0 while giving Beckham considerable time so he'd be game-fit by the playoffs. (A strategy that worked wonders.) They've led the league more or less from start to finish -- Real Salt Lake went ahead four times on goal difference when the Galaxy played later in the day or week -- and posted a better record on the road (9-3-3) than at home (9-4-2), but they rarely faced a must-win game after a 10-0-2 start (with nine shutouts). When they did, in the finale against FC Dallas, they rallied for a deserved victory to win the Supporters' Shield and Western crowns.
The Sounders went 10-2-3 the last half of the season, turning things around after the July 4 loss in L.A. through one big move -- dumping Designated Player Freddie Ljungberg, whose presence was divisive -- and lots of little things. Sigi Schmid demonstrated expert use of his roster over the league's heaviest schedule (with the U.S. Open Cup title run, CONCACAF Champions League play and friendlies vs. Boca Juniors, Celtic and Guadalajara), parceling out playing time so that everyone contributed while building depth no other MLS club can match. Finished the regular season with a loss in Houston to end a five-game winning streak.
PROBABLE LINEUPS:
Galaxy: GK Donovan Rickets; D Sean Franklin, Omar Gonzalez, Gregg Berhalter and Todd Dunivant; M David Beckham, Juninho, Dema Kovalenko and Landon Donovan; F Mike Magee and Edson Buddle.
Sounders: G Kasey Keller; D James Riley, Jeff Parke, Patrick Ianni and Leo Gonzalez; M Sanna Nyassi, Nathan Sturgis, Osvaldo Alonso and Steve Zakuani; F Freddy Montero and Blaise Nkufo.
PREDICTION: Sounders 1, Galaxy 1