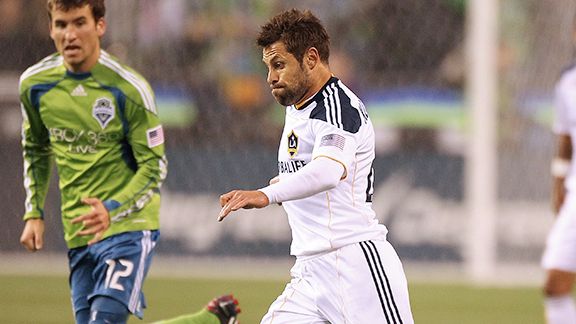 US Presswire
Dema Kovalenko of the Galaxy dribbles against Nathan Sturgis (12) of the Sounders during Sunday's playoff game.
SEATTLE -- The Galaxy heads home for the second leg of their first-round Major League Soccer playoff series against the Seattle Sounders with a 1-0 advantage after a near-perfect performance in an encounter so ugly it was, well, beautiful.
You'll find little agreement on that among anyone who watched -- especially the disappointed 35,521 packed into Qwest Field -- and few who played. Saturday's was a chippy, disjointed affair that favored the Galaxy on two fronts: Edson Buddle's miracle goal in the 38th minute and Donovan Ricketts' stalwart performance in the nets.
The beauty was in the precision with which the Galaxy engineered its disrupt-and-disgust game plan and how effectively it took the Sounders out of their game.
How did L.A. pull it off? Here are three reasons:
1. DEMA'S BOOTS
Ukrainian-born Dema Kovalenko is the fiercest (opponents might say dirtiest) tackler in MLS, and he was going to kick shins and keep kicking shins until referee Ricardo Salazar finally produced a yellow card.
It took Salazar, who had several conversations about tactics with the Galaxy defensive midfielder, until the 65th minute, and by then Kovalenko had forced the Sounders -- looking to play fluid, passing soccer on the slick, quick artificial turf -- completely off their game.
"I think they thought they'd have an easy game," Kovalenko said. "You know, [Osvaldo] Alonso likes to get the ball and spray and this and that, but not today, my friend. Not today."
Sounders coach Sigi Schmid declined to talk about the brutality -- "The refs are the refs," he offered -- but he had a word with Salazar.
"This guy went to the referee and said I should be out of the game. I heard him saying it, you know what I mean?" Kovalenko said. "He can say what he wants, it doesn't matter."
Frustratring foes is Kovalenko's game. It's, he said, "what I had to do. It's physical. … If the referee thinks its a yellow card, it's a yellow card. But you don't have to tell him what's going on. So I told [Schmid] something, too, you know what I mean?"
Once cautioned, Kovalenko's effectiveness was done. A second yellow is a red card, and he'd have been out of next Sunday's second leg at the Home Depot Center. Galaxy coach Bruce Arena pulled him five minutes later.
2. THE PERFECT REPLACEMENT
Eddie Lewis is 36 years old and has, he hopes, three games left until retirement. The plan was to sit on the bench during these playoffs, take the field only if needed. He was needed Sunday.
Todd Dunivant tweaked his right hamstring during training last week, and Saturday's training session at Qwest Field didn't go well. Arena went to Lewis before the game and told him he would be the left back.
"[The Sounders] probably didn't know until they got the team sheet," Lewis said, "but I'm sure Sigi told them: 'Listen, obviously, Eddie hasn't played, his age, everything else, we've got some young, fast wingers, let's try to get behind him as much as possible.' I think everyone was aware of what the game plan was going to be."
Seattle looked to get behind Lewis at every opportunity, mostly through winger Sanna Nyassi, but the former UCLA star -- during Schmid's time as Bruins coach -- was superb. With help from Kovalenko, Landon Donovan and A.J. DeLaGarza, Lewis proved impenetrable. Even Steve Zakuani, moved from the left to the right flank with 20 minutes to play, got nothing.
Lewis, who had started just four games in all competitions all season, finally departed in the 84th minute.
"Eddie's a pretty experienced guy," Arena said. "He played there a number of years, and he's been around the block a few times."
3. BIG PLAYS AT BOTH ENDS
Buddle and Ricketts were atop their games. That doomed the Sounders, who had far more possession, created far more chances and to the untrained eye dominated the action almost from start to finish.
But the Galaxy's command of the match was disguised by their disruption tactics -- Donovan's take: "Our midfield completely controlled the game" -- and all the best moments belonged to L.A.
The best, easily, was Buddle's gorgeous goal. He took Omar Gonzalez's long ball on a half-bounce, settling it and pushing it past defender Patrick Ianni into perfect position with one sensational touch. It gave him an open shot, and his half-volley twisted past perplexed goalkeeper Kasey Keller and inside the left post.
Schmid called it a "fortunate goal," said it was "a goal where, hat's off to Edson, but he turns and hits the ball in basically the direction of the goal; it can go anywhere, and it went in." That's victim talk.
If playoff goals were eligible for MLS's Goal of the Year, this is your winner.
"People are going to say, you know: Did he mean it?" David Beckham noted. "Of course, he meant it."
Ianni called it a "wonder goal," and Donovan said "it was pretty unbelievable" and of Buddle: "That's your MVP. And if you guys didn't vote for him, you should be ashamed."
Ricketts was nearly as good, making two great saves -- diving to parry a Fredy Montero blast past the right post, then tipping Montero's header over the crossbar from the resulting corner kick -- and a handful of very good ones.
The Jamaican goalkeeper, who played on despite hurting his left shoulder diving for a ball early in the game -- "I fell awkwardly, but I'm a soldier," he said -- notched his 12th shutout of the season, but just L.A.'s fourth since starting the season 10-0-2.
"Our main part of our team is our defense," Ricketts said. "We went away from that in the latter part of the season, but playoff time you don't make mistakes or you're punished. So we picked it up tonight and it was good."