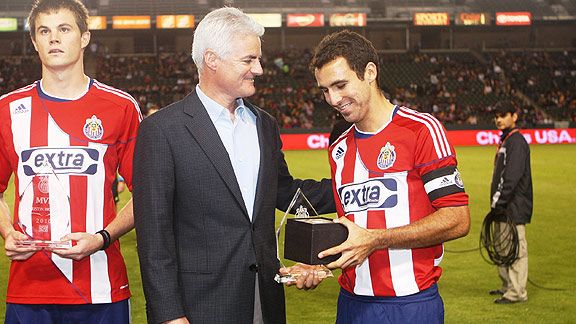 Courtesy of Chivas USA
Chivas USA president and CEO Shawn Hunter, presenting Jonathan Bornstein with an award before the team's final regular-season game, stepped down from his position Tuesday.
Chivas USA's organizational makeover continued Tuesday with club president/CEO Shawn Hunter's decision to step down. He will continue to assist the club in an advisory role.
Hunter, a respected and most approachable executive recruited three years ago from Galaxy owner Anschutz Entertainment Group, told ESPN Los Angeles that 5½ years of commuting from his Denver home to Los Angeles had prodded his decision.
"At the end of the day, with young boys -- my sons are 11 and 9 -- it became, hey, life is short," Hunter said. "I want to spend more quality time with my family. ...
"I made it back [to Denver] last week. I hadn't seen my kids for a couple of weeks. The good news is they came out for a good portion of summer, but I'm missing a lot of events -- a lot of important events -- during the school year."
Hunter, who oversaw Chivas USA's development in, particularly, business development, sponsorship and community outreach, said he'd been thinking about departing since last summer and was asked by co-owner Antonio Cue to remain at his post until season's end. He will be surrendering his stake within the ownership group.
Last week's dismissal of head coach Martin Vasquez played no role in the decision, Hunter said, and he would not in his advisory capacity participate in hiring a successor. He did say he "very well could be" involved in discussions about building a stadium in Southern California for Chivas USA, which has played in AEG-owned and operated Home Depot Center since its 2005 debut. Hunter has been a key player in preliminary work as the club has spoken with community officials and developers about potential projects.
The club plans to spend the necessary time to find a replacement for Hunter, who said he would "definitely be there as a resource" as Cue and other officials mulled candidates.
"I love this place," said Hunter, one of the most beloved execs in Major League Soccer and on the L.A. sports scene. "The nice thing is they've asked me to stay on, to stay part of the family. We've accomplished some very good things, but I still think the best days for this franchise is ahead."