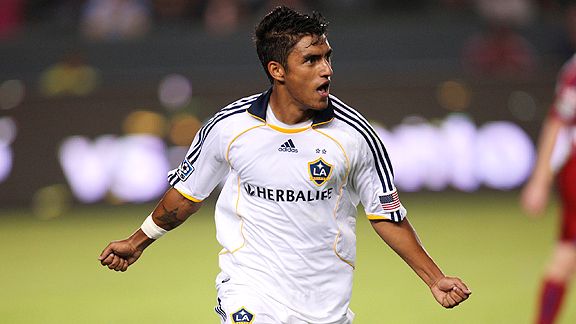 Robert Mora/MLS via Getty Images
A.J. DeLaGarza, above, has teamed on the Galaxy with former college teammate Omar Gonzalez to form a solid tandem along the backline.
The Galaxy expects Todd Dunivant and Gregg Berhalter to be ready for Sunday's second leg of their first-round playoff series against Seattle. Doesn't mean either will be in the starting XI.
L.A.'s defensive performance in the series opener in Seattle could mean another starting assignment for Eddie Lewis, whose expertise in shutting down the Sounders' right-flank attack was vital to last weekend's 1-0 victory, and A.J. DeLaGarza, who has partnered Omar Gonzalez in central defense in four of the Galaxy's last five games.
Dunivant, who suffered a right hamstring strain in training Thursday and was a game-time decision last Sunday to sit out, said an MRI this week showed no significant damage. He practiced fully Wednesday, the Galaxy's first full training session this week, said he was "very optimistic" he'd be available this weekend.
"I'm trying to be smart about it and ease into the week a little bit, not test it too much," said Dunivant, the Galaxy's first-choice left back. "But I did everything today and didn't have any restrictions. So that's a good sign."
Dunivant likely will return to the lineup if he's fit, although he said the Galaxy was "in good hands either way" coach Bruce Arena decides to go.
IN THE MIDDLE: Berhalter, who has started just once (Oct. 16 in a 3-1 loss to Colorado) since he was hit with what's been described as a mysterious virus in mid-October, was a late substitute in Sunday's game. Asked if he could go 90 minutes if called upon, he said: "That's a tough question. Of course, I'm there to help the team, do whatever the coach asks me to do."
It's less likely Arena will want to break up the Gonzalez-DeLaGarza partnership. They have performed well together -- no surprise; they were backline partners and roommates when the University of Maryland won the 2008 NCAA Division I title -- and Gonzalez says their relationship "shows on the field." The 6-foot-5 Gonzalez is a classic center back who might develop into a U.S. national team star. DeLaGarza, at 5-9, is fast and tenacious; he also has played at left back and right back.
"We're just really comfortable with each other," said Gonzalez, last year's MLS Rookie of the Year and a finalist this season for MLS Defender of the Year. "Nothing much has to be said. I know where he is at all times. I think we have a great thing going."
DECISIONS: Arena said Wednesday he hasn't made a decision on his starting backline, that he would "sometime between now and kickoff." Closer to kickoff? "Probably closer to kickoff than right now."
"You guys [the media] actually think there's a lot of science behind this stuff," the coach said. "You just wait and see. You got to go by what you think makes sense."
Said Gonzalez: "I would think things are going well with me and A.J., so maybe see that again. ... I have no idea."
Berhalter, who has played in two World Cups and spent 15 seasons in Europe, is fine with whatever Arena decides.
"I think at this stage, everyone's just in it for the team," he said. "And whatever that is, whatever role you're asked to do, that's what you do. We're just trying to win a championship. The team comes first, and that's what's most important."
The only certainties, as long as nothing untoward occurs in the next few days: Gonzalez will be in the middle, with right back Sean Franklin next to him.
MEANWHILE, TO THE NORTH: The Sounders, too, have uncertainty on their backline. Starting center back Jeff Parke suffered a sprained ankle Sunday, and he didn't train Tuesday or Wednesday.
Coach Sigi Schmid on Wednesday said Parke won't "train until Friday anyway," according to The Seattle Times. "He's making progress. We are happy with the swelling. But right now I couldn't tell you whether he would be able to go this weekend or not. We are hoping so. He was a lot better today than he was yesterday."
If Parke can't play, former Galaxy defender Tyrone Marshall likely will play next to former UCLA star Patrick Ianni in the middle.