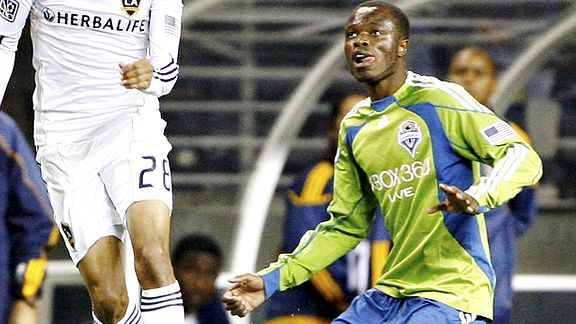 Joe Nicholson/US Presswire
Seattle's Steve Zakuani says it will all come down to which team executes in the second leg against the Galaxy.
Looking for the pivotal player in Sunday's second, decisive leg in the first-round playoff series between the Galaxy and Seattle Sounders? Look no further than second-year Sounders winger Steve Zakuani, a Congo-born, London-raised, Akron-schooled speedster whose game is about so much more than pace.
Zakuani, the No. 1 overall pick in MLS's 2009 SuperDraft, emerged as an attacking force this season, using his speed, power and tricky ball control to dominate opposing right backs and team with, especially, forward Fredy Montero and midfielder Osvaldo Alonso, to set Seattle's dynamic attack.
The Galaxy played a nearly flawless defensive performance to take the Sounders out of their game plan in the first leg, a 1-0 L.A. victory last weekend in Seattle, yet still needed a superb showing from goalkeeper Donovan Ricketts to deny the home team a victory. They'll need to do so again Sunday evening at Home Depot Center to advance to next week's Western Conference final against FC Dallas.
We caught up with Zakuani on Saturday afternoon.
How will the Sounders differ their approach in the second game?
We're definitely going to try to play higher up the field. We've got to stretch L.A. We have to. I think they had it too easy [in Seattle]. When you're playing long balls into [6-foot-5 Galaxy center back] Omar Gonzalez, he's going to win that all day, so you've got to stretch them. You've got to make them run. Put the ball on the floor. We have fast players. We have tricky, skillful players. Their strength is the ball in the air.
Do you treat this as just another game?
We made a mistake of that in the last game, where we saw 35,000 fans screaming, national TV -- for whatever reason, we came out OK, but in the game, we just went flat. L.A. scored, and then we maybe panicked a little bit. We're short on experience -- they're a very experienced team, and we're a very young team. I think what we need to do is keep cool heads, and even if it's 0-0 after 85 minutes, it only takes a second to score a goal. So we can do that.
I think it will be really interesting if we score first. I think it will be a very interesting game. So that's what we've got to try to do.
What impresses you most about how the Galaxy defends?
Everybody does it. It's not just one or two guys. It's not just the defenders. It's Landon Donovan. It's David Beckham. It's Edson Buddle. It's Juninho. Whoever. That's very impressive.
How do you take advantage of the Galaxy when they're defending so well?
We have to force the mistakes. They won't make many unforced errors, just because they're very good players. We have to make them make mistakes. If we begin to stretch them and separate the defenders, don't keep them so compact, they will begin to make mistakes. Every team will. And then it's up to us to convert on those mistakes.
The Galaxy, more so than any other team in MLS, seems to be able to win even when they are outplayed.
They were the best team. They were the [Western Conference and Supporters' Shield] champions for that reason. But I think last week, if we played that game again, I don't think Buddle scores that goal. That happens once in whenever. So we can accept that. And without playing too well, we made Ricketts work hard, we still had a lot of chances, and we left Seattle really disappointed.
I think we can't play as bad as we did last week. We'll play better. L.A. will play better. It will be a better football game, for sure. … And I'm not expecting Buddle to do that again.
The big, grass field at Home Depot Center would seem to complement the way the Sounders play, provide space for the explosiveness of your attack.
In a way. People said that about Qwest Field, that it plays for us, but I just think we can play on concrete, we can play on sand -- it's the same game. I grew up playing on concrete my whole life, so it doesn't change for me. It's still going to be the same tactically, it's just about executing.
We're not new to them, they're not new to us. It's who executes.