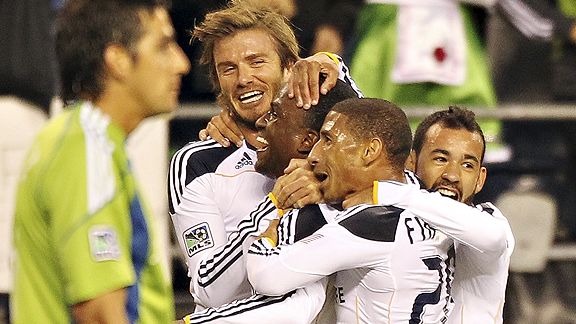 Otto Greule Jr./Getty Images
The Galaxy's tight, disruptive defense helped them get the advantage in the first-round playoff series.
What we saw in the first leg of the Galaxy-Seattle playoff series is what we can expect Sunday evening in Game 2 at Home Depot Center: The Sounders will attack, looking to exploit space behind L.A.'s defense primarily through wingers Steve Zakuani and Sanna Nyassi, and the Galaxy will try to make doing so difficult.
Or not.
Things are fairly simple heading into the decisive encounter in the Major League Soccer first-round home-and-home. The Sounders must make up a one-goal deficit, and they must do so on the road. The Galaxy wants to win at home, but a draw will suffice.
And so their approaches to the game ought to be similar to those taken in the opener, in which the Sounders looked to attack and the Galaxy's emphasis was on playing tight, disruptive defense.
"It all depends what [the Galaxy's] approach is at home," Sounders coach Sigi Schmid said Saturday. "Our approach has to be somewhat similar, in that we need to win and need to score goals. Hopefully, a little more good fortune, but don't expect that much difference because they were successful with what they did in Seattle. But on the same token, being at home I think they will be a little bit more willing to go forward than they did in Seattle."
The Galaxy, captain Landon Donovan said, "want to play the way we're good at playing and the way we know how to win. In general, that's a little more cautious than it is aggressive, so we're not going to change anything from that standpoint. But we're not going to go into the game thinking, 'Let's do everything we can to tie the game and get out of here.' We're playing at home. It's like any home game. We want to win."
NO BEAUTY CONTEST: L.A., with three playmakers in midfield (Donovan, David Beckham and Juninho) and one of the league's premier finishers up top (Edson Buddle), is one of MLS's best counterattacking teams. It is expert at luring foes in, absorbing pressure, then quickly playing into the space opponents leave between their midfield and backline or behind their defense.
It only makes sense that Seattle will see more of the ball, that the Galaxy's success will be based on their defensive shape and their ability to keep the Sounders' dynamic attackers in front of them.
As Galaxy coach Bruce Arena noted this week: "We're involved in these playoffs to win, not to put on a beauty contest and not to make it real ugly."
It can get ugly, as we saw in last week's game. Midfielder Dema Kovalenko, a fierce tackler who "sometimes pushes the envelope a little bit," associate head coach Dave Sarachan said, frustrated the Sounders with his disruptive tactics, which led to several admonishments from referee Ricardo Salazar and a yellow card in 65th minute. Another yellow and he would be suspended for next week's conference final, if the Galaxy advances.
Schmid, a Torrance-bred coach who built UCLA into a national powerhouse and guided the Galaxy to the 2002 MLS Cup title, clearly wasn't pleased with L.A.'s tactics in the first leg. His only "no comment" in the postgame news conference was in response to a question about the game's chippiness.
"I would say it a little bit differently," Sarachan said this week. "Because when you get to this stage of the season, when every moment matters -- and, obviously, every game matters, because one and you're done -- the games are hard games. There has to be an edge. … We use the term 'making it hard for them to play,' and so what does that mean? It might mean at moments to take a little bit of a body [check], it might mean blocking a passing lane, but we don't go into the game thinking, 'Let's be chippy or dirty or cynical.'
"It's a playoff game, and we've got to understand that. Our team does understand what it takes to manage a game of this magnitude, and I think game one was a good example of that. And now it doesn't mean anything if we don't manage Sunday."
Managing the game requires a focus on defense. On limiting the channels midfielder Osvaldo Alonso, the deep-lying provider, uses to spread the ball among Zakuani, Nyassi, forwards Fredy Montero and Blaise Nkufo, and his midfield partner, Nathan Sturgis. On keeping the speedy wingers in front of the backline by making certain there are at least two defenders near both of them at every moment. Doing, in effect, everything they did in Seattle.
"The game in Seattle was a difficult game," Alonso said Saturday. "They obviously put pressure on us. They tried to get us out of our normal game, and they did. We'll see what happens now."
THE AGGRESSOR: Count on the Sounders being the aggressor. They have to be.
"It's a situation of you want to attack in an appropriate manner," Schmid said. "What I mean by that is we are definitely going to attack, but on the same token we are not going to throw caution into the wind in minute one and go forward like you would go forward in minute 80. We feel confident in our ability to attack and we have addressed some of the issues that will help us play against a team that is maybe a little bit more defensive in orientation, and hopefully that will work for us."
Said Zakuani: "We have to score. If we don't score, we're out. The season's over. We don't want the season to end right now, so we have to score. L.A. knows that. They don't have to score. So, I think, just by that you can read that they'll defend more, we'll attack more. But they're a very good attacking team, too. And for us, it's about when they do attack, picking those moments to really get at them and see what happens."
Galaxy right back Sean Franklin, who frustrated Zakuani in the first leg, expects to see what he saw last week: "I think they'll still try to attack down the wings. I would."
"You never know with Sigi," Donovan said. "He could throw a wrench into things and do something different. It's hard to know. My guess is at some point they have to be aggressive and try to find a goal, and our focus has to be not to be tentative, not to be cautious, to go our and play the game like we're playing a game at home."