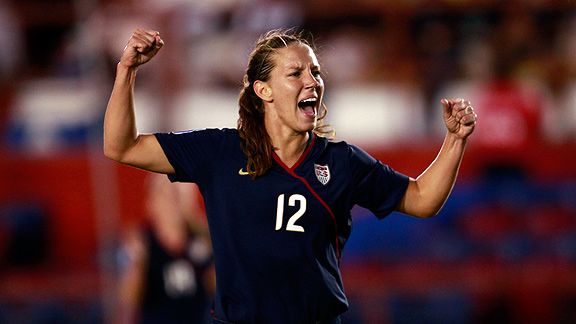 AP Photo/Dario Lopez-Mills
Lauren Cheney opened up the scoring in the U.S.'s 3-0 win over Costa Rica. Next up: a must-win home-and-home series against Italy later this month to qualify for the World Cup.
All is right again in the women's soccer world. The U.S. national team, stunned last week by Mexico in CONCACAF's Women's World Cup qualifying semifinals, dominated Costa Rica just as expected in Monday's third-place game to keep its Germany 2011 hopes alive.
Actually, hope doesn't begin to describe the Americans' situation or expectations. Not qualifying for the WWC, after winning twice and finishing third three times in the previous five, would be disastrous. Losing to Mexico, in Mexico, might be good for the game and for the U.S. program, but not so failing to reach the sport's most important event.
Hermosa Beach's Abby Wambach scored two more goals -- her seventh and eighth of the tournament and her 116th and 117th in international play -- and former UCLA star Lauren Cheney also tallied in a 3-0 U.S. victory in Cancun. Other locals playing Monday were midfielder Shannon Boxx (Redondo Beach/South Torrance HS) and forwards Amy Rodriguez (Lake Forest/Santa Margarita Catholic HS and USC) and Alex Morgan (Diamond Bar/Diamond Bar HS).
The U.S. will meet Italy in a home-and-home series -- Nov. 20 in Padova and Nov. 27 in Bridgeview, Ill. -- with the winner joining the 16-nation field.
Canada beat Mexico, 1-0, in the final on Christine Sinclair's penalty kick early in the second half. The Canadians and Mexicans claimed CONCACAF's berths for next summer's championship.