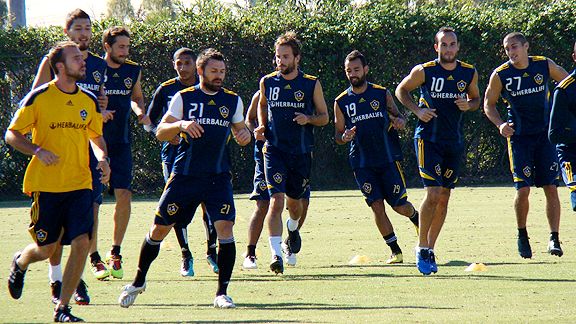 Courtesy of Los Angeles Galaxy
The Galaxy and their beards, some better than others.
With a nod to the World Series champions up north and the legacy of postseasons past, the Galaxy are letting their hair grow for their run toward a second successive MLS Cup title-game appearance.
Every player on the team, some of the staff and a few in the front office have put their razors away for a "fear the beard" campaign that has unified what was a pretty tight group to begin with. What kind of impact will it have in Sunday evening's Western Conference final against FC Dallas at Home Depot Center (ESPN2 and ESPN Deportes, 6 p.m.)? None whatsoever. But who cares?
"I think it's fun," says Galaxy captain Landon Donovan, who has one of the better beards on the team. "It gives us unity, and it gives you a common cause. As stupid and cheesy as it sounds, something like that does help bring you together, and every day you look at someone, and you say, 'OK, he's doing the same thing I'm doing. He's in it for the same reasons.' "
Defender Todd Dunivant, who has no trouble growing facial hair, came up with the plan as the Galaxy prepared for their first-round playoff series with Seattle. There was resistance in some quarters, but it didn't last.
"I was initially resistant to it, but, uh, if the guys do it, I'll do it," says veteran midfielder Chris Klein, who is retiring at season's end. "[Word] just gets around. It goes from one guy to the next, and then the young guys don't have a choice. They have to follow along."
The young guys, Brazilians Juninho, Leonardo and Alex Cazumba aside, have the thinnest beards. It's tough to find much hair on third-string goalkeeper Brian Perk's face, and Bryan Jordan and A.J. DeLaGarza's efforts are more impressive than the results.
Defender Omar Gonzalez's has filled in as the playoffs have proceeded, and Edson Buddle's tuft of chin hair gets a thumbs-up from Klein for "the effort he's given to grow it, because he's usually a clean-shaven guy."
Defender Sean Franklin has a little hair, not much.
"The guys in my family aren't that hairy," says the right back from Palmdale. "My brother didn't really get hair until his late 20s, so I've still got maybe a couple years before I can actually grow something."
Says David Beckham: "I'm quite jealous of the ones that haven't got much, because they're all about 20 years old."
The fullest? Klein's, Dema Kovalenko's, Jovan Kirovski's, Juninho's and Dunivant's.
Donovan says Kovalenko "looks like a Viking." Klein admires his own as "one of the nicest ones, right?"
No extra hair on the primary coach staff, however. "They claim they have business to attend to from time to time," Klein says, rolling his eyes. "That they have to meet with very important people."
For the players, he says, "it just proves we're kids. We're men doing a kid's job. For us, it's just a symbol of our unity together."
A few guys have complained of itchy faces, and Beckham says much of the team is "ready to shave them off. But, hopefully, they'll be staying on through [next weekend]."