Our countdown of 2010's top 10 soccer stories and newsmakers -- from a Southern California slant -- continues.
Stories/No. 8: UCLA's fabulous freshmen
It was an odd (and some might say off) year for college soccer in the Southland:
UCLA's women didn't come close to an eighth straight trip to the NCAA College Cup final four (USC's disappointed, too)

UC Santa Barbara's men never got a chance to try to win a championship at home (deserving Akron celebrated on the Gauchos' field)

UC Irvine's stirring fall finished just short (what a run by the Anteaters' women) and with a stunning snub (how did their men, top 10 all year, not get an NCAA Tournament bid?)

Let's not even mention the lower divisions, Azusa Pacific's women (NAIA semifinalists) aside.
The best team in these parts, and that wasn't clear until season's end, was UCLA's men, who needed nearly half the season to figure things out, then came up just shy of the program's 13th final-four appearance.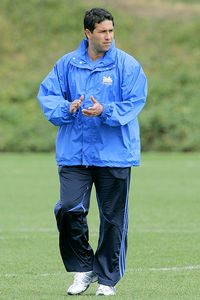 Courtesy of UCLA Athletics
UCLA coach Jorge Salcedo has one of the most talented collection of young players in the nation.
No surprise they needed time to find their feet: The Bruins had the finest collection of freshmen in the country, and their sophomores were pretty good, too. They might be the NCAA's No. 1 team when the season opens next fall, but their window for winning a title ought to be short: The players Bruins coach (and former Galaxy and UCLA midfielder) Jorge Salcedo brings to Westwood are so good, they rarely last more than a couple of years before going pro.
And this year's youngsters might be the Bruins' best. Included were an All-American midfielder (Kellyn Rowe), a forward who turned down pro offers to come to UCLA (Fontana's Victor Chavez) and another forward coveted by top programs everywhere (Newport Beach's Reed Williams). Two top defenders (Dove Canyon's Joe Sofia and Laguna Niguel's Patrick Matchett) sneaked in under the radar. And maybe the best of the lot (goalkeeper Earl Edwards) saw no action, sitting behind a top veteran (junior Brian Rowe).
Seven freshmen played considerably and the class accounted for most of the goals (23 of 40, with Chavez's 10 tops on the team) and assists (27 of 52, with Rowe's 10 tops on the team).
UCLA went 16-5-1, absorbing a big loss early (5-1 to Indiana) and another defeat in front of the biggest crowd ever to watch a soccer game at a university field (2-0 to UC Santa Barbara in front of 15,896), then taking off on a 14-2 spree into the NCAA quarterfinals. They held two two-goal leads before succumbing, 5-4, to No. 1 Louisville in the snow.
Newsmakers/No. 8: Michael Bradley
Remember the whispers, how Bob Bradley's son getting U.S. national team call-ups had to be nepotism run amok?
Seems embarrassingly ridiculous now: Michael Bradley, after a superb performance during the World Cup, is clearly a big part of the foundation on which America's success (we hope) will be built.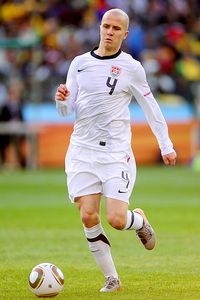 Stuart Franklin/Getty Images
Michael Bradley was a key member of the U.S. national team at last summer's World Cup in South Africa.
The 23-year-old central midfielder, whose family lives in Manhattan Beach, is the perfect blend of brains and brawn with enough attacking skill mixed in to insert him, already, into the conversation about the best midfield players the U.S. has produced.
His wherewithal on the field rivals Landon Donovan's, and he has a knack for being in the right place at the most important time. Credit the education he received from his dad, who's done a far better job in charge of the national team than his critics are ever going to admit.
We knew the younger Bradley was going to pretty good when he was a teen -- he was 16 when he signed with MLS -- and his performance at the 2007 CONCACAF Gold Cup certainly was promising. But he really opened eyes when he scored 20 goals in all competitions for Holland's Heerenveen during the 2007-08 season.
It led to a job in Germany's Bundesliga, one of the world's "major" leagues, and if Borussia Moenchengladbach isn't quite Bayern Munich -- it's not; Die Fohlen are at the bottom of the standings as winter break arrives -- Bradley has been one of the real success stories for the club, repeatedly providing outstanding work in defeat.
Those losses aside, it's been a big year for Michael Bradley, and that bodes well for all fans of American soccer.
No. 9: A royal visit … and Charlie Naimo's rough year