Cruz Azul will seek a record sixth regional club title and Pachuca its third in four years when the teams meet in the CONCACAF Champions League final later this month after prevailing in an all-Mexican final four.
[+] Enlarge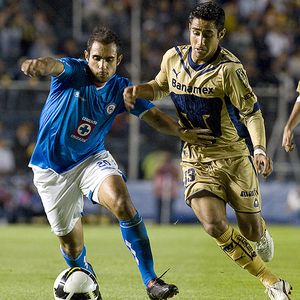 LUIS ACOSTA/AFP/Getty Images
Cruz Azul's Alejandro Castro, left, vies for the ball with Pumas' Luis Fuentes in Tuesday's CONCACAF Champions League match.
Cruz Azul scored four goals in the final 16 minutes to rout fellow Mexico City club Pumas UNAM, 5-0, Tuesday night and overcome a 1-0 deficit from the first leg. The Cementeros lost to Atlante in last year's final.
Pachuca, which in 2007 and 2008 won the final two CONCACAF Champions Cups -- the precursor to the Champions League -- advanced with a 1-0 victory Wednesday night over Toluca on Edy German Brambila's sixth-minute goal. The first leg eight days earlier finished at 1-1.
Cruz Azul, which won titles in 1969, 1970, 1971, 1996 and 1997 -- beating the L.A. Galaxy for its fifth title -- will be home for the first leg April 21. Pachuca, which also captured the 2002 championship, will play host to the second leg April 28.
Horacio Cervantes' header broke a 1-1 aggregate tie in the 74th minute and Adrian Cortes scored on a 28-yard free kick three minutes later to lead Cruz Azul. Rogelio Chavez and Gerardo Lugo added late goals. Cristian Riveros scored the Cementeros' first goal late in the first half.