The Colorado Rapids had never won an opener on the road. They changed that Friday night with a 1-0 stunner over Chivas USA at Home Depot Center, and most of the credit goes to a defender the club acquired just two days earlier.
Marvell Wynne, one of the brighter stars to come out of UCLA in recent years, put on a mostly magnificent performance in the center of the Rapids' backline, using his pace to cut off through balls and track down attackers and his strength to overpower them.
"Absolutely phenomenal," Colorado coach Gary Smith praised his newest acquisition, brought in from Toronto FC in a trade Wednesday. "I said before the game: hit it, kick it and get in the way of people, and he was phenomenal."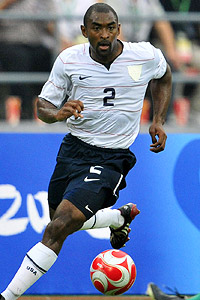 Kirby Lee/Image of Sport/US Presswire
Marvell Wynne, shown here playing for the U.S., played well in the midfield for Colorado.
The last time Wynne played in the middle?
"I can't remember," he said. "I don't think I've ever played there in my professional career."
Wynne the son of the former Pittsburgh Pirates, San Diego Padres and Chicago Cubs outfielder of the same name has been, since his club-soccer days with the San Diego Surf, a right back. His ability to get up and down the flank, and the speed with which he does so, made him an All-American at UCLA, the No. 1 selection in MLS's 2006 SuperDraft, a 2008 Olympian and a U.S. national-teamer with three caps and a chance, albeit very slim, to head to the World Cup in South Africa this summer.
He was at home in Toronto packing for Toronto FC's trip to Columbus for its opener Saturday, when he got the news he was joining the Rapids.
"To be honest, it's kind of exciting," he said before Friday's game. "I mean you get a call Wednesday saying you've been traded, then Thursday I'm already on a flight through Houston right here to L.A., and now I'm ready for a game.
"I want to give this team something extra in the back. I want to give them my strength, I want to give them my speed, and I want to give them solid play and my ability."
He did so against Chivas, stepping into the middle in place of injured Julien Baudet and, let's not exaggerate, taking over. He made his presence felt right away, in the ninth minute, after a little triangle sent Goats striker Maykel Galindo into the box, one-on-one with goalkeeper Matt Pickens.
Galindo is one of the fastest forwards in MLS, but he was no match for Wynne, who raced in and shouldered him off the ball, sending him to the turf and eliminating the danger.
Some thought it might be a penalty that Wynne had taken Galindo down from behind but Chivas' Cuban wasn't complaining.
"For me, it's fine (that no penalty was awarded)," Galindo said. "He had a lot of speed. He's strong. Sometimes Sacha (Kljestan) or Osael (Romero) give me a good ball, I'm using my speed, but this guy from Colorado & he's fast, he's strong."
Wynne wasn't done. He cut off Kljestan's pass for Jorge Flores, following a fine series of 1-2s, in the 33rd minute, dispossessed Galindo in the box just before halftime, stopped Justin Braun twice in the second half blocking one shot, and escorting the ball to Perkins under pressure on a second and took the ball from Chukwudi Chijindu in the 76th minute.
Only one bad touch: a poor clearance that Jesus Padilla sent through Colorado's goalmouth, just ahead of Chijindu at the far post.
Wynne looked like a natural in the middle he credited the verbal communication from Pickens and fellow center back Drew Moor and might have found his future path. The knock on Wynne as an outside back is that his ball skills can't match his speed and that he's inconsistent. But schooled on the intricacies of central defense & well, everyone wants a speedy center back, one who can make up for his errors, and the mistakes of others, by running down opposing attackers.
"I would rather have seen him out right, not breaking up those plays in the middle &," Chivas defender Jonathan Bornstein, Wynne's former UCLA teammate, mused afterward. "I guess it's a good pickup for them."