MLS Week 1 Preview: Philly's first step
The Seattle Sounders landed last year with an MLS Cup-winning coach, a couple of big stars straight from Europe, and a plan for quick success. They were the best expansion team Major League Soccer had seen since 1998, when the Chicago Fire captured the title in its first season -- and in a very different MLS.
The league was still in its infancy back then, and anything seemed possible, especially when a coach such as Bob Bradley was able to lure world-class talents like Peter Nowak to a start-up.
[+] Enlarge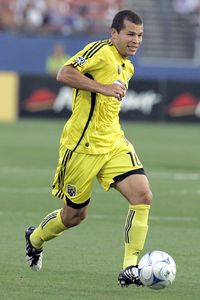 AP Photo/Tony Gutierrez
Former Galaxy forward Alejandro Moreno, who played most recently with the Columbus Crew, will be a key member of the expansion Philadelphia Union.
The league has grown up a lot since then, and expansion teams are supposed to follow the model set by Chivas USA and Real Salt Lake in 2005, Toronto FC in 2007 and the second coming of the San Jose Earthquakes in 2008: big-time struggles to start with hope for real success on the horizon.
The Sounders wanted to win immediately, and a solid foundation (from the club's longstanding second-division enterprise and the addition of big-name owners Paul Allen and Joe Roth), a top-tier coach (Sigi Schmid, fresh off the 2008 title with the Columbus Crew), some star power (Swedish veteran Freddie Ljungberg and American goalkeeper Kasey Keller, who had toiled in England, Germany and Spain), at least one ready-to-break out player (Colombian youngster Fredy Montero, MLS's Newcomer of the Year) and some of the league's most rabid fans (average attendance at Qwest Field a shade under 31,000) made it happen. Seattle posted the league's fourth-best record (12-7-11, 47 points) and took the mighty Houston Dynamo to overtime in a two-leg, first-round playoff series.
The Sounders are among the prime contenders for this year's MLS Cup title, and they're home for the league's 2010 opener tonight against the Philadelphia Union, which makes its debut with a solid foundation (a well-heeled ownership group led by real estate financier Jay Sugarman), a top-tier coach (Nowak, who coached D.C. United to the 2004 championship before taking charge of the U.S. Olympic side) and some of the league's most rabid fans (the colorful Sons of Ben).
The Union don't have quite the talent that the Sounders had -- defender Danny Califf, an Orange High School grad who spent the past four years in Denmark, is the biggest name -- but are hoping to make a bigger first-year imprint than did Chivas USA (4-22-6), RSL (5-22-5), Toronto FC (6-17-7) or the second coming of San Jose (8-13-9).
The Week 1 slate (all times PDT):
THURSDAY, MARCH 25
Philadelphia at Seattle, Qwest Field (Seattle), 6:30 p.m., ESPN2/ESPN Deportes
Philly would love to start as well as Seattle did last year, with a 3-0 romp, but they shouldn't expect a warm welcome.
FRIDAY, MARCH 26
Colorado at Chivas USA, Home Depot Center (Carson), 7:30 p.m., KDOC/KWHY/MLS Direct Kick/mlsnet.com
The Martin Vasquez era begins for the Goats, who could use some better health up front. The Rapids have a solid 1-2 punch with Conor Casey and Omar Cummings (combined 24 goals, 13 assists in 2009) and a solid midfield anchored by Pablo Mastroeni and Jeff Larentowicz.
SATURDAY, MARCH 27
Toronto FC at Columbus, Crew Stadium (Columbus), 1 p.m.,
MLS Direct Kick/mlsnet.com
TFC is still trying to get it right and has turned to Preki, who couldn't take Chivas USA to the postseason's second stage. 2008 MVP Guillermo Barros Schelotto remains key for the Crew, who ought to be a step ahead with two competitive matches -- it fell to Morelia in the CONCACAF Champions League quarterfinals -- already past.
Houston at FC Dallas, Pizza Hut Park (Frisco), 1 p.m., Telefutura
The Dynamo probably is the team to beat in MLS, as it has been every year since the move from San Jose. Schellas Hyndman, with some deft moves the latter half of last season, seems to have FCD in position to contend, but don't expect another 17-goal campaign from Jeff Cunningham.
[+] Enlarge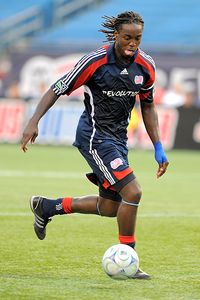 Keith Nordstrom/MLS via Getty Images
Shalrie Joseph, considered one of the best players in MLS, will be at the Home Depot Center on Saturday with the New England Revolution to face the Galaxy.
Chicago at New York, Red Bull Arena (Harrison, N.J.), 4 p.m., ESPN/ESPN Deportes
The Red Bulls' grand new stadium gets its official baptism -- with two first-year coaches -- and the home team can't be as bad as they were most of last year, right? The Fire made big news earlier this week by releasing 2008 MLS Goalkeeper of the Year Jon Busch.
D.C. United at Kansas City, CommunityAmerica Ballpark (Kansas City, Kan.), 5:30 p.m., MLS Direct Kick/mlsnet.com
The Wizards dumped coach Curt Onalfo after another disappointing campaign last year, and now he's looking to disappoint K.C. again in his debut as D.C. boss. The return of 2006 MLS Goalkeeper of the Year Troy Perkins from Norway boosts United's chances.
Real Salt Lake at San Jose, Buck Shaw Stadium (Santa Clara), 6 p.m., Fox Soccer Channel/Fox Sports Espanol
RSL won the MLS Cup. Now how about a winning season? The Utahns are still looking for their first -- they went to the playoffs with an 11-12-7 mark last year -- and they have all the ingredients necessary, perhaps to win a second title, too. San Jose needs to start winning, or GM John Doyle and coach Frank Yallop could soon be gone.
New England at L.A. Galaxy, Home Depot Center (Carson), 8 p.m.,
Fox Soccer Channel/Fox Sports Espanol
The Galaxy is, by all accounts, much further ahead than it was as last year's campaign began, but what that means is anyone's guess. It took Bruce's Boys a couple of months to find their stride, and they head into the opener a little thin offensively. The Revolution's on the wane. Shalrie Joseph remains the (sorry, Landon) best player in MLS, but Steve Ralston and Jeff Larentowicz are gone and there's no telling whether Taylor Twellman can again be the force that scored 91 goals in his first six seasons.