Dumping on the opponent's star is part of hardcore fandom, but Galaxy fans took it a tad far during the 4-1 triumph over the Houston Dynamo on Saturday night at Home Depot Center.
Chants of "U.S. reject" rained down on Dynamo striker Brian Ching, who was one of seven players on the Americans' preliminary World Cup roster who did not make coach Bob Bradley's final 23.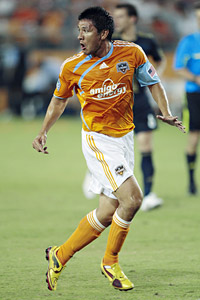 Bob Levey/Getty Images
Brian Ching of the Houston Dynamo was recently cut by the U.S. national team and some Galaxy fans made sure to make him remember.
Ching, one of the top U.S. strikers and a member of the 2006 World Cup team, was a suprise omission; his ability to hold the ball in advanced positions, to harass opponents into turnovers in dangerous spots, and to create space and opportunities for teammates is greatly valued by everyone who plays alongside him, and we may find in the coming weeks that those qualities are missed in South Africa.
A hamstring injury that sidelined Ching for a month and a half heading into the final U.S. training camp was decisive, and Ching's excellent performance in the final tuneup before Bradley pared his roster somehow wasn't convincing enough. Ching gave a great effort and probably deserved better, and he certainly deserved more from Galaxy supporters who largely root for the U.S. as well.
The chants began early in the first half and were repeated in the second, and Ching, a key figure in Houston's MLS Cup title runs in 2006 and 2007, admitted afterward that they hurt.
"There's always people that are out there, try to put you down," Ching told Goal.com after the game. "It's part of being a professional athlete -- not everybody likes you. … I was just thinking that I got farther than every single one of them chanting. So if they want to try to mock me about it, look at themselves first."
It was a bad ending to a bad stretch for Houston, which heads into MLS's World Cup break with a three-game losing streak that has dropped its record to 5-7-1. The Dynamo lost to New York and the Galaxy last week.
"[It's] disappointing," Ching said. "I can't remember the last time this team lost three games in a row, so things aren't going good. Tough week."
SOUNDING OFF: Seattle had scored just twice in its previous six league games before putting three past New England, and the Sounders broke out of their slump with stupendous style.
All three goals -- by Leonardo Gonzalez, Steve Zakuani and Fredy Montero -- were real beauties, but whether they'll spark a real resurgence won't be known for weeks. Yeah, the Sounders have D.C. United on the slate Thursday (only Philly is giving up more goals per game), but the capital club hasn't been playing so poorly lately. It's the two-week break, for the first round of the World Cup, that might slow down Seattle's steps forward.
Sounders coach Sigi Schmid isn't taking anything for granted.
"As I said to the guys, this was just a step in the process, it wasn't a culmination or it wasn't, 'Oh, OK, we're there,' " Schmid said after the game. "We've got to continue to work and continue to get it right."
The best of the goals: Gonzalez's. The Costa Rican defender, who scored only three goals in nine years with Herediano and has only one in 60 international appearances with the Ticos, provided a fifth-minute lead with the Sounders' first goal in 270 minutes. The left back took a pass from Montero, played it first time to Zakuani near the top of the box, but Zakuani's touch wasn't good, and the ball caromed back toward Gonzalez, who stepped into the box and volleyed the bouncing ball with his left foot, bending it around New England goalkeeper Bobbby Shuttleworth and into the far-post netting.
Schmid called it a "wonder strike."
"That was funny, because before the game we said to him, 'You've got a tough guy with speed in [Revolution midfielder Sainey] Nyassi, so just make sure you defend him, and if you can get forward once in a while, great, but don't worry about that,' " Schmid said. "He proves me wrong five minutes in, getting forward and firing a shot in."
ANOTHER SUCCESS STORY: Former UCLA midfielder Michael Stephens could be the Galaxy's third successive Rookie of the Year, following Cal State Northridge product Sean Franklin two years ago and Omar Gonzalez last year.
This year's is a good rookie class, with Chivas USA midfielder Blair Gavin, New England forward Zach Schilawski, San Jose defender Ike Opara, and New York midfielder Tony Tchani and defender Tim Ream making good impressions.
But Stephens, nearly three months into the season, has to be the frontrunner. He has looked good in the middle or on flanks, fitting nicely into the league's best lineup. His three assists Saturday, including secondary assists on both of Jovan Kirovski's goals, gives him six for the season, the MLS's third-best total (tied with Chicago's Patrick Nyarko), behind Landon Donovan (9) and San Jose's Bobby Convey (7).
ODDS AND ENDS: Our vote for Player of the Week went to Brek Shea, who won the award after scoring goals two minutes apart in FC Dallas' 2-0 win over San Jose. Shea, 20, a surprise No. 2 selection in the 2008 SuperDraft, appears to be maturing this season into a dynamic wing player who could make an impact beyond MLS. … Van Nuys' Tristan Bowen has three goals in three starts, in the friendly against Boca Juniors and the last two league wins, over Columbus and Houston. … New signing Alex Zotinca was in the lineup a day after signing with Chivas USA, playing right back as Mariano Trujillo moved to the left side. … Riverside's Chad Marshall had a goal, a header, naturally, in Columbus' draw at San Jose on Wednesday. … Hard-luck goalkeeper Chris Seitz, a Thousand Oaks High School alum, made a superb stop on Justin Mapp in Philadelphia's loss to Chicago. Marco Pappa put away the rebound. … Rookie Danny Mwanga scored his third stoppage-time goal for Philly, but this one didn't get a result. The Fire won, 2-1. … New York lost two midfielders to hamstring injuries this week. Speedster Dane Richards was hurt early in the Red Bulls' win Wednesday over Houston, and Sinisa Ubiparipovic exited early in Saturday's triumph over Chivas. … Brazilian playmaker Andre Luiz's chronically ailing knee went out again in San Jose's loss to FCD. … D.C. United defender Dejan Jakovic returned from a broken clavicle, weeks before he was expected to be back. … Toronto FC has not lost at home in more than a year.
Past week's scores (home teams listed first)
Wednesday
New York 2 (Ubiparipovic 15, Angel 94+), Houston 1 (Ching 65)
San Jose 2 (Alvarez 6, Wondolowski 79), Columbus 2 (Gaven 5, Marshall 70)
Saturday
New York 1 (Stammler 27), Chivas USA 0
Galaxy 4 (Kirovski 1, 21, Bowen 48, Alex Cazumba 56), Houston 1 (Weaver 7)
Toronto FC 0, Kansas City 0
D.C. United 0, Real Salt Lake 0
FC Dallas 2 (Shea 58, 60), San Jose 0
Chicago 2 (Husidic 14, Pappa 74), Philadelphia 1 (Mwanga 92+)
Colorado 1 (Moor 85), Columbus 0
Seattle 3 (Gonzalez 5, Zakuani 24, Montero 42)
Standings
Western Conference: Galaxy 32 points, Real Salt Lake 20, Colorado 19, San Jose 17, Houston 16, FC Dallas 15, Seattle 15, Chivas USA 10
Eastern Conference: Columbus 21, New York 21, Toronto FC 17, Chicago 13, New England 11, Kansas City 9, Philadelphia 7, D.C. United 7
This week's games (all times Pacific)
Wednesday
Galaxy at Real Salt Lake, 6 p.m.
Colorado at Chicago, 5:30 p.m.
Thursday
Philadelphia at Kansas City, 5 p.m.
D.C. United at Seattle, 7 p.m.
Leading goalscorers
1 Edson Buddle (Los Angeles) 9
2 Dwayne De Rosario (Toronto FC) 8
3 Juan Pablo Angel (New York) 6
Chris Wondolowski (San Jose) 6
5 Kei Kamara (Kansas City) 5
Sebastian Le Toux (Philadelphia) 5
Alvaro Saborio (Real Salt Lake) 5
Zach Schilawski (New England) 5
9 Chad Barrett (Toronto FC) 4
Justin Braun (Chivas USA) 4
Conor Casey (Colorado) 4
Jeff Cunningham (FC Dallas) 4
Brian McBride (Chicago) 4
Fredy Montero (Seattle) 4
Guillermo Barros Schelotto (Columbus) 4
Steve Zakuani (Seattle) 4
Other results
Wednesday
U.S. Open Cup qualifying: D.C. United 2 (Emilio pen. 75, Najar 107), Real Salt Lake 1 (Johnson pen. 81), OT
Canadian Championship: Toronto FC 0, Vancouver Whitecaps 0