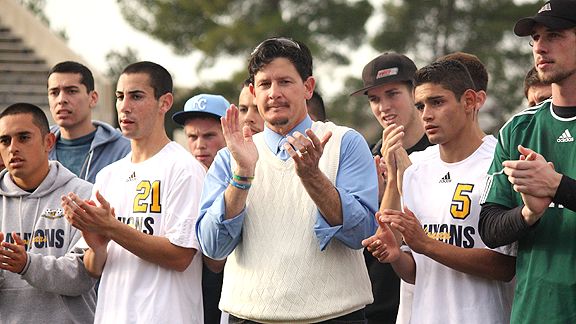 Celina Baguiao/College of the Canyons athletics
Coach Phil Marcellin started the College of the Canyons' women's program in 1998 and the men's team in 2003.
SANTA CLARITA -- A 1-16-6 campaign had been followed by a 4-16-3 season, and College of the Canyons men's soccer coach Philip Marcellin and his staff sat in their home stadium and watched Cerritos College capture and celebrate the 2008 state junior college championship.
It left them with a most sour taste -- and a resolution.
"We said: We're not hosting [the state final four] again," Marcellin said, "without making every effort we can to get in it."
Jump forward two years. The state finals have returned to Canyons, and Marcellin's Cougars are on the cusp of history.
Riding an 11-game winning streak and improbable, or so it seemed, romps over state powers Santa Ana and Fresno City, they've made it to their first state title game and will take on reigning California champion Mt. San Antonio, from Walnut, Sunday morning at 10.
It is, Marcellin notes, "a dream matchup: Home field, defending state champs. … Whatever side we end up on, I don't think we can ask for anything more than that."
Given how quickly Canyons has risen among the elite JC programs -- and considering what it had to overcome this season -- getting this far is the real achievement. The Cougars (17-5-2) will be underdogs against Mt. SAC (18-1-4), a team with virtually no weakness, but they've been undervalued all year long, so what's one more time.
"I think it's going to be a great matchup," said Marcellin, who started Canyons' women's program in 1998 and the men's team in 2003. "They do certain things that will prose problems for us, but I really feel our guys are confident, and I think we do things that will pose a threat for anyone."
That confidence has built steadily since the four-win season two years ago. Marcellin and assistant coaches Lucas Bongarra and Alejandro Carrero went about bringing in the area's best players.
"You make plans, and God blesses them," Marcellin said. "He sends you the people that you need. We've had some unbelievable guys show up here and buy in."
The best: Skillful finisher Andres Bueno, from Canyon Country's Golden Valley High School. He, fellow forward Artie Lawson (West Bakersfield), midfielders Jorge Serrano (Sylmar), Sebastian Toro (Kennedy in Granada Hills), Brooks Walsh (Valencia) and Damian Martin (South Bakersfield), and defenders Rafael Fuentes (Golden Valley) and Arnaldo Macias arrived last year, and the Cougars claimed their second regional postseason berth.
The Cougars finished 14-7-2 and one step from the state final four, falling to Santa Ana, 4-0, in a regional final.
This season started promisingly, with three wins, one over state runner-up Taft, then things went wrong. Players broke curfew, missed team meetings, missed weight-training sessions. Marcellin kept them on the bench, and the Cougars went 3-5-2 over the next 5½ weeks, with all three wins against losing programs.
"There were a lot of difficulties and questioning, and people thought we were throwing away our chance," Marcellin said. "But you have to stick with your guns. … It's one of those things. You set a standard of behavior you have to live up to. You can't change to get results -- it's that old-fashioned discipline. And the number one thing we're supposed to do here isn't win games, it's to teach people to be the kind of men you want them to be: good fathers, good husbands, good citizens. And that's what it's about."
The team didn't exactly rally around the suspensions. Marcellin said there "were a couple of guys that I would say were not buying in." Of his team leaders, he says "What's great about [them] is they were human, and they made mistakes."
It provided a teaching opportunity.
"One of the greatest things you can teach these guys is you're not going to be perfect. You're going to make mistakes," he said. "But own up to your mistakes and take responsibility for them."
The remaining doubters' interest picked up when Canyons started on their winning streak.
"They start to buy in a little more, and then you slowly be patient," Marcellin said. "We reward some of those guys who were on their way out the door mentally and not buying in with minutes in big games, and now they're forged into a group that could do great things later for us.
"You've got to be patient. You've got to wait for your opportunity. … I'm proud to see these guys buying into that wait-and-be-patient. I think it's a great thing to learn for life skills."
The discipline Marcellin insisted upon "really big impact on us, but at the same time, it was good," Bueno said. "We had discipline in our team, and everything's run well since."
That it has. Since Oct. 22, Canyons has gone 11-0-0, outscoring foes, 31-4. Included were playoff wins at Cerritos and Santa Ana and Friday's 3-0 destruction of Fresno City in the state semifinals.
One more thing has helped turned Canyons around. After that 4-16-3 season two years ago, the administration asked Marcellin to give up the women's team. His bosses did more than ask -- they insisted.
It made Marcellin a better coach.
"I got sort of kicked to the curb a little bit," he said. "I was one of those young coaches who believed I could do whatever I set my mind to. And it wasn't working out, and the dean and athletic director made a choice: 'You know what, let's let you push on with one and see what you can do,' and I think both programs are much better now.
"So, for me, getting kicked to the curb is a growing opportunity."
That's the way things have gone for the Cougars, for Marcellin. Setbacks have been mere detours, usually through more scenic territory. Consider the coach's playing career, if you could call it that.
Marcellin played AYSO-level youth soccer, then at Highland High School in Bakersfield, then for a season in Cal State Bakersfield's fledging program -- this was the 1980s -- before transferring to Cal Poly in San Luis Obispo, where he wasn't good enough to play.
"The best way I can describe it," he said, "is watch 'Rudy' and take out the happy ending. But that's life. It prepared me for this."
San Bernardino Valley (19-1-3) will meet Santa Rosa (18-0-5) in the women's final at 2 p.m.