The state's junior college soccer championships kick off Friday morning at College of the Canyons in Santa Clarita. Mt. San Antonio men's coach Juan Sanchez is seeking a second successive title. Cerritos women's coach Ruben Gonzalez is aiming for his third trophy in four years.
Their link goes far deeper than that.
Sanchez was a midfield creator and Gonzalez a backline anchor for Cal State L.A.'s men's team in the early 1990s -- a breeding ground, it turns out, for outstanding coaches.
They're among several Golden Eagles from the era, all prodigies of former Mexican national-teamer Leo Cuellar, who have gone on to guide title-winning teams, and the jobs they've done this year -- no matter what occurs this weekend -- have been among their best.
Sanchez returned just five players from last year's champions for what was supposed to be a "restructuring" campaign. His Mounties are 17-1-4, ranked second in the state and fourth in the nation, and one victory -- Friday morning at 10 against Northern California's West Valley College (16-4-2) -- from an opportunity to defend their title on Sunday.
Gonzalez's Falcons (22-1-2) have more experience but are somewhat of an underdog, forced to knock off the nation's Nos. 1 and 3 teams to reach the final four. They're no favorite at Canyons, either: NorCal powerhouse Santa Rosa (17-0-5), the state's lone unbeaten side, is their foe in Friday's 4 p.m. semifinal.
The other games: Canyons (16-5-2) vs. Fresno City (15-4-3) in a men's semi at 1 p.m., and San Bernardino Valley (17-1-3) vs. Fresno City (19-2-2) in a women's clash at 7 p.m.
PASSION FOR THE GAME: They were solid players at Cal State L.A. -- Sanchez (Pomona/Garey HS) went on to a pro career, with Pumas UNAM's reserve team in Mexico and in American indoor soccer -- on a decent team transitioning from NCAA Division I to Division II.
"We were up and down," said Gonzalez, called "Baby Huey" by teammates for his baby face and gentle demeanor. "When we were D1, we went up against Stanford and did well, then played Portland -- when they had Kasey Keller -- and got blown out, 4-0. We were hot and cold."
Said Sanchez: "My sophomore year we were D1, and we played at UCLA, when they had Mike Lapper, Brad Friedel, Cobi Jones and Joe-Max Moore, and they beat us, 3-1. Then my junior year we were put into D2, and we swept everything. We won conference. We lost in the [NCAA] regional final to Seattle Pacific."
Their teammates included Ali Khosroshahin, a midfielder who went on to build Cal State Fullerton's women's program into a mid-major power, then guided USC to the 2007 NCAA title. And Rafa Moran, who went on to play in Mexico and for the L.A. Salsa and Orange County Zodiac and was director of coaching for boys at youth power LAFC.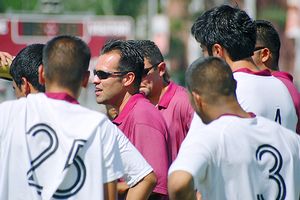 Courtesy of Mt. San Antonio College
Juan Sanchez's teams at Mt. SAC have lost only 10 games in the last five years.
Only a few, such as Moran and Sanchez, had options to continue playing after their eligibility ran out, but many of them wanted to remain in the game, and Cuellar's guidance led them into coaching.
"I'll tell you what makes the guys at Cal State L.A. from our days special: Everyone just loved the game so much," Khosroshahin said. "Everyone was just really committed to the game. ... Everyone was really passionate, enough that nobody wanted to leave it."
Cuellar, who in the past dozen years built Mexico's national women's team into a burgeoning force, was an inspirational figure. He had been part of Mexico's 1978 World Cup team and played in the North American Soccer League, and he "taught us all about the soul of the game, that the game is a living being, an entity you have to respect," Khosroshahin said. "He put a lot of philosophical ideas in our heads about the game, and lot of us ran with it."
MT. SAC'S RISE: Sanchez eventually took those ideas to Mt. SAC, in Walnut, where he's been head coach -- aside from a one-year stint at Cerritos, which he took to the state semifinals -- since 2001. His teams are 96-10-16 in the past five years, have been to four successive final fours and are renowned for their skillful play.
Last year's sophomore-heavy group, led by Creighton-bound midfielder Junior Ponce (West Covina/West Covina HS), was "a mentally tough team," Sanchez said. "Any adverse situation, they knew how to get themselves out of it. This [year's] team has taken some time to learn that, but I've been very impressed" during shutout wins over Oxnard and San Diego City en route to the final four.
The Mounties' strength is defense -- they've shut out 11 foes -- and they are led by goalkeeper Alfredo Ontiveros (El Monte/Arroyo HS), center back Eric Flores (Pomona/Garey HS), left back Michael Mercado (Moreno Valley/Canyon Springs HS) and defensive midfielder Adrian Padilla (West Covina/West Covina HS).
CERRITOS' POWERHOUSE: Gonzalez (Cerritos/Pius X HS) moved to Cerritos (the school's mailing address is in Norwalk, but the school lies half in Cerritos and half in Norwalk) from Whittier's Rio Hondo College in 2005 -- after Sanchez recommended him to the school athletic officials.
He built the program with a couple of U.S.-born Mexican national team pool players -- Cuellar tipped them off to Cerritos -- and quickly developed a powerhouse. Gonzalez's teams are 130-10-11 in six seasons, with state titles in 2007 and 2008, and his 2008 team, which went 22-0-4, was the mythical national champion, too.
Star forward Liliana Leos (Sylmar/South East HS), who has 17 goals and 13 assists, is the lone remaining player from that team after sitting out last season to rehab a knee injury. Also playing major roles for the Falcons are Long Beach State-bound midfielder Tatiana Cortes (La Mirada/La Mirada HS), defenders Morgan Thompson, Janeth Arroyo (both Lakewood/Mayfair HS) and Justine Telles (Santa Fe Springs/St. Paul HS), and forward Daniela Martin (La Puente/La Puente HS).
Among his assistants is his brother, Memo Gonzalez (Cerritos/St. John Bosco HS), a former U.S. youth national-teamer who signed with MLS as a teen and was with the Galaxy from 2003 to 2006.
After failing to reach the final four last year, after falling to Orange's Santiago Canyon (which went on to win the state title) during the regional playoffs, Cerritos had big expectations this season.
"Our players realize they're coming into a program that's expected to be in the final four," Gonzalez said. "They know what's expected of them, and this group thrives on that pressure."